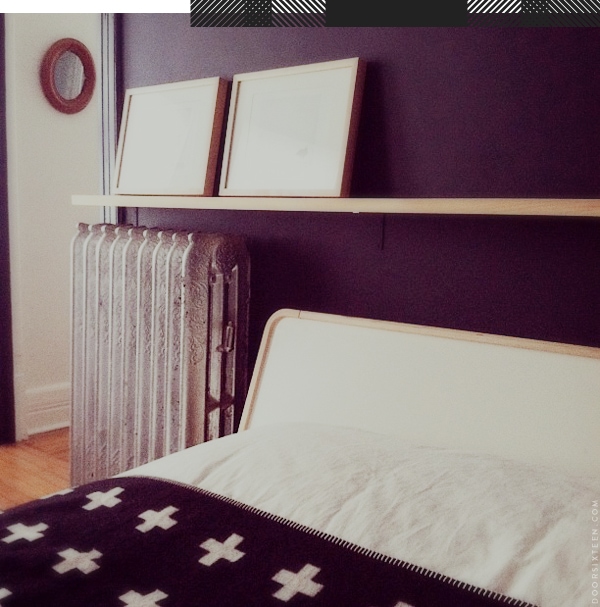 Yes, I redesigned! It's been more than a year since the last D16 makeover, which much longer than I like to leave things alone. I'm a bad client, though—I kind of want everything to stay the same at the same as I want it to change. Kind of like how I feel about my house, my clothes, my food…
I'm sure there are going to be some bugs (I'm way less fastidious about cross-browser happiness when it comes to my own stuff than I am with other people's sites), so if you happen to discover anything weird, please do let me know what operating system and browser/version you're using so I can address the problem! Oh, and there's a new FAQ page. The link page is taking a nap right now, but it'll be back soon enough.
On to more important things…
IT'S THE BLANKET!!! IN MY HOUSE AND ON MY BED!!! YAYYYYYY!!!!!
If you've been reading this blog for a while then you know I am completely obsessed with Pia Wallén's Crux blanket. I dream about it. I refer to it for proportional guidance when painting medicine cabinets and cord cozies. Basically, I talk about the Crux blanket incessantly to anyone who will listen.
About six months ago, I found out that the original wool version of the Crux blanket is no longer being produced—once the current stock is gone, it's gone. Despite the fact that the wool blanket is prohibitively expensive (the price being the sole reason I haven't upholstered my entire house with them), I did get a little mopey…until I learned that it had been replaced by a far more affordable (but still spendy, let's be real here) cotton flannel version.
Blah, blah, blah, months of waiting and pondering and bribing of toothy Chihuahuas…and then I thought the blanket sure would be a nice birthday present from Evan (he agreed)…followed by more months of me agonizing over committing to the actual purchase. A couple of weeks ago, though, I finally went ahead and ordered my very own Crux blanket from the superfabulous Juli and John at Mjölk in Toronto. Their service could not have been faster or kinder, and they even tweeted a photo of my blanket being packed for shipping!
And yes, I do realize I'm talking about a blanket here. Humor me, OK? It's just sooooo soft and thick and luxe and perfect…and it's reversible, so it's really like two blankets in one. And did I mention it's soft? As much as I would have loved to have put it on the living room sofa and made it available for snuggling at all times, I am all too aware of Fritz's reputation when it comes to blankets, so the bedroom it is. Totally fine with me.
!!!!BLANKET!!!! !!!!BLOG!!!!