Photo by Sam Falk/The New York Times
And a hero has gone. May we all try to live with even a fraction of the dignity, compassion, spirit and mindfulness that he did, and may we all carry his music in our hearts along the way. Goodnight, Pete.
✚ Pete Seeger, Songwriter and Champion of Folk Music, Dies at 94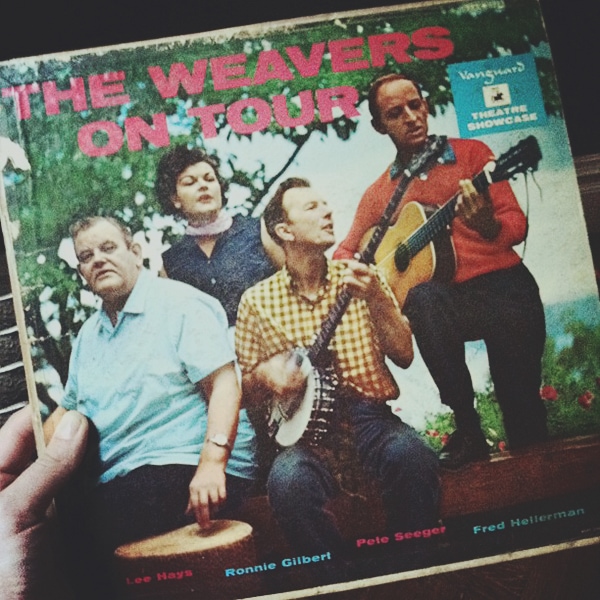 My father gave me this record when I was about 3 or 4 years old, and some of my earliest memories are of listening to it on the stereo in his studio—and, of course, singing along. When I was a little older, maybe 6, we listened more to Pete's political songs like "Little Boxes" and "What Did You Learn in School Today," and Dad explained to me what the words were all about. I learned what activism is. Big lessons for a little kid, but Pete (and Dad) made a huge impact on me and started to shape my social, political and ethical beliefs at a very early age. We'd go to see him play down by the Hudson River at the annual Clearwater Festivals, and later on, when Evan and I moved to Beacon, Pete became our neighbor. I'd see him at the train station all the time, and he kept on playing at local benefits in Beacon and Newburgh well into his 90s. The last time I saw him play was a few years ago in front of a small group of captivated children on the dock of the Hudson River, surrounded by the mountains and with his beloved Toshi nearby. I'll miss you, Pete. Sorry to see you go.
If you have memories of Pete Seeger, whether from growing up in the Hudson Valley or from being a part of the political folk movement yourself or just from listening to his records, I'd love to hear them. Please feel free to share.
"I decline to discuss, under compulsion, where I have sung, and who has sung my songs, and who else has sung with me, and the people I have known. I love my country very dearly, and I greatly resent this implication that some of the places that I have sung and some of the people that I have known, and some of my opinions, whether they are religious or philosophical, or I might be a vegetarian, make me any less of an American."
—Pete Seeger, speaking before the House Un-American Activities Committee (1955)