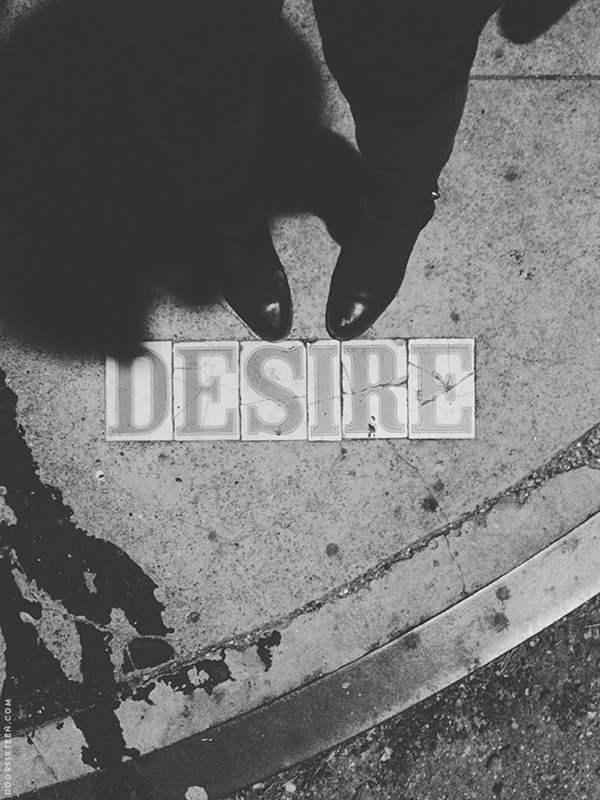 A little more than a year ago, I wrote a post about how little traveling I do. It was difficult to write because it's always been something I'm a bit ashamed of, but (as is often the case with the posts I hesitate to write) I felt braver and stronger once it was done. A few weeks later I traveled to London and had a wonderful time. This past June I went to my friends Lisa and Clay's beautiful wedding in San Francisco, last month I went to Palm Springs for Camp Mighty and yesterday I got back from a long weekend in New Orleans! Look at me: Anna Dorfman, occasional traveler. Who could have predicted?
A very good friend of mine moved from Brooklyn to New Orleans about six years ago, and I'd been talking about the possibility of making a visit for a while. Our birthdays are a couple of days apart (I turned 38 right before Halloween — hello, 38!), and just by chance it turned out that The Cure were scheduled to play on the last night of Voodoo Fest. K and I met because of our love for The Cure and it'd been years since we'd gone to a show together…so really, how could I not go? Everything just seemed to fall into place perfectly. This was my first visit to New Orleans, and I loved it. What a magical place!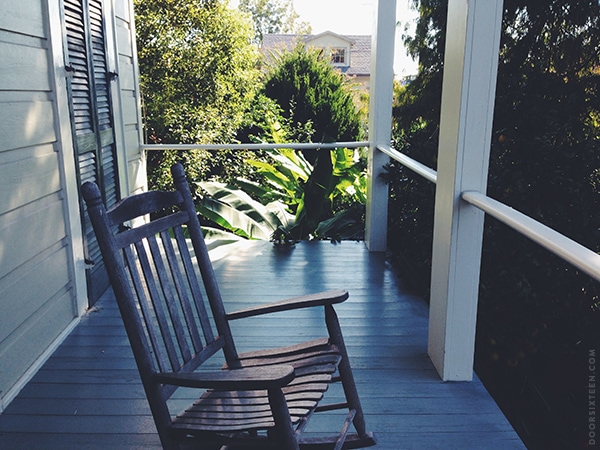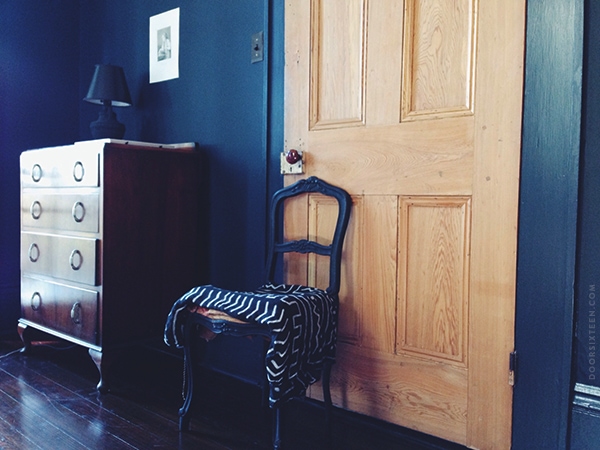 K and her husband and son live in an incredible 1875 house in the Bywater neighborhood. She has always had the best sense of style when it comes to interiors, and unsurprisingly her home is amazingly beautiful inside and out. I slept in a bedroom painted black from the bottom up, save for a white beadboard ceiling. So perfect and cave-like. (And no, sorry, she doesn't have a blog, haha. Believe me, it was all I could do to not take a million pictures!)
Like all grown-up former (?) goths, we made sure to visit a cemetery. Lafayette Cemetery No. 1 is the oldest in New Orleans, all crumbly and beautiful and densely packed. (I also just learned that a New Kids on the Block video was filmed there, so, um, a slight reduction in goth points.)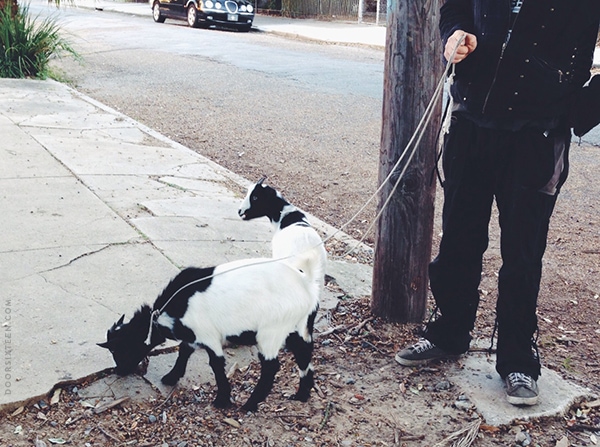 GOATS!!! This guy was just walking around a residential neighborhood with a couple of goats on leashes. They were super soft.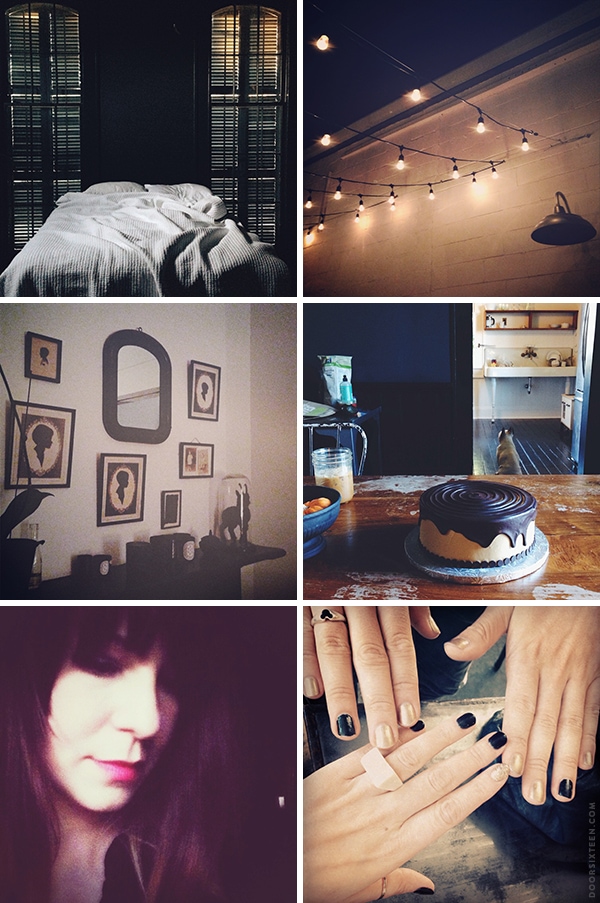 Top to bottom, left to right:
(1) I have a new appreciation for shutters now, especially when they're floor-to-ceiling (2) Pretty outdoor lights at Pizza Delicious (the vegan campanelle was very good) (3) Living room mantle, fancy fancy (4) Belated vegan peanut butter birthday cake from Shake Sugary (5) Me, all moody right before the Cure concert (6) Matching manicures (Saints colors totally unintentional) with my waiter at Booty's
Here's a silly little video I made of a lenticular photo stuck to a door in the French Quarter. Love!
Top to bottom, left to right:
(1) Drinks at Cane & Table — I had the Valeira Gorge: Portal Tawny Port, Banks 7 Year Rum, lime, fresh coconut water, vanilla and Angostura bitters (2) Skulls grow on agave plants in New Orleans, FACT (3) Dinner from the Fat Falafel truck (4) Freret Street (5) LIZARD!!! I saw a lizard in the wild for the first time, very exciting (6) Perfect tofu scrambles and coffees at Satsuma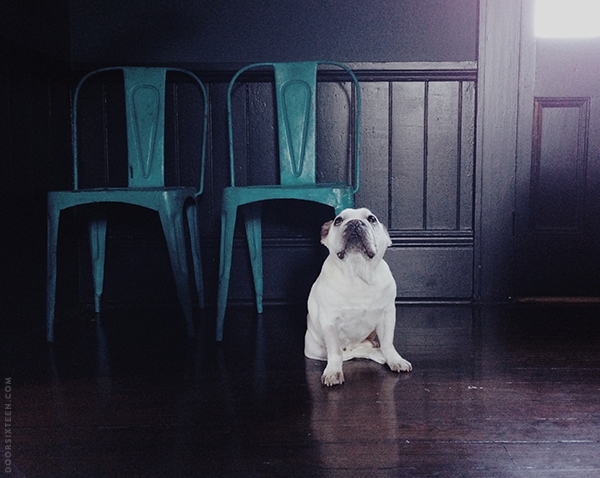 This is Willie. He was just a little kid when he lived in Brooklyn, and now he's an old man. I love French bulldogs and all of their grunty croissant-marshmallow-bodiedness. He's such a sweet guy, and a very patient model.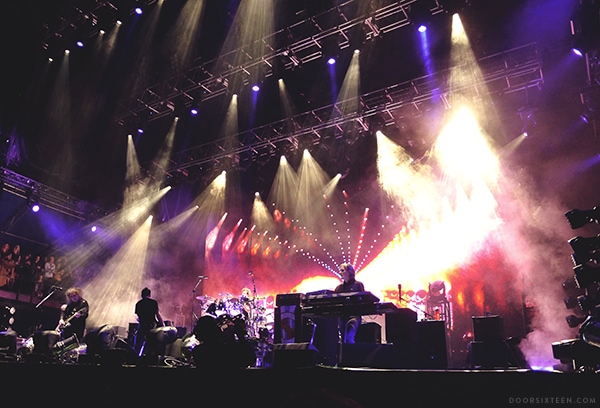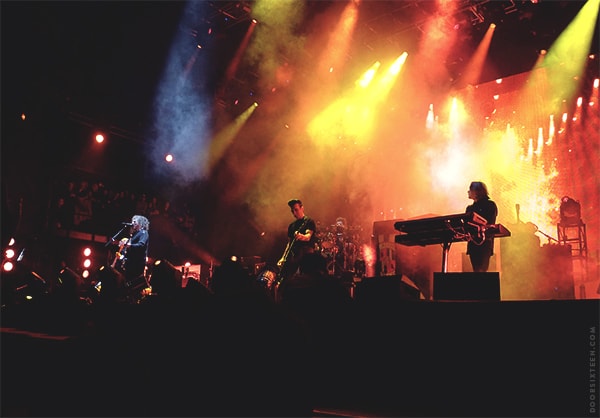 THE CURE!!! Yayyyyyyyy. I've never succeeded in taking good photos at a Cure concert, and this time was no exception (here are some MUCH better ones!). No matter, though, because the show was great as usual. The Cure will for always and ever be my most favorite band, and the best way to experience them (I mean other than locked in your dark bedroom with headphones on, age 15) is LIVE. Their festival shows are shorter by default, but 2+ hours is still nothing to sneeze at. Plus, I got to hear "Burn" played live for the first time ever, and it sounded like a whole new song — like it came off of Pornography instead of The Crow soundtrack! So great.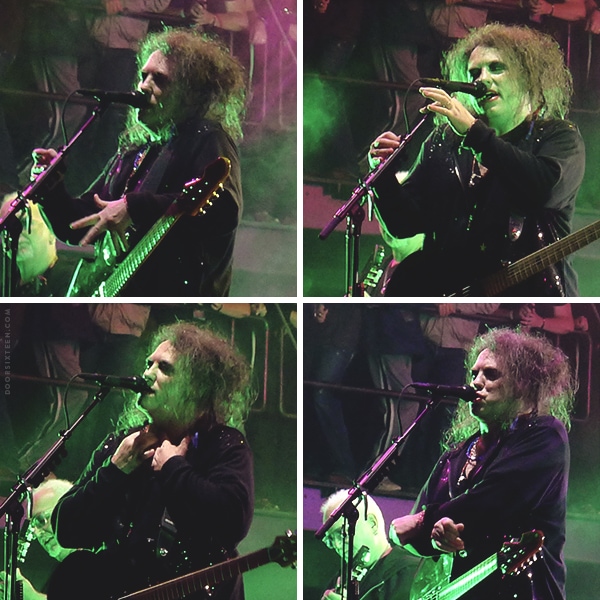 Some classic Robert Smith dance moves…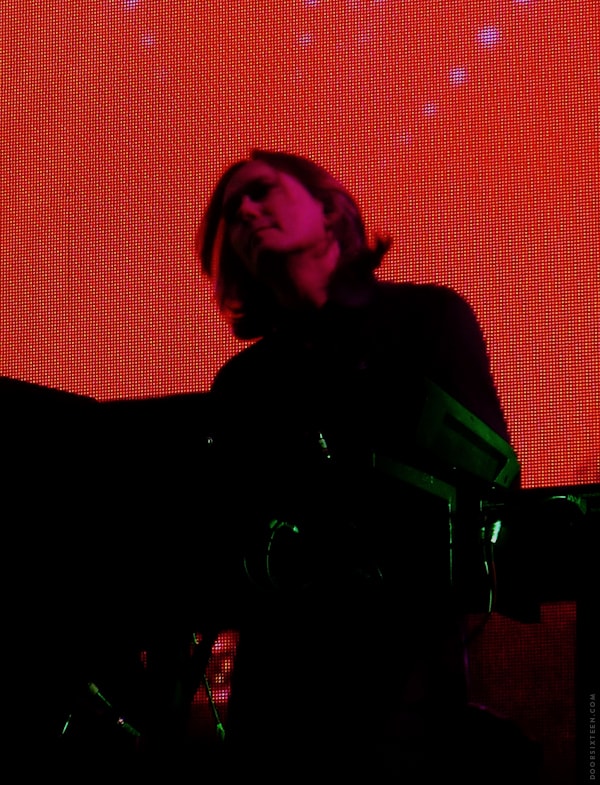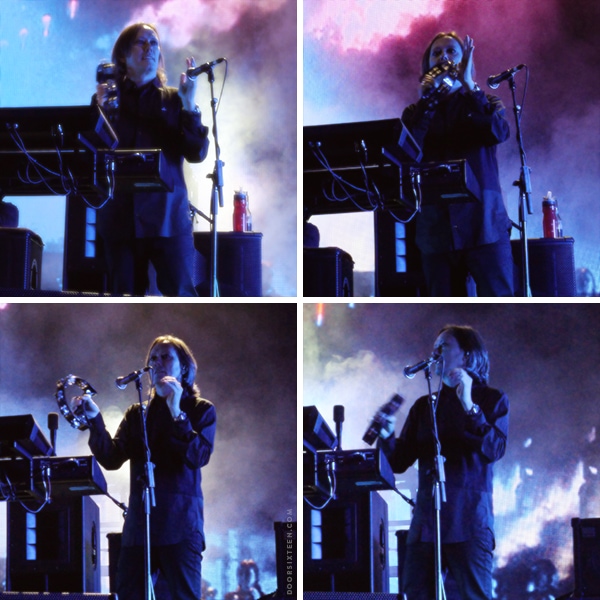 My lovely friend Roger doing his thing up on on stage. Toss that hair, shake that tambourine! What a fun night. It's been two years since the last time I saw The Cure, which is far too long to go between shows. I'm so glad I made this trip!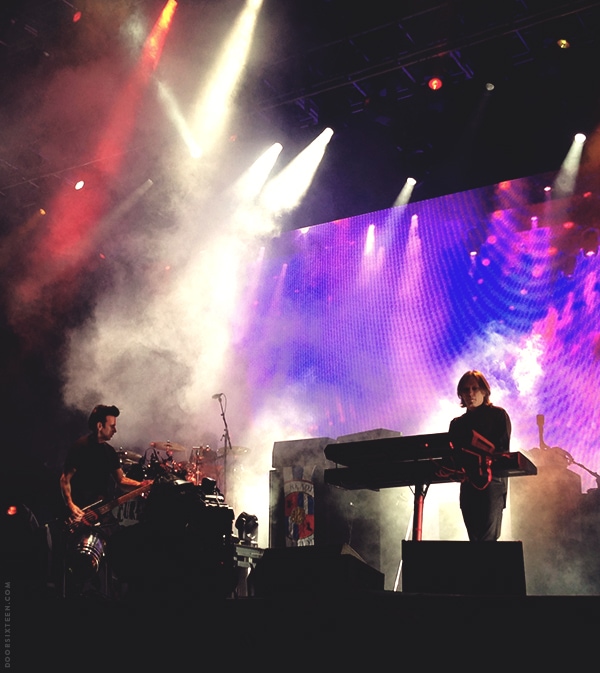 Full setlist:
Shake Dog Shake / Fascination Street / From the Edge of the Deep Green Sea / The End of the World / Lovesong / Just Like Heaven / Burn / Pictures of You / Lullaby / High / Hot Hot Hot!!! / The Caterpillar / The Walk / Stop Dead / Push / Inbetween Days / Friday I'm in Love / Doing the Unstuck / Bananafishbones / Want / The Hungry Ghost / Wrong Number / One Hundred Years / Give Me It // (encore) The Love Cats / Close to Me / Let's Go to Bed / Why Can't I Be You? / Boys Don't Cry
Thank you so, so much to K (+ family) for being such wonderful hosts and for having me stay in your beautiful home. I had the most amazing time. And thank you Roger for everything I can possibly thank a person for.