I wasn't looking for a new duvet cover, but when I spotted the new-ish TOFSVIVA at IKEA a few weeks ago, I got heart-eyes and had to have it. The color palette is perfect, and I my affection for droplet patterns and clouds is unending. So nice! I love it against the dark wall in our bedroom.
TOFSVIVA was designed for IKEA by Linda Sjunnesson, who is also responsible for the Josef Frank-ish KNAPPSÄV cushion I've had my eye on.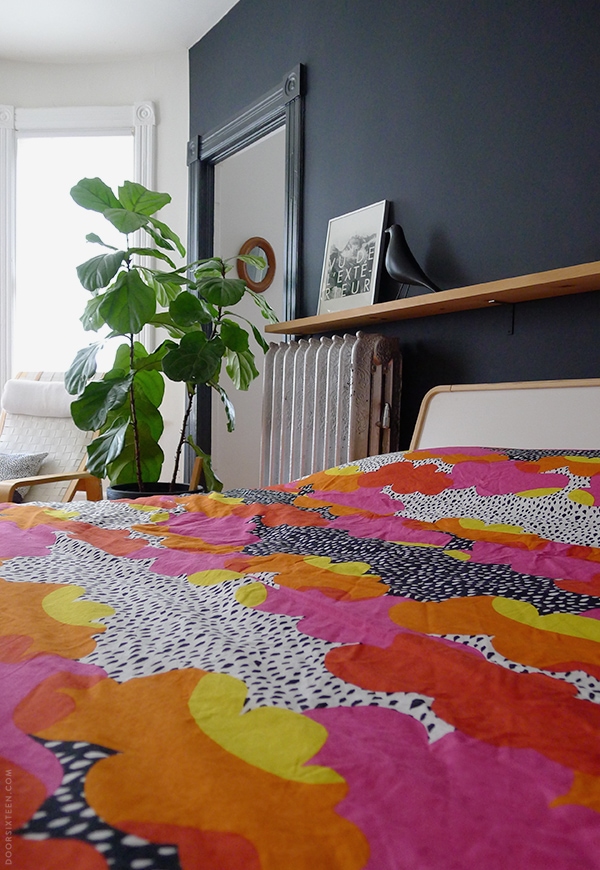 OK, I don't iron my bed linens. I don't really iron anything unless I absolutely have to, honestly. I started cloning out the wrinkles in this photo last night, but I quit after five minutes. Apparently I'm no less enthusiastic about digital ironing than I am in the physical world. So…wrinkles. Whatever.
The TOFSVIVA duvet comes in a set with two pillow shams for the alarmingly low price of $29.99. Like other IKEA bed linens it's 100% cotton, but I must say it's definitely on the rough side texture-wise. The thread count (144) is somewhere between burlap sack and dishtowel. That doesn't bother me at all for the duvet cover, but the pillowcases are pretty scratchy on the face. Evan switched his to a plain white case last night. I think they'll get softer with more washings, but I may just go ahead and turn the pillowcases into tote bags or throw pillows or something. But still, $29.99 for a really nice-looking duvet cover? I'll take it.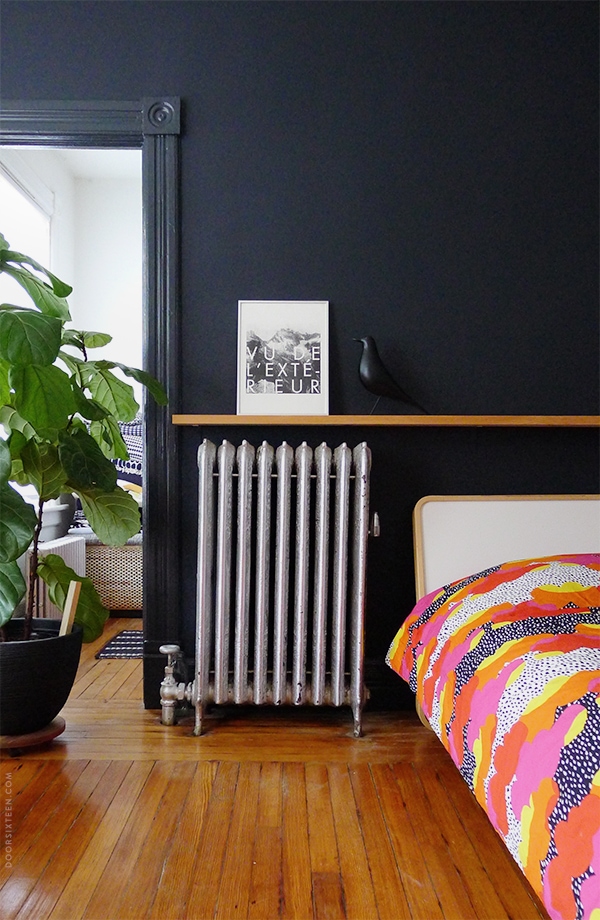 I still have not painted that radiator. I don't like silver radiators, and this one is really peeling and icky—I have to address it. I know I won't get to it before winter, though (what happened to summer?!), so I guess my new goal is to paint it by spring. And by that I mean spring 2016, which will likely come and go without the radiator being painted…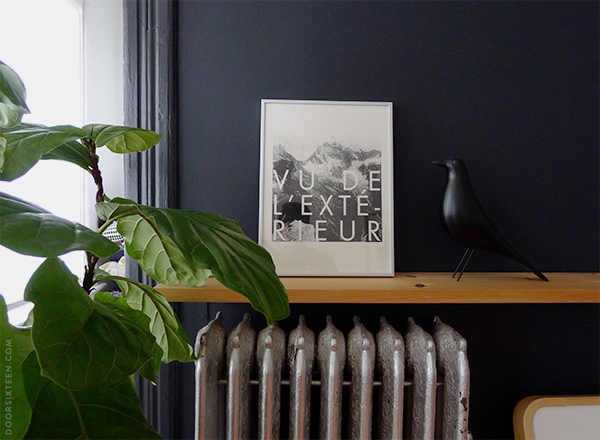 That beautiful silkscreened "vu de l'extérieur" print is from Fieldguided. I love Anabela and Geoff's work, and I think this piece is my favorite. So dreamy.
Happy Sunday…