Yes, it's a shirt. And yes, this is a subject I've delved into a few times on the blog in the past in the context of my approach to home renovation and my own self-image (side note: I need to re-read that post today), but James Victore—designer, artist, teacher, truth-speaker, all-around hero—nails it on a regular basis: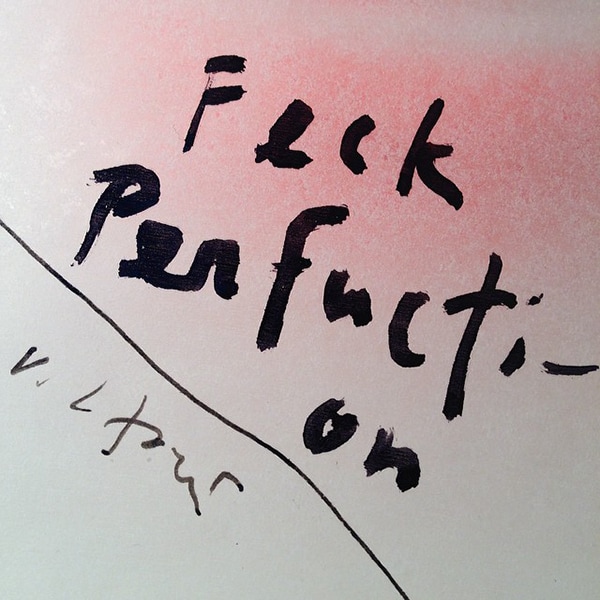 Feck Perfuction
"Designers are too concerned with the idea of 'perfection.'
"Perfection is the death of creativity. Perfection lacks spontaneity and surprise, instead it assumes 'knowing' and certainty. Creativity is about being OPEN and curious but perfection is closed tight in its search for an answer. ONE 'right' answer—but creativity is not math. Perfection also assumes that you are smarter than your audience because you know the 'right way' and the 'rules.' But this attitude leaves no room for your audience to be involved in your process. Creativity, like a good joke, slowly pieces together in your audience's brain until it explodes with 'A-HA!.'
"Perfection stops you from starting projects or even relationships because you are not ready or perfect. And it stops you from finishing or shipping projects because they are not ready or perfect. The weather, the economy, the atmosphere will never be perfect, your timing will never be right, you will never be perfect. But you know what's better than perfect? Done. Done is better than prefect."
#DesignLikeYouGiveADamn
Boom.
I'm currently taking James Victore's Bold & Fearless Poster Design course at CreativeLive, and it's FANTASTIC. I don't care what you do for a living, what you wish you did for a living, or how much experience you have in whatever it is that you do: This course is for everyone. Highly, highly recommended!
UPDATE: I just got an email alert letting me know that Bold & Fearless Poster Design is now 25% off! Use the code Victore2015 before 2/1/16 to get the discount. Nice!!
I took his Radical Typography course on Skillshare last year, too—also incredible. Sometimes you just need that push toward fearless imperfuction!
Image via James Victore's Instagram