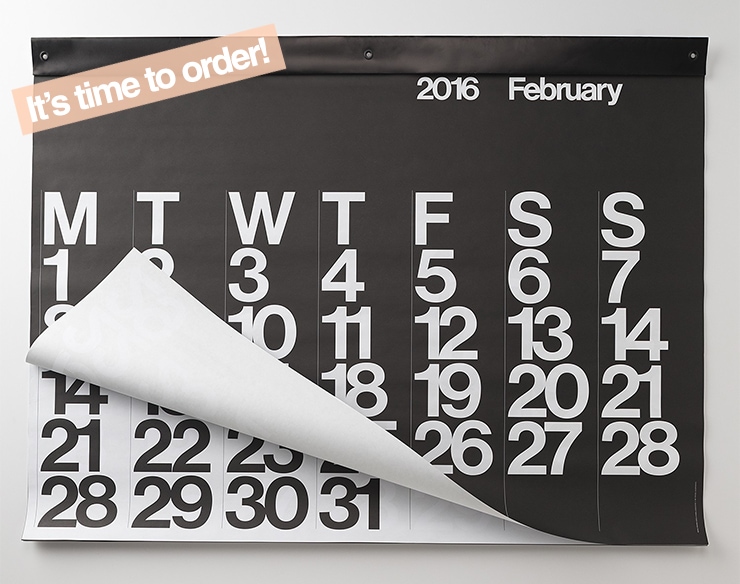 For the last few years, I've forgone buying Massimo Vignelli's awesomely massive (48 x 36″) Stendig calendar, simply because I just didn't have the wall space for one in my last couple of apartments. I switched to Vignelli's small-scale perpetual calendar, Max 365, instead. Max 365 is GREAT for checking on the date at a glance (provided you're good about flipping it daily, of course), but I miss my mega-Stendig! Happily, my new home office has two walls big enough to display one, so I'm gonna go ahead and place my order NOW before they sell out everywhere.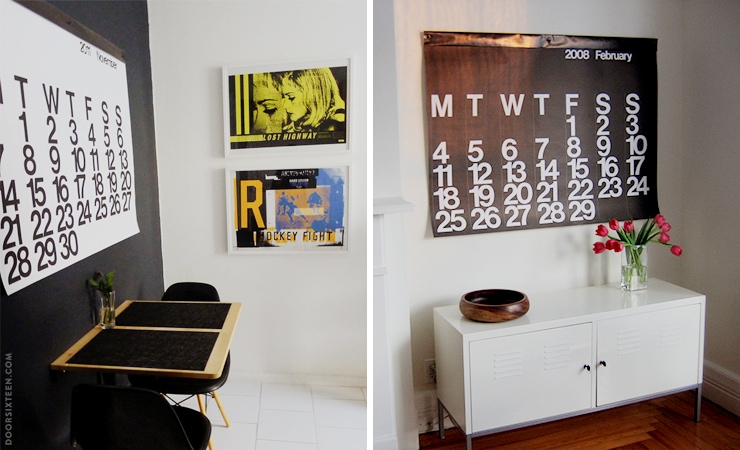 In 2011, my Stendig hung in the kitchen of my Washington Heights apartment (gosh, that was a great place…). Back in 2008, it lived in my office in Newburgh.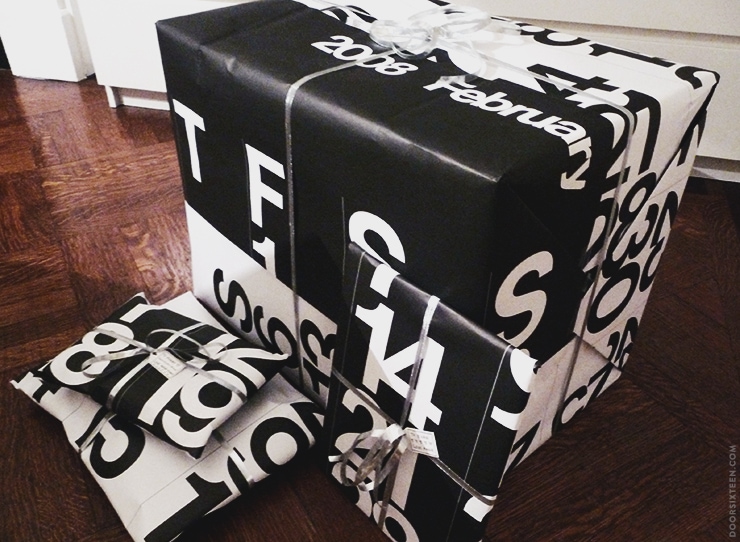 And of course, when each month ends, you have a nice big sheet of graphic wrapping paper! You can't go wrong, really.
Stendig Calendars are currently in stock at Crate & Barrel, Stendig Calendar, Amazon, Schoolhouse Electric, and in the MoMA Store. If anyone knows of a good source for buying a Stendig Calendar outside of the US, please share in the comments! The stores I used to recommend have all either shut down or stopped stocking the calendar.
Places to buy a Stendig Calendar outside the US:
• Australia: Lark
• Canada: Arrow House
• Canada: Studio Pazo
• UK: Aram
• UK: twentytwentyone
• Germany: Politiken Plus
• Germany: rikiki
• New Zealand: Let Liv
• Netherlands: Kleuroptafel
(Thanks to Lucy, Ama, Heather, Becky and Annemie!)
p.s. THRIFTY TIP: After Christmas, Crate & Barrel puts their seasonal items on clearance. Usually by then the Stendig Calendar is sold out online, but the stores often have a bunch left in stock. In past years, I've taken my chances going that route and have wound up getting a calendar for 40% off. Yes, you risk missing out by waiting, but I thought it was worth mentioning…