I get ideas in my head about how certain clothing stores aren't for me. My bias (OK, stubbornness) isn't really against the stores themselves so much as it is against myself. I hold on pretty tightly to certain stylistic choices when it comes to my clothing (and my work, and my home, and everything else), and since I still have that teenage "non-conformist" thing hanging around my neck like an invisible chain of angst (OMG, shut up), I tend to write off a lot of options as being for pretty, popular girls—i.e., not for me. Anyone who has attempted to go clothes shopping with me (I'm looking at you, Jen and Jenna) knows how ridiculous I can be. Taking me into J.Crew is similar to taking a small, reasonably polite child to a fancy dinner party: I'll put on a nice face and try not to throw a tantrum, but really…I just want to get the Hell out.
Aside from dabbling in a few accessories, Madewell is one of those stores that scares me. I don't want to put my hair in a topknot. I don't want to wear a chambray shirt. I don't want to wear navy. I can appreciate these things on other people, but on myself? I don't think so. Pass the skulls!
These jeans, though? They all look pretty nice.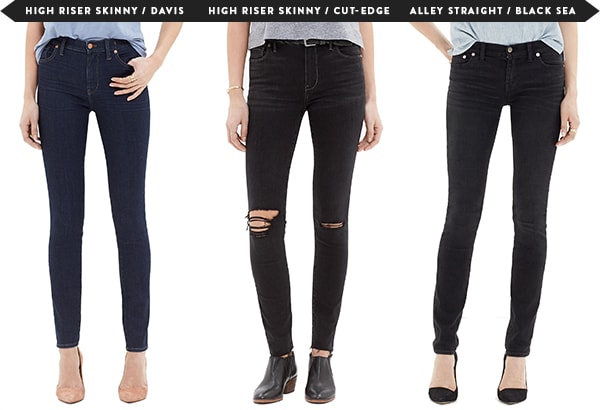 A couple of months ago, I mentioned something on Twitter about needing new jeans. I've lost a bunch of weight this past year, and after wearing my old jeans from the last time I lost weight (HAHAHAHAHA…ugh) into the ground, I needed to find at least a couple of pairs that would fit me really nicely and help me to feel good about myself. My former favorites (these and these) have been discontinued, so those options were out. Pretty much immediately, several people (including Jaime, who knows my body type and gets my style) recommended that I try Madewell jeans.
So I got over myself, went in, and tried on a bunch of pairs of jeans. I've gotta admit, they are pretty swell. I tried on the High Riser Skinny Skinny fit in several washes, but settled on the classic, dark-blue Davis wash. They're high-rise, yes, but not in a too high, costume-y way—they come to just below my belly button. The length is a little shorter than what I'm used to (and this style only comes in one length, weirdly), but I actually kind of like that in jeans that are this skinny. I have a feeling I'll be going back for these black cut-edge skinnies, too, because apparently I'm just enough of a loser that I'll pay $128 for perfectly pre-ripped denim. Sigh.
I also tried on a few pairs of Alley Straight fit jeans, which are a bit longer (they're available in two lengths, too) and slightly looser around the leg. They're more similar to the jeans I usually wear, and if they were available in a dark rinse, I'd probably have bought these instead. If I find myself needing a pair of plain black jeans, these will be my go-to.
For reference on fit, I'm 5′6″, about 145 lbs, with a high waist-to-hip ratio. I usually wear a size 6 or 8 (or even 10) depending on the store. Madewell jeans are pretty stretchy since they have a little spandex in them, and between that and the usual vanity sizing ridiculousness, I find they run pretty large. Depending on the wash, either a 27 or 28 works perfectly for me. Happily, my jeans can go for numerous wearings without stretching out or bagging at all, and they come out of the wash without any weird twisting or anything. And yes—they make your butt look nice.
Maybe you're not so bad after all, Madewell.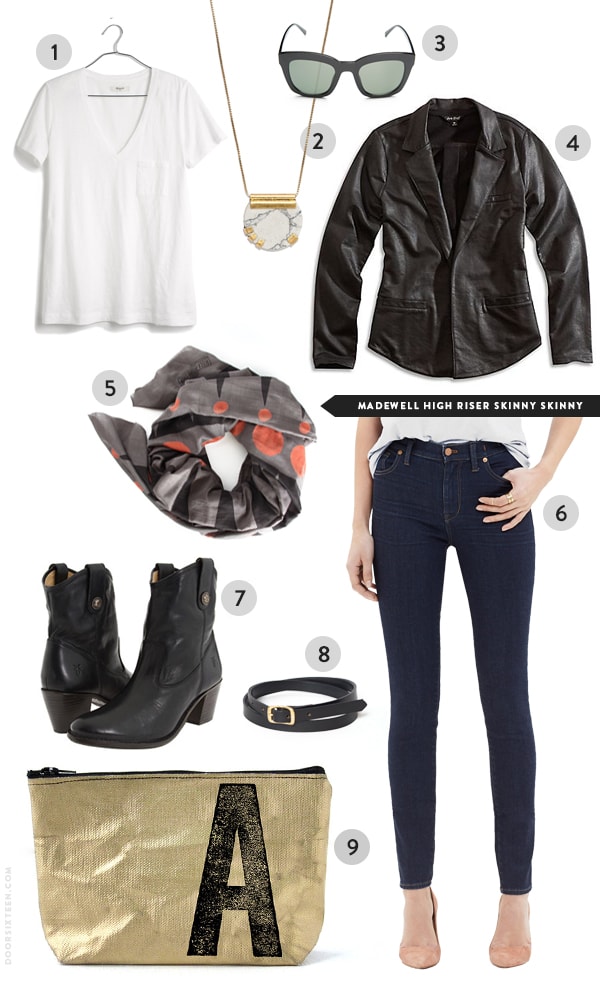 Here's what I wore to work today:
1. T-Shirt: Madewell, Slub v-neck pocket
2. Necklace: Madewell, Stonehold pendant (On sale…still!)
3. Sunglasses: Free People, Kensington
4. Blazer: Lucky, coated cotton (On sale! It looks like the product photo here, not like it does on the model.)
5. Scarf: Block Shop Textiles, Zipper
6. Jeans: Madewell High Riser Skinny Skinny, Davis wash
7. Boots: Frye Jackie Button Short
8. Belt: Wood & Faulk, Matchstick
9. Clutch: Renna Deluxe, gold coated & initial-stamped