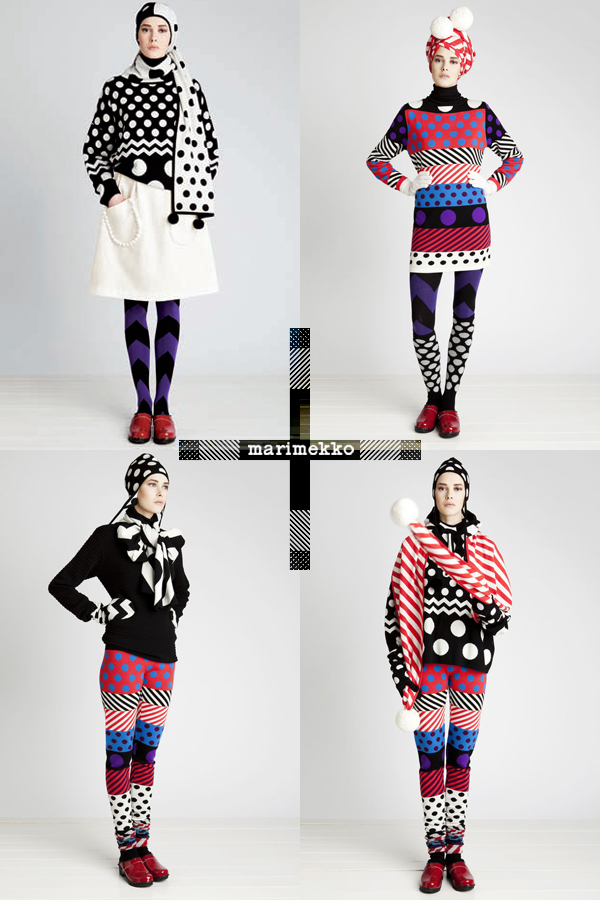 Photos via Marimekko
Noora Niinikoski's Tivoli knitware line for Marimekko's Fall 2011 line was pretty spectacular. And also pretty wacky. When I look at the composed outfits, my first thought is that I want to wear all of it, including the red clogs, immediately. I'm pretty sure I'd literally look like a clown, but you only go around once, right? I tend to be extremely subdued in my dress (though contrary to popular belief, I don't only wear black), mainly because I prefer to blend in to my environment rather than stand out. For some reason, the opposite extreme is also appealing to me!
I'm pretty sure the last time I ventured into the world of "funky" (OH, HOW I LOATHE THAT WORD) legware was a good 20 or so years ago (as evidenced here), but maybe it's time to go down that road again. Am I old enough to have reached that point where I can look like an idiot but have it get written off as eccentricity? I hope so, because I've always wanted to wear a pom-pom scarf around my head like a turban. There is always the fear that I'd wind up looking like a giant infant, of course.
A few pieces from the Tivoli line are on sale right now at Kiitos Marimekko, and I am seriously tempted. Maybe just the knee socks…