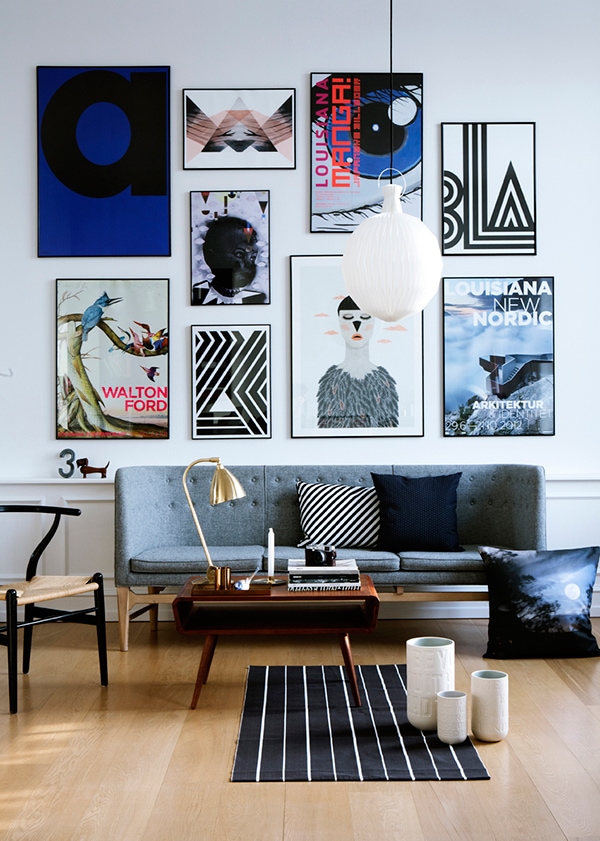 Photo by Line Klein (see more) for ALT Interiør // Styling by Nicola Kragh Riis
OK, that's just perfect. Yep, we're all done here, no need to look at any more interiors, ever. Bye, everyone!!
(EDIT: The more I look at this room, the more I love it. I'm going to post a breakdown tomorrow of everything in it with links to the artists' shops and the lamps and so on!)
You know when it's 2AM and you can't sleep so you're watching videos of porcupines eating pumpkin and obsessively searching for vintage rugs on eBay and then you start looking at all of the nice Danish furniture you can't afford and fantasizing about a wealthy benefactor giving you one just because…and also paying off your mortgage at the same time? Well, that's how I cope with insomnia, and it was on a sleepless night a few weeks ago that I realized the Mayor sofa from &tradition is truly the stuff my dreams (well, the ones I'd have if I could fall asleep) are made of.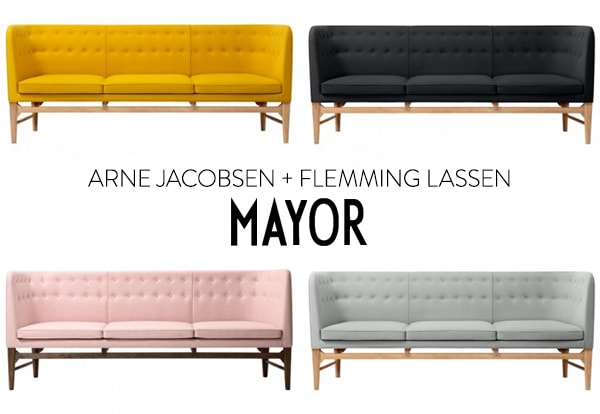 In 1939, Danes Arne Jacobsen and Flemming Lassen designed Søllerød Town Hall (now Rudersdal Rådhus) and everything in it, including the Mayor sofa. As far as I can tell from pasting Danish text into Google translate, the sofa was never in full production as a consumer product. Danish furniture company &tradition changed that this year, and the Mayor sofa is now available in a bunch of colors, fabrics and wood options. In the US, it's carried by A+R.
LOOK AT IT, LOOK AT IT. That's the best sofa ever, right? The way the high back curves into the arms, the thin seat cushion, the subtle tufting, those sturdy wood legs and the exposed frame…yes, yes, yes. This is everything I've ever wanted from a sofa. Well, not everything, because it's totally and completely forever out of my budget, but hey, this is a fantasy.
Arne Jacobsen did everything just right. Sigh.
More fantasizing: Maybe DWR will start carrying it and I'll find one at the Annex for $500. And it'll just have, like, a little coffee stain on it that I can cover with a pillow. I would accept the coffee stain, and maybe even love the sofa a little more because of its flaw. That's how it would be. My sofa.

Photo by Line Klein (see more) for ALT Interiør // Styling by Nicola Kragh Riis