OK, so maybe this is a little obsessive. Remember that perfect room in my post about the Jacobsen Mayor sofa? Well, I felt compelled to try to track down where every last thing in it comes from, from lamps to textiles to art. And I almost managed to do it! See, this is exactly why I have a blog.
This post is sponsored by the 20oz cup of coffee I had at 10PM last night.
Furnishings and décor first…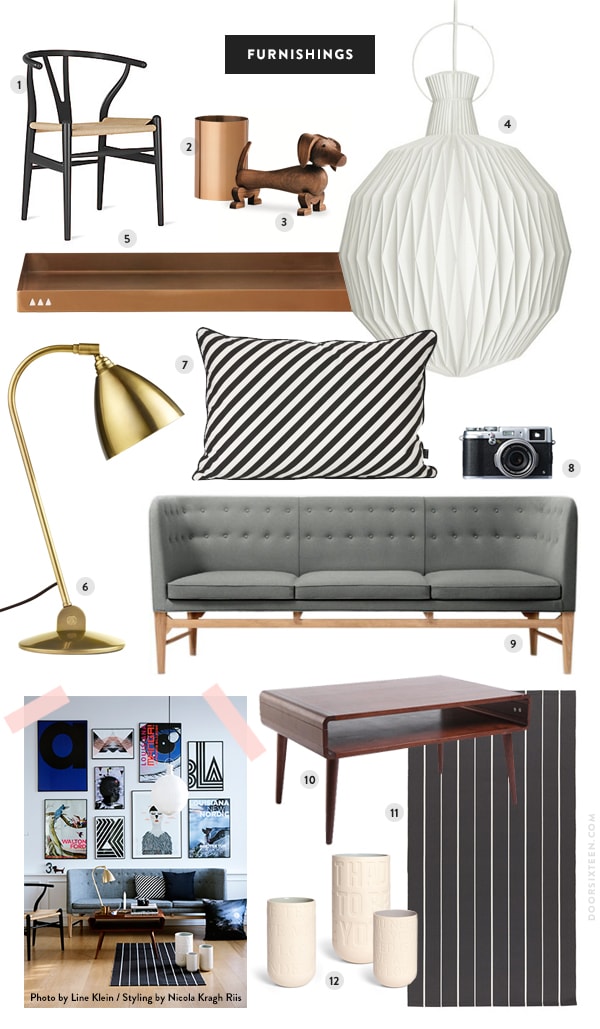 1. Hans Wegner Wishbone Chair
2. Ferm Living Copper Cup
3. Kay Bojesen Dog
4. Le Klint 101C pendant lamp
5. Ferm Living Copper Tray (no longer available, alas)
6. Bestlite BL2 Table Lamp
7. Ferm Living Black Stripe Cushion
8. FujiFilm X100S Camera
9. &tradition Arne Jacobsen Mayor Sofa
10. UO Danish Modern Coffee Table (not exactly the same, but close…)
11. IKEA Söften Rug
12. Kähler Love Song Vases
So, it's driving me CRAZY that I can't figure out where that pillow with the moon and trees comes from. Does anyone know? Here's a larger version of the photo. Same for the navy pillow with the tiny dots. And the candle holder. And if you want to get really crazy (I do…) the books on the table. I don't want to tell you how long I spent trying to decipher what it says on the spine of the bottom book in the stack.
UPDATE: The mystery pillow is by Nord from Kaiku! Thank you, thank you, Camilla!! Yay.
And now on to the artwork…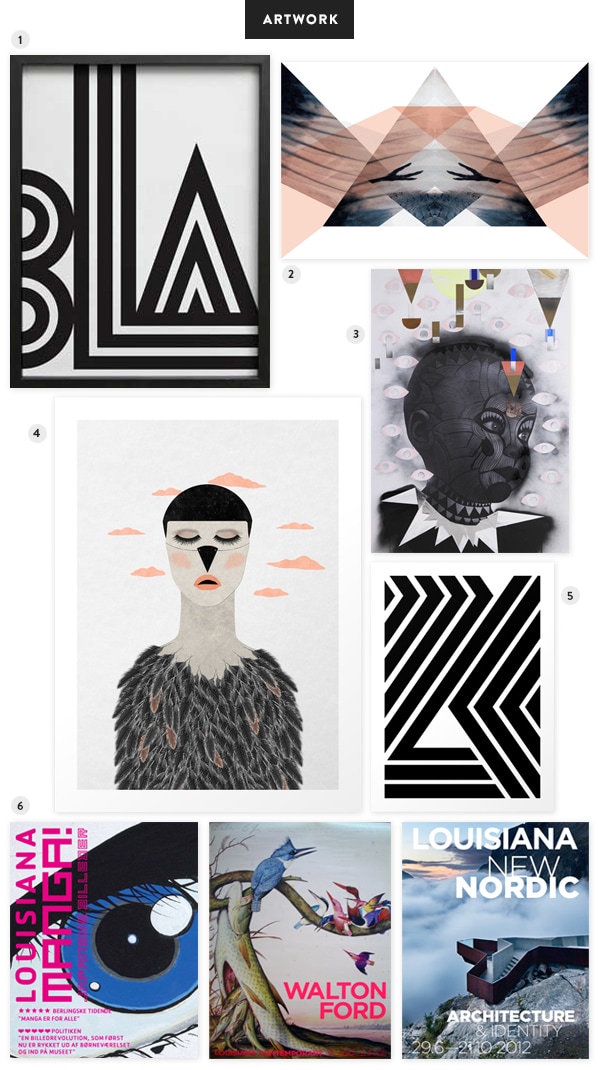 1. "Small Talk," One Must Dash (also from Artsy Modern in the US)
2. "Elements of Birds I," Mintstudio
3. "Punk," Kristina Dam
4. "Lola," Samantha Totty
5. "Wild Stripes," RK Design
6. Various exhibition posters from the Louisiana Museum of Modern Art, Denmark
Unfortunately, it looks like none of the Louisiana exhibition posters are available online, but it's possible that they still have them for sale at the museum gift shop. I'd love to get my hands on that Walton Ford poster! His work is nuts. For the life of me, I cannot find that blue poster with the big black A on it. At first I thought it might've been cut off of the Artek logo, but the counter space is wrong. Any ideas?
UPDATE: The blue A poster is from Playtype. Thank you, Maaret!!
Even though I can't have THE sofa, I am going to order a few of these prints! The Le Klint lamp is now also on my wishlist. (The only thing in the room I already own is that IKEA rug, which is sort of funny.)
The room of my desire was styled by Nicola Kragh Riis and photographed by Line Klein for ALT Interiør magazine. Nicola is obviously a genius! Here's Line's photo again in full, for reference: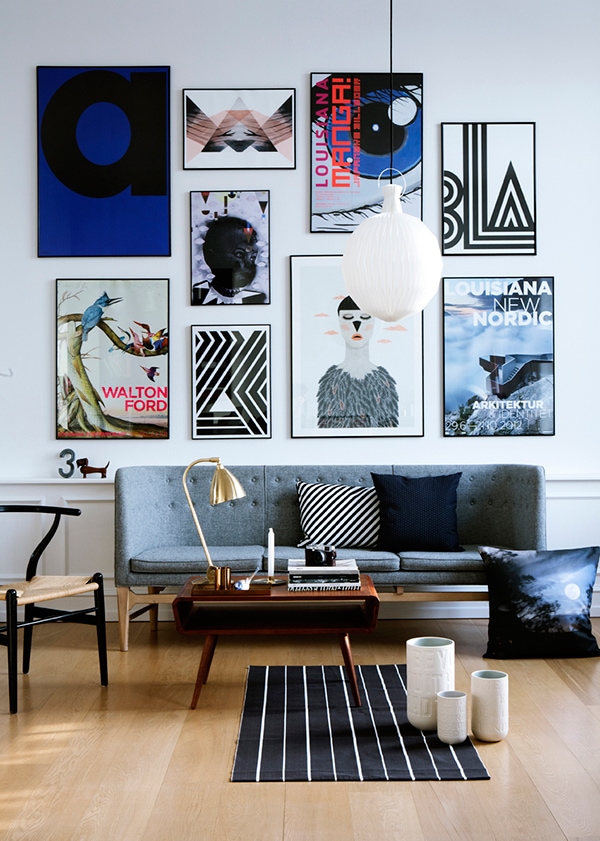 Photo by Line Klein (see more) for ALT Interiør // Styling by Nicola Kragh Riis