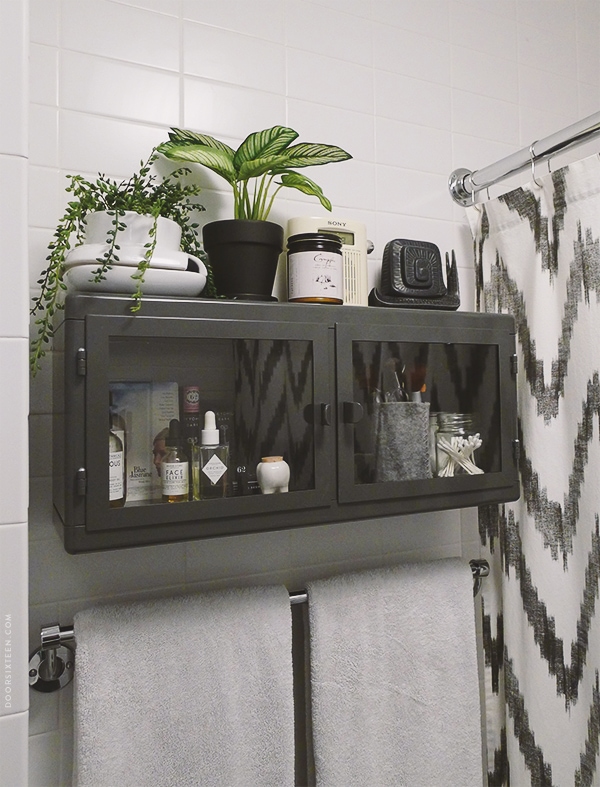 Alright, the title gives the whole content of this post away, so…BYE! No. I like to hear myself talk, so I'll keep going. Also, I know I said I wasn't going to start posts with photography disclaimers anymore, but this is one of those posts where there are four photographs of the same thing from slightly different angles and really one photograph would have been plenty. Oh, and the lighting is gross, but I'll get to that.
I'm obsessed with putting plants in every last corner of the new apartment. They're all over the living room and the kitchen already, and I've started adding some to the bedroom, too. I've always loved plants in bathrooms, but the bathroom in this apartment doesn't have a window. It's not even near a window—it's totally devoid of natural light. I know it's possible to cycle plants in and out of dark rooms, but considering I can barely keep a plant alive under ideal conditions, I don't really think that's a good option for me.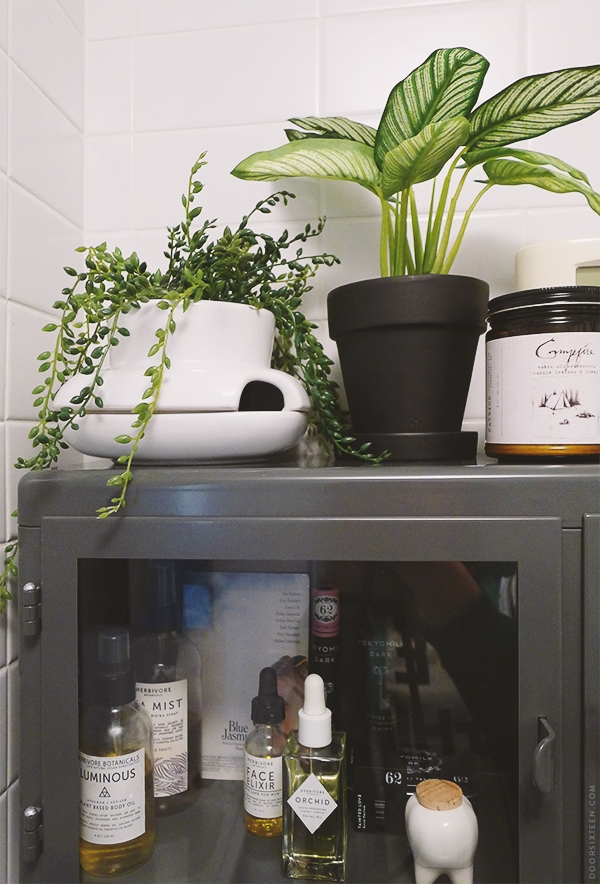 You see those cute plants there? Fake. Fake! I guess they look pretty fake in this photo, but I was standing on a step stool when I took this. From a normal human distance, they look totally real. (Kind of. They look real enough for me.)
Not wanting to invest a bunch of money in turning my bathroom into a plastic jungle, I turned to IKEA's huge line of fake plants, FEJKA (which, appropriately, means "FAKE" in Swedish). Some FEJKAs are more convincing than others. I went with this one and one of these, mostly because they were the right size and looked the least like they were actively offgassing polyethylene.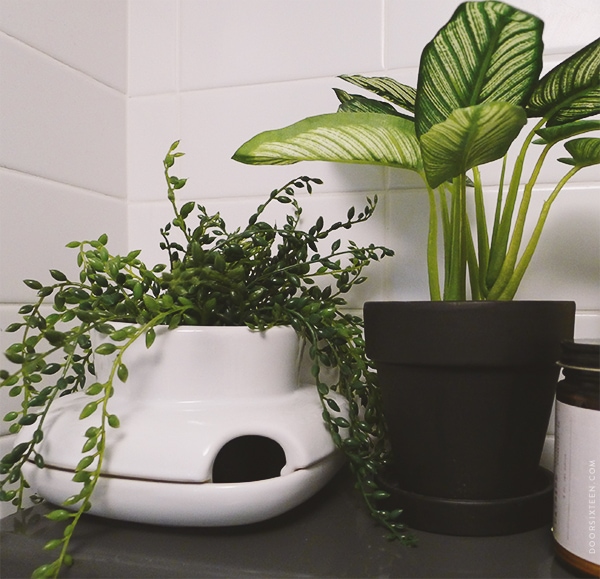 OK, they really look fake this close up. Shhhhh. It helps to put these plants into pretty pots, and not just use the black textured pot they come in. I'm using a large Sagaform herb pot and one of these cute West Elm chalkboard planters. I feel like I need a little warmth in there so I might swap out the black one for this brass-esque pot (fake plant + fake brass = real glamor?), but for now…I'm digging it. No shame!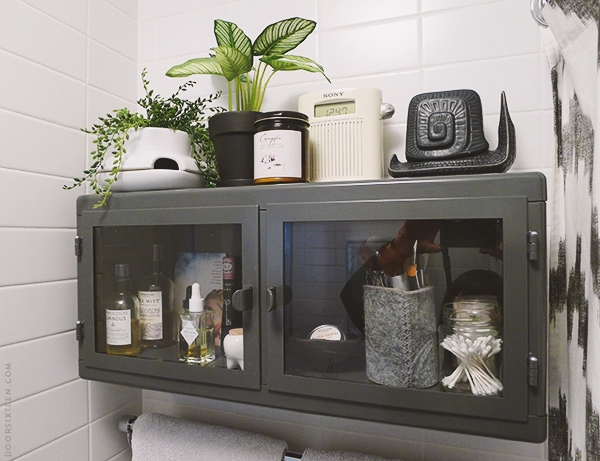 I need to mention again how much I love this RÅSKOG wall cabinet from IKEA. I had it in the bathroom in my previous apartment, too. It's the perfect size, perfect shade of gray, perfect everything. Plus, since it only requires two screws to properly install, I only had to drill two holes in the tile—something to consider when you're in a rental. The bathroom in the new apartment has no storage beyond a shallow medicine cabinet, so I really had to install something. Yay, RÅSKOG!
(Oh, and the snail box is from Jonathan Adler. It looks like this one only comes in white now, but you can still buy other animals in his Menagerie collection in this gray-black color. I love them! The sweet little tooth vessel comes from Brooklyn Rehab.)