The original plaster medallions that surround the ceiling light fixtures are still intact in most of the rooms in our house, but the one in the bedroom was removed at some point (or else covered by drywall; it's one of the few rooms without a plaster ceiling). You can buy polyurethane replacement medallions, but thanks to someone infinitely smarter, more skilled, and more patient than us, we now have a new plaster medallion in place!
He used the underside of a polyurethane medallion as a mold, then carefully and tediously carved out the small details in the hardened plaster. We attached it to the ceiling using Liquid Nails and three long wood screws going into the ceiling joists. A little caulk around the top edge, and it's done.
I still need to paint the medallion and the lamp canopy so they're the same color (and to hide the bolts), but here it is in action with the Double Dip pendant lamp from CB2. The imperfections in the plaster really add to the appeal—you'd never know it's not original to the house!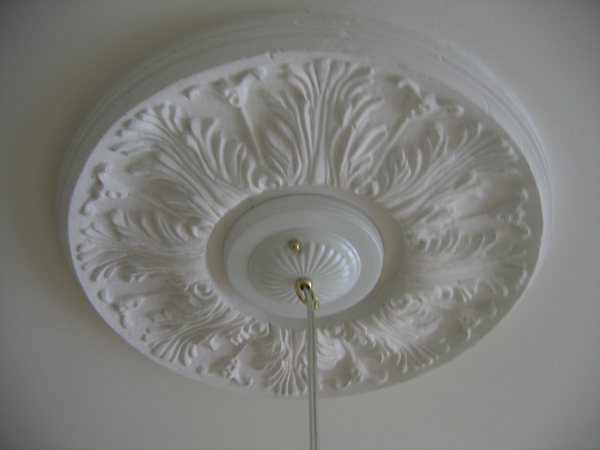 (Thanks again, B. It really looks great!)