I almost died when I saw this. Why is Morgan at The Brick House such a genius?? She's been blogging about fixing up her raggedy old fence, and instead of throwing away the rotted posts that weren't fence-worthy any longer, she cut off the ends, bolted them to a couple of Eames LTR bases scavenged from a banged-up surfboard table, gave the wood a healthy dose of teak oil, and…HELLO! Is this not the most beautiful bench you've ever seen?
What's really killing me right now is that about a month ago, we came across an Eames surfboard table at the DWR Annex that looked like it had been chewed on by rabid Chihuahuas and then thrown off a cliff, but it was marked down to $99. We passed it by, but we probably could have talked it down to way cheaper and then used the bases to make something awesome like this. Something we could actually use. But I'm not as smart as Morgan.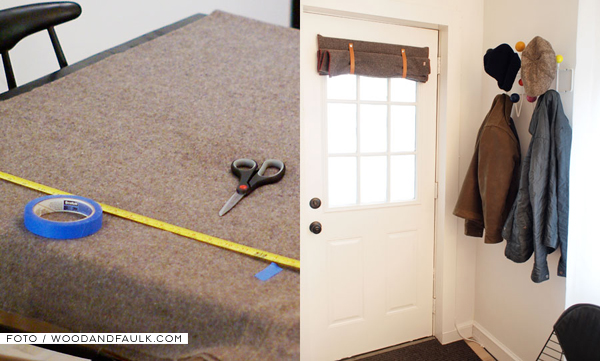 Next up is this blanket-turned-window shade from Matt at Wood&Faulk. It's so awesome it landed him a feature in the Dec/Jan issue ReadyMade magazine! I was agog over this project when Matt first posted photos on Flickr back in April, so I'm really happy to see it (and his great blog) getting some well-deserved attention. I can't wait to get a full set of instructions on how to make my own shade! I have the exact same door in my kitchen…
(Is there anything wool blankets can't do, by the way?)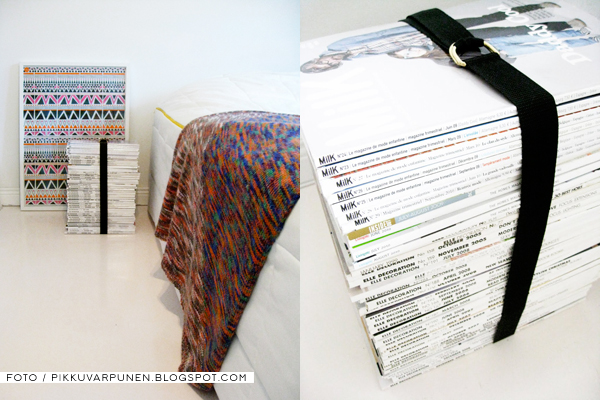 This is the simplest project ever, but I'd never have thought of it. Sure, we've all stacked up our magazines, but Suki at Varpunen went one step further and created a strap out of ribbon and D-rings to hold them all in place. The result is much more finished-looking than a wobbly stack, and it really does create a functional bedside table. I'm not yet at a point where I can get rid of all of my magazines without having a nervous breakdown, so this is making me rethink keeping a decade's worth of copies of Dwell (those colorful spines!!) hidden away in a cabinet.
+ See also: People who made cool stuff out of other stuff, Part 1.