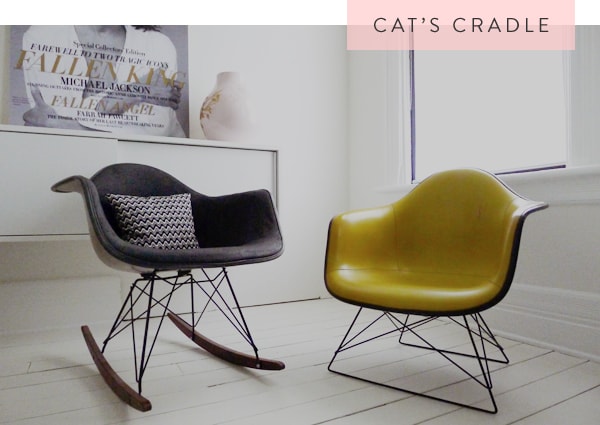 The rocking chair in the room at the back of the house (technically now Evan's music studio, but it feels weird saying that) has a new buddy! We bought this mustard-colored upholstered Eames shell chair years ago for cheap. It came with a standard H-base that was rusted out and missing all of its feet. A while back I swapped in a rolling DAT base that came off of another chair, but since we really don't have any use for a rolling chair, it's just kind of been sitting around in a corner of the guest bedroom doing nothing since then. It has a 2-inch tear in the upholstery (due to bad packing—grrrrr), but the mustard color is so great that I don't care.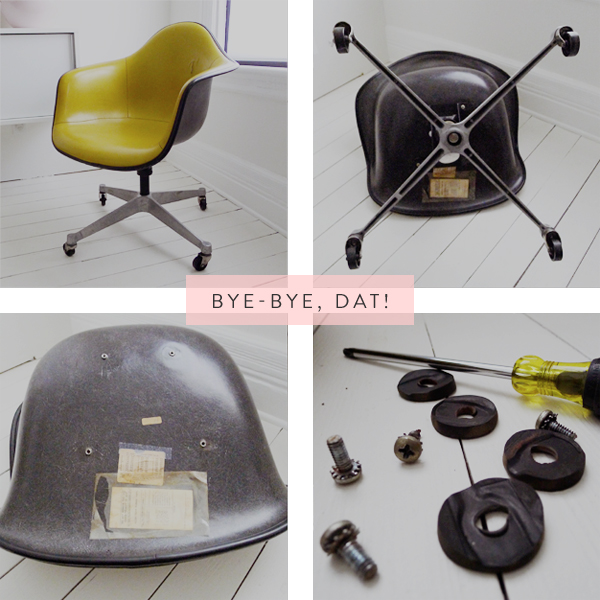 As long as an Eames shell chair has a narrow-mount configuration on the bottom (most of the stacking shells have a wider mount—you can see the difference here), all of the different kinds of bases are interchangeable. It's much easier to find vintage shells at good prices if you don't care about the bases, and it's relatively inexpensive to buy reproduction bases in whatever style you want. True, a vintage chair with a repro base isn't worth as much as an intact original, but I really don't care about that. I'm just happy to see a vintage shell get a new life.
I've bought multiple bases (including the one on the rocking chair above and the dowel bases on the chairs in the apartment kitchen) from the eBay seller Depury, but there are plenty of other sellers out there all offering roughly the same product at more or less the same price points. You can expect to pay between $75 and $125 depending on the type of base.
Whatever you do, make sure you hang on to the screws and rubber washers/shock mounts when you remove the old base. Most upholstered Eames shells have removable rubber washers and threaded holes in the fiberglass, but others (including all of the non-upholstered shells) have thick, permanent shock mounts affixed to the bottom that allow bases to be attached without the screws penetrating the shell itself. Just don't go screwing anything to the bottom of your chair without there being some rubber involved!
We chose a wire-frame LAR/low-rod base (commonly known as the "cat's cradle") for this chair. Since it's going to be sitting next to a rocker, I thought having a height difference between the two would be nice. Also, it's low enough for the dogs to climb in! I suspect this is going to become a favorite snuggle-spot (and photo-op) in the near future.