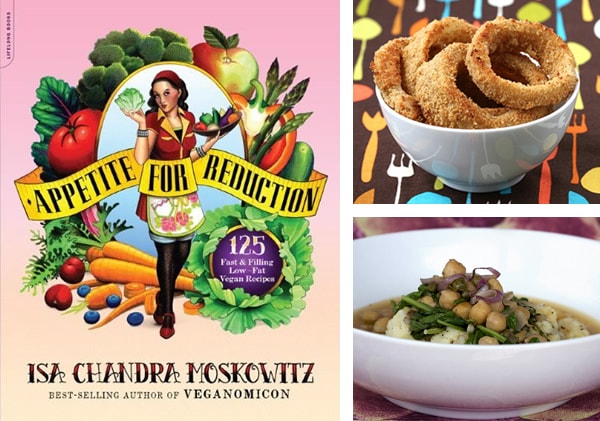 I get asked a lot for cookbook recommendations, and I usually decline to answer because I'm not really a "cookbook person". Sure, I own a couple dozen that I've bought over the years, but I tend to either look for recipes online or just make stuff up (and then promptly forget what I did, so I can never make the dish exactly the same again).
Now, though, I have a recommendation: Appetite for Reduction by Isa Chandra Moskowitz.
In the interest of full disclosure, I should say that I'm one of those people who loves vegetables. I crave broccoli the way that some crave chocolate. (I crave all kinds of garbage, too, so don't go thinking I'm being all foodlier-than-thou here or anything.) I can honestly say that despite taking a "vegetarian rumspringa" before deciding to fully vegan, I don't miss meat. All at. Or milk, or eggs, or cheese. (Okay, that's a lie. I do miss stinky cheese sometimes. But then I think about where it comes from, and I don't miss it anymore.) Blah, blah, blah…I love vegetables. That's the point I'm trying to make.
I think a lot of people get weirded out and worried by the thought of going vegetarian or vegan because they think that means they need to eat a bunch of processed meat-substitutes, many of which are really not very good for you. Sure, that stuff is fine here and there, but veggies and grains and legumes are really where it's at. Appetite for Reduction excels in making those whole foods the stars of the plate. I like that. I have a few of Moskowitz's other books, but I think this one is the best.
All of the recipes in the book are between 200 and 400 calories, and full nutritional information is listed for each. I try not to worry too much about that stuff, but it's a nice side bonus. Aside from the yummy results I've had from every recipe I've tried, the best part is that the recipes are simple and fast and don't require 8 billion ingredients or tons of prep time. That's key for me, because if I foresee 90 minutes of cooking and a sinkful of dishes in my future, I'm all the more likely to just say, "Screw it, let's order Chinese".
(Oh my god, WHY am I so bad at reviewing books? I'm sorry. Just trust me, it's a great cookbook, even if you're not vegan.)