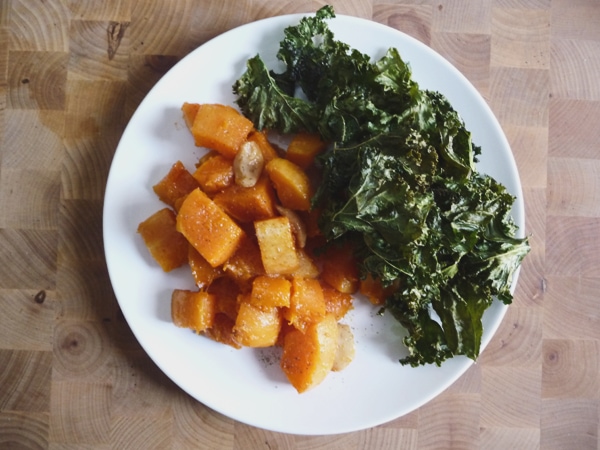 I swear I don't mean to be turning this joint into a food blog! I do a lot more cooking in the winter than in summer, though, and a lot less in the way of house stuff.
Since we hadn't done our weekly grocery shopping yet, I put a really simple, really delicious lunch together for Evan and I Evan and myself Evan and me (GOOD GRIEF—thanks, Kate!) today using the remainder of the vegetables we had in the fridge. It took just over an hour to get it on the table, but the prep time was only about 10 minutes. (I'm amazed I thought to start it early. Usually weekend lunch is something that starts to take shape after we've both realized we're starving.)
If you've never had kale chips before, well…you really need to hop to it. Even if you think you don't like kale, it's hard for me to imagine anyone not liking kale chips. They're like ultra-thin, nutty-tasting potato chips, only way, WAY better for you. Did you know that kale is one of the most nutritionally-dense foods in the world? Seriously, it's like magic, and you should be eating lots and lots of it.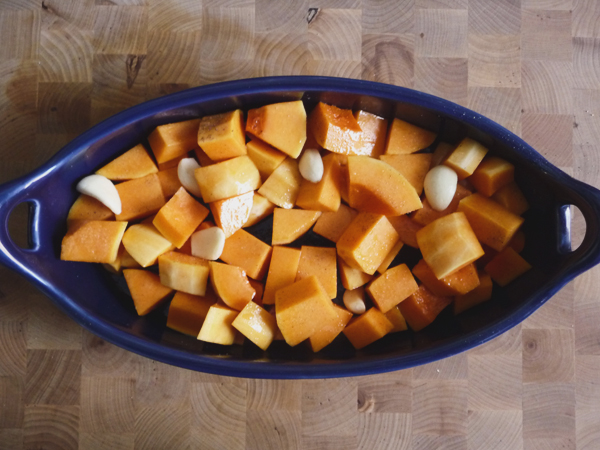 ROASTED BUTTERNUT SQUASH (vegan)
Serves 2 hungry people
1 butternut squash
6 cloves garlic
2 tsp olive oil
1 tbsp agave nectar (or maple syrup)
1/2 tsp fine sea salt
1/4 tsp ground black peper
dash cayenne pepper
Preheat oven to 400°F.
Peel squash and scoop out flesh/seeds., then cut into 1″ chunks.
Combine all ingredients in a large bowl until thoroughly coated, then pour into a medium casserole dish. Roast for 50-55 minutes (turn halfway through cooking), or until squash is tender.
Serve as-is, or mash up a bit with a wooden spoon. If you have leftovers, try heating them up the next day with some brown rice.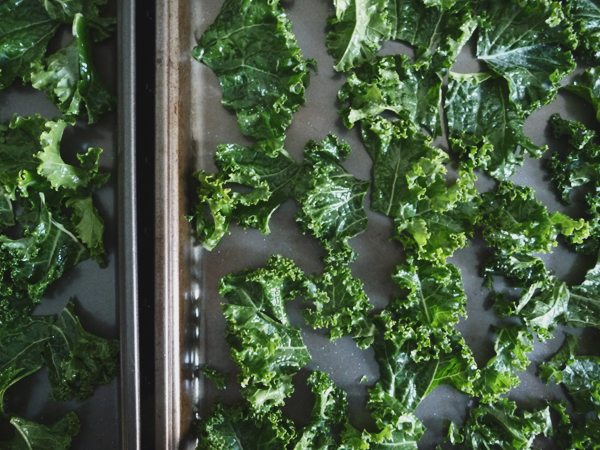 KALE CHIPS (vegan)
Makes enough for 1-4 people, depending on greediness
1 large bunch kale
1 tsp olive oil
1/2 tsp lemon juice
fine sea salt
Preheat oven to 300°F.
Wash and thoroughly dry kale. Cut out the thick center stalk, then cut into bite-sized pieces (I just do this with kitchen scissors—you don't need to be precise).
In a large bowl, combine kale, olive oil, and lemon juice. Make sure the olive oil gets all over the kale.
Spread the kale in a single layer on a couple of cookie sheets. Sprinkle with salt. Bake for 20-30 minutes. The time will vary depending on the amount of moisture in your kale. You want the kale to get nice and crispy and dark. Just keep a close eye on it and make sure it doesn't burn.
When your kale is good and crunchy, you may want to put a little more salt on it, or toss it with some nutritional yeast. Whatever you do, you're going to want to eat all of it, trust me.