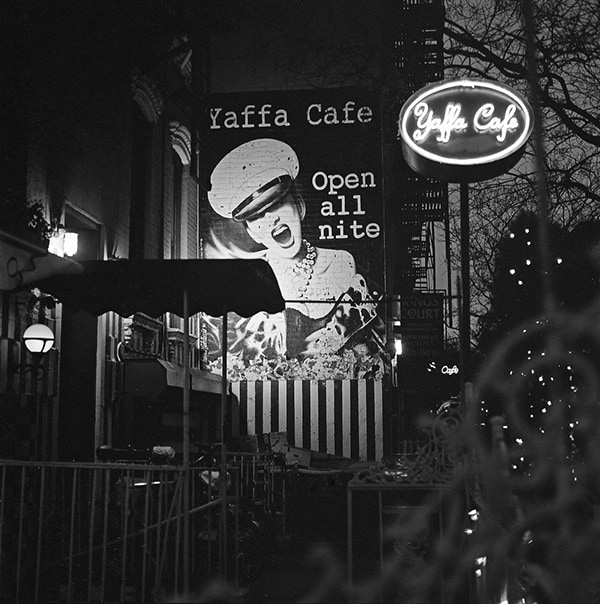 Photo: 'Open All Night, East Village, NYC' by Shawn Hoke
I woke up this morning to the sad news—delivered by the excellent EV Grieve blog—that Yaffa Cafe has officially ceased to exist. EV Grieve had previously reported that their iconic St. Mark's Place mural had, bizarrely, been covered by a Google ad, with a follow-up that its closure was temporary pending necessary renovations and the possible elimination of the back garden. "Closed for renovations" is almost never a good sign to see in a window in NYC (How many places reopen after closing "for renovations"?), but Yaffa is an East Village mainstay. Through all of the upheaval and turnover of St. Mark's Place over the past couple of decades, it has held on, twinkling Christmas lights ablaze, open all nite—and day. I truly believed it would reopen.
The first time I went to Yaffa Cafe was in the summer of 1992. My friend Brian, who I'd met several years earlier through the penpal section in a Cure fanzine, was dating a very cool girl who lived in lower Manhattan. I was a high school student in upstate New York at the time, and solo trips to NYC—ones that didn't involve going to see my father—were still a relatively new thing for me. We all met up at one of her friend's apartments on the Lower East Side (it was a beautiful dump, that apartment, the kind of wonderfully cheap, unrenovated pre-war space that's now next to impossible to find), and it was decided that we should go to Yaffa for brunch. I think we went back three times over the next 48 hours. A $4 sunshine burger platter with a salad (and that glorious carrot dressing!) was just as delicious at 2AM as it was at 4PM, so why not?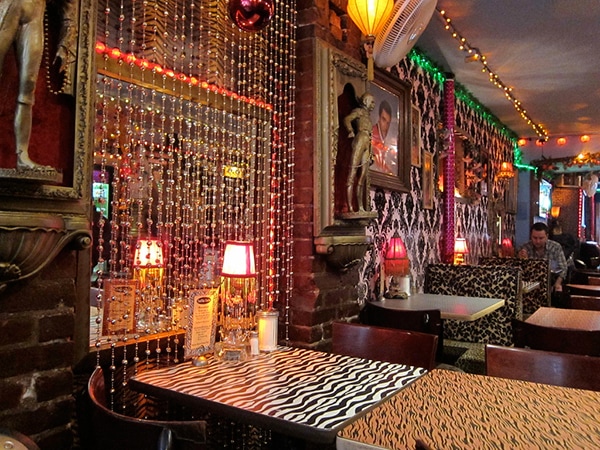 Photo: 'New York, 2012' by Mark & Andrea Busse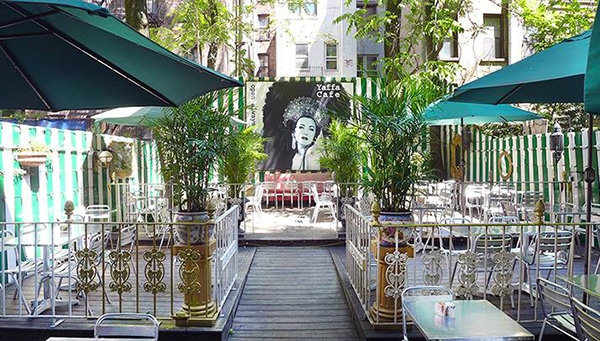 Photo: Yaffa Cafe
I fell in love with Yaffa at first sight. The decor was exactly how I wanted my bedroom to look: '80s thrift store curbside postpunk Rococo dirtbag Pee-wee's Playhouse-meets-Victorian brothel glamor. As Jeremiah Moss describes it, "The place hasn't really changed since 1987. The booths are upholstered in leopard and zebra print, the fabric rotting from years of wear. The walls are covered in various wallpapers—fruit, vegetables, flowers. Plastic grapes hang from the ceiling. And there's also this." Ahh, the hypnotic oil fountain. How I loved thee. Out back, there was a magical garden that seemed impossibly removed from the rest of the city.
The patrons were just as thrilling as the interior. Punks, goths, queens, freaks and weirdos, laughing together, drinking tea and eating fries. It felt like heaven to teenage Anna, like what I imagined life in NYC would resemble for me someday. And so, Yaffa became a staple for me. My place, my people. When I was in college just north of the city, I'd take the Metro North train down all the time to see bands. Back then it seemed like shows never let out until well past the last train back to White Plains, so there as a lot of time to kill until morning. Countless nights were spent over cheesecake and coffee at Yaffa, waiting for the sun to come up and signal a sleep-deprived subway ride to Grand Central.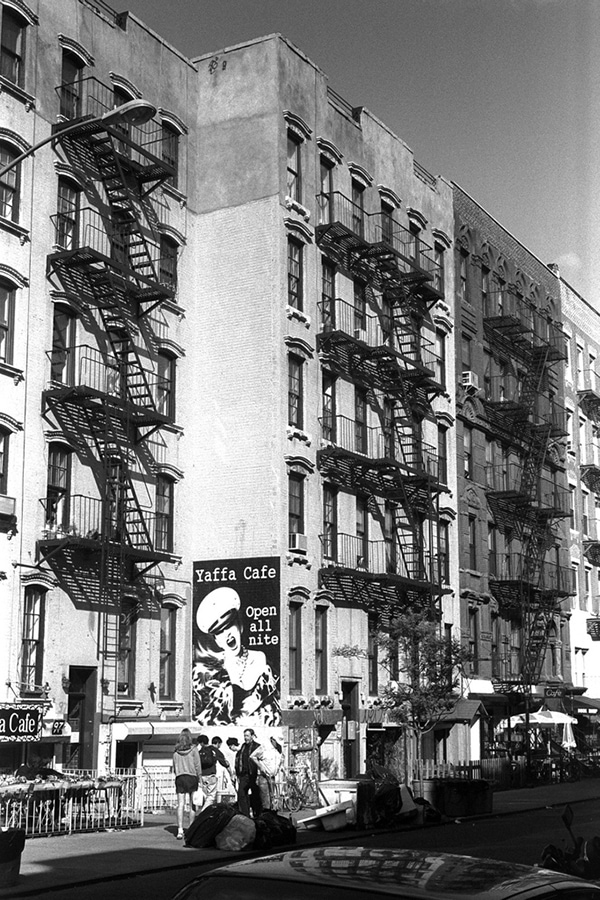 Photo: 'Yaffa Cafe, 1995' by Leo London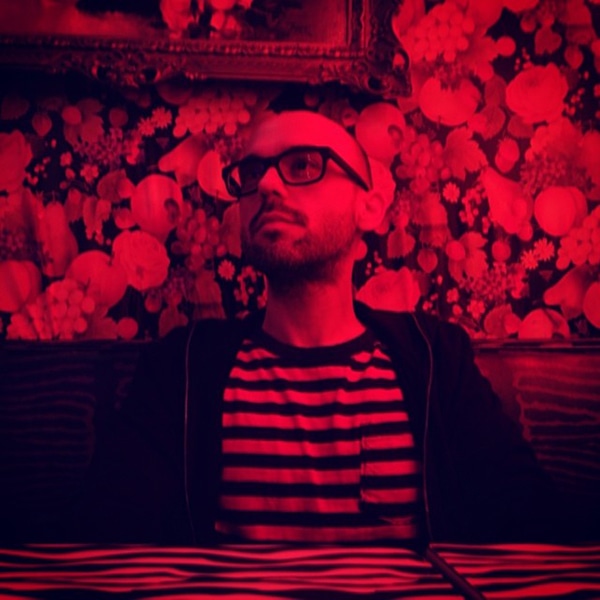 Yaffa Cafe never stopped feeling like a special place to me. A few years ago, my friend Jenna and I went to see Echo & the Bunnymen together, and there was no question that the only place that made sense for a pre-show dinner was Yaffa. Jenna wrote great a blog post about our outing that night, and reading it now fills me with so many bittersweet feelings. What other thing in NYC has been a part of my life for so many years? Certainly no other restaurant. I think the last time I was at Yaffa was about a year ago, with Evan—that's when I took the photo above. We went after seeing Johnny Marr play around the corner at Webster Hall. The sunshine burger was just as good as ever, and I was still in love with the red lights, the floral wallpaper, the dusty plastic grapes, the crazy zebra contact paper on the tables, and the drawings of naked ladies in the bathroom. I still kind of want my bedroom to look like that. Yaffa was a constant, unchanging comfort of a place. I am so very sad to see it go.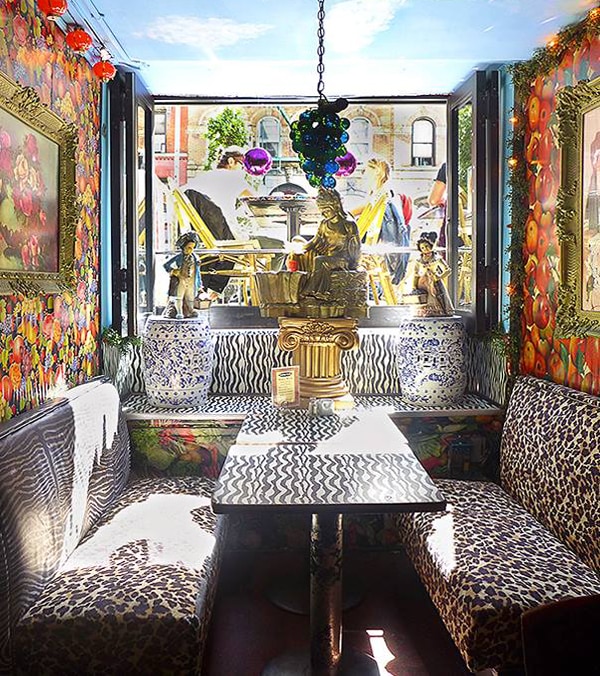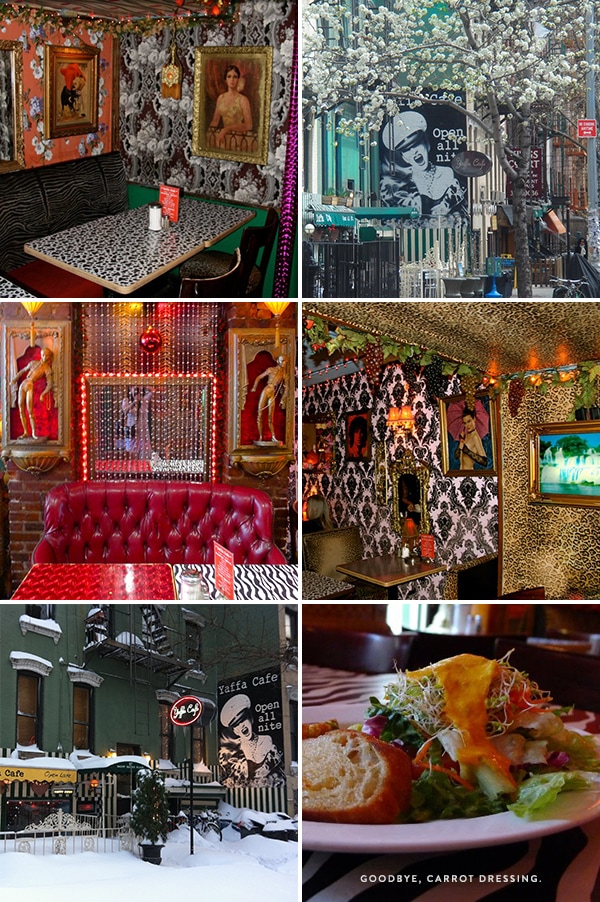 Photos: Yaffa Cafe