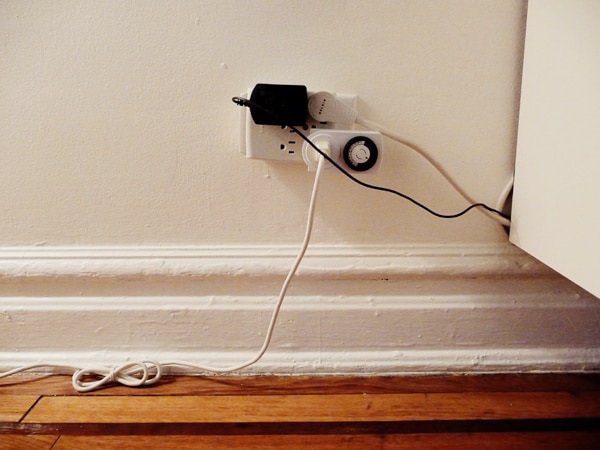 This is a sad, sad situation here, right? This mess of cords in the apartment makes me so upset. I know it's only three plugs, but between the protruding timer on the lamp and the big black monster that powers our radio, there's really no way to hide the whole thing with a carefully positioned pile of books or a cord channel. For a while I've been hiding it behind the giant ampersand, but I want to hang that thing on the wall, not leave it leaning precariously in a corner.
Over Christmas, we received a gift from an author of some baked goods in a large, round wooden box. It's nothing fancy (a notch above balsa wood, really), but I snatched it because I was sure I'd be able to use it for something.
Unable to look at that cord mess for one day longer, I devoted an unreasonable amount of time yesterday afternoon to figuring out how to get it out of my sight. I abandoned my plans of preparing and freezing meals, cleaning out the kitchen cabinets, giving myself a pedicure, doing photo research, and pretty much everything else that would have made my week easier, and set about turning this round box into a…um…what? An electric outlet cozy?
Since everything looks better with a cross on it (case in point) I used tape to mask one out (sort of the reverse of what I did on my medicine cabinet), then used some leftover wall paint to fill in the negative space. The trick to preventing bleed-under when painting over tape on bare wood—especially when it's very porous and rough, like this box—is to use a really dry brush. Always paint away from the center so you're not brushing toward the edge of the tape. The paint will dry very quickly, so you can easily do three very thin coats.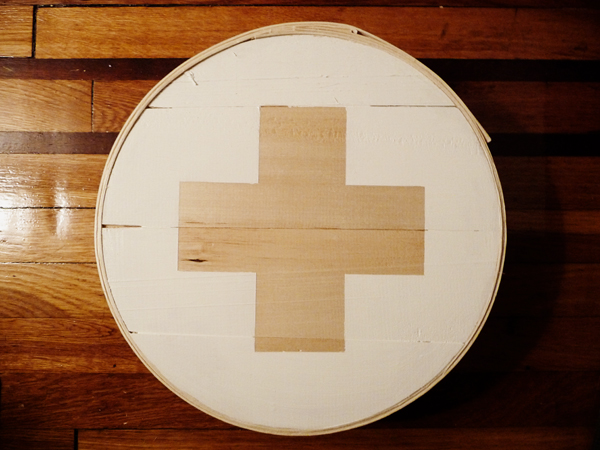 Cute, right? I decided to leave the edges of the box bare wood. I didn't take a photo, but I cut a little notch out of the bottom edge to allow cords to pass through.
The last step was to corral the cords into a little bundle so they'd pass through the notch easily (all of the excess cord length got wrapped up to be hidden by the box, too), then I put a nail in the wall to hang the box from. It's not attached to the wall, so if I need to access the outlet it's not a problem at all. Then I smooshed some books underneath to further distract from the extending cords.
I doubt this is a project that anyone else will be replicating in their own homes, but I figured I'd share it anyway! I know I could have made a very simple box to hide the outlet and painted it to blend with the wall more (or bought something prefab made of plastic, I imagine), but I thought it would be more fun to make something that looks intentional. Intentionally weird, maybe, but at least I can't see that stupid outlet or the plugs anymore!
EDIT: There has been some concern from a couple of commenters over whether this box poses a fire hazard. The answer is no. First of all, the outlet and electrical box/wiring inside (which are all new) are NOT overloaded. I realize it looks like there are a lot of things plugged in, but that's an illusion caused by the color, size, and shape of the three plugs and the lamp timer. Second, the box (which is quite large—it's about 5″ deep and 14″ wide) is NOT airtight by any means. There is plenty of airflow, even more than inside of a TV cabinet, kitchen cabinet, or other places where you might have an enclosed outlet. This is no more hazardous than putting a piece of furniture, a refrigerator, or curtains in front of an electrical outlet—or having an outlet inside of a kitchen cabinet to power undercabinet lights, etc. I am a big fan of electrical safety, and I would never do something like this if it posed a risk.