Last night we made an impromptu trip to the DWR Annex (we brought Dan from Manhattan Nest along for good luck, because he's so charming…GET IT?!) (← Evan has just informed me that this is not a funny joke, even after I explained it to him. Whatever.), and, as usual, I scored a few items that were on my wish list at tiny fractions of their usual prices.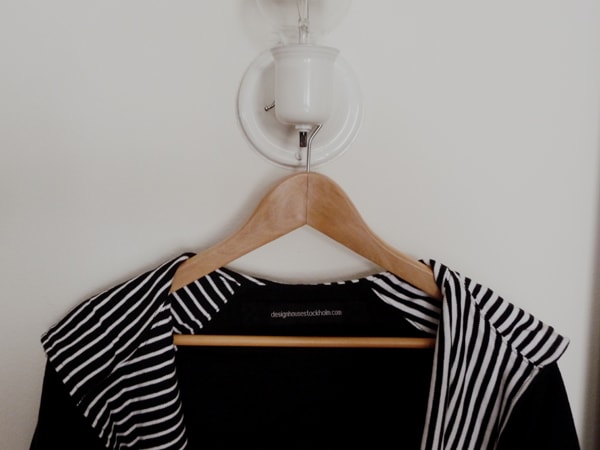 First up is Daniel Östman's striped cotton bathrobe from Design House Stockholm. It's reversible, so you can be more black or more stripes depending on your mood. There's also a hood, which in my experience makes nearly every garment more snuggly.
I've never owned a bathrobe as an adult. Lately I've been thinking I want one, though, because I hate putting my pajamas back on after I've taken shower and coated myself with moisturizer. Problem solved.
I've wanted a Kubus candlestick (designed by Danish architect Mogens Lassen in 1962, blah blah blah) forever. This sucker was only 25 clams, so how could I leave it behind? It's in perfect condition, too—only the box is damaged. They also had the big ones for a few dollars more. I'm sort of tempted to go back and get another one.
THE DOTS!! I've had my eye on Tveit & Tornøe's humongous wooden Dots for a while now, and even though I don't know exactly where I want to use them (In the dressing room, perhaps? Or maybe the kitchen…), I couldn't pass them up. I got them in screaming yellow, and once again, only the box is damaged.

I don't care if it's gauche to share receipts or talk about prices. I saved $386.75!
TIP: Never accept the marked price on anything that's been discounted at an outlet store. There's almost always flexibility. Ask for an additional reduction, especially if the item is damaged or if it's been sitting around for a while. They want to clear out inventory!