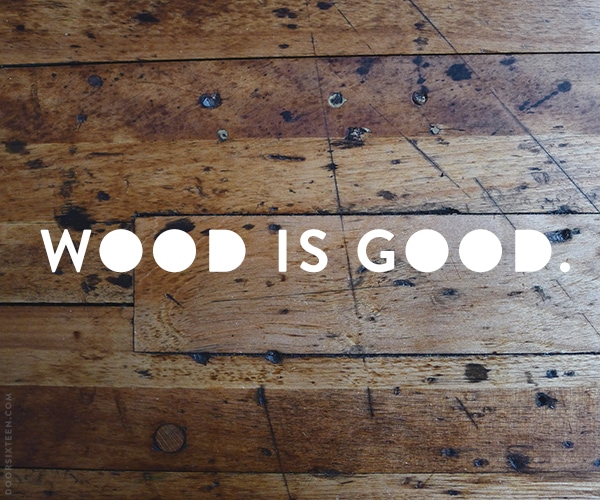 After our yellow stools arrived, Evan and I moved our kitchen island—the GROLAND from IKEA, which we've had pushed up against a side wall in the kitchen for the past 7 years—to the center of the room, which is where we've been planning to put it if/when we eventually buy the world's cutest refrigerator. As soon as we moved it into place, though, we know it wasn't right. It looked so tiny! Our kitchen is a very decent size for an old house (about 12×12′), but between the three doorways, two huge windows and the hearth, there's not a lot of usable wall space. The center of the room is very important, but because the ceiling is so high (11′), anything we put there tends to look a little anemic. The yellow stools looked weirdly giant next to the GROLAND. It was just wrong.
So, we slid the island back against the side wall (which I guess makes it technically not an island but more of a peninsula) and decided we'd have to keep our eyes open for the right thing.
Lately we haven't been doing a whole lot of thrifting and scavenging like we used to, but this past weekend I started feeling lucky and the bug hit me again in a BIG way. We spent all of Saturday driving around the Hudson Valley hitting up salvage/antique/junk shops in secret locations, but everything was either closed or devoid of anything we were interested in. Later in the afternoon, resigned to just having lunch and heading home again, we happened to wander into a mysterious-looking store we'd never noticed before with nothing on the sign out front but an engraving of an eyeball: Alms & Terra.
We weren't even really looking for a kitchen island at that point, but there it was: A beautiful old work table that had probably spent the past 70 years in someone's basement workshop, all beat-up wood and steel legs. Perfect. We checked the measurements to make sure it would be big enough (again, perfect), and made up our minds to bring it home with us after about 15 seconds of deliberation.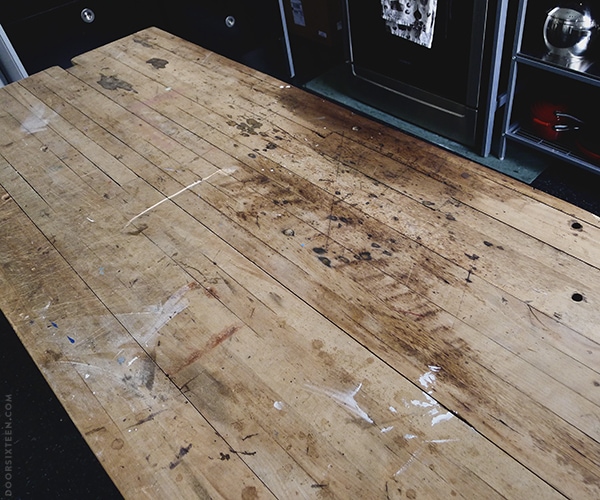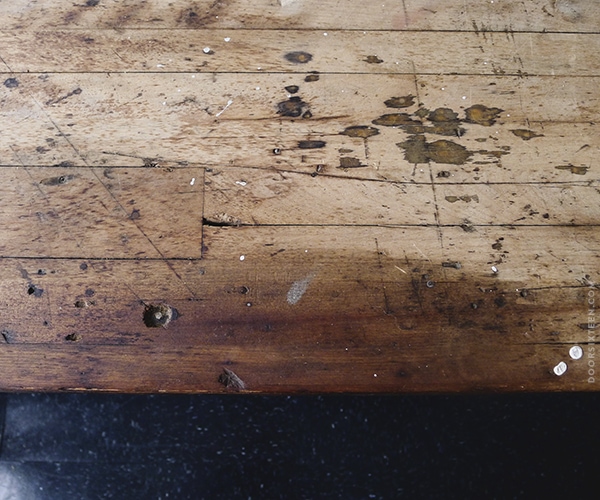 Now, I know there's bound to be one person who's going to see these photos and start crying about how the table was better before I fixed it up, but I'm here to tell that person: No. You're wrong. Look, there's patina and then there's "patina." The former is the loveliness that age imparts on something over the course of time and use, and the latter is a euphemism for "grungy and greasy and paint-spattered and about to fill your hands with splinters." This table, while certainly very lovely, was closer to having a "patina" than having a patina. It needed work. Not much, but some.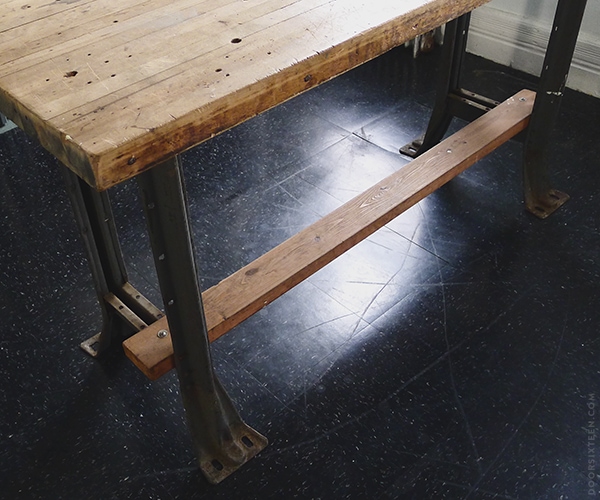 I love the legs. They're painted a battleship gray color that I'm OK with, but they're pretty rusty—past the point of what can be cleaned up with steel wool. Since this is going in a kitchen, I think it's best to give the legs a nice finish. It's too cold outside to do much about it now, but when it warms up in springtime I'll give them a good scrubbing, a rust-proofing treatment and a couple of coats of matte black Rust-Oleum. They'll look great.
I'm also going to take that 2×4 off the bottom and make a deeper, functional shelf to put in its place. It'll be a good spot to have some baskets for storing placemats and candles and stuff like that.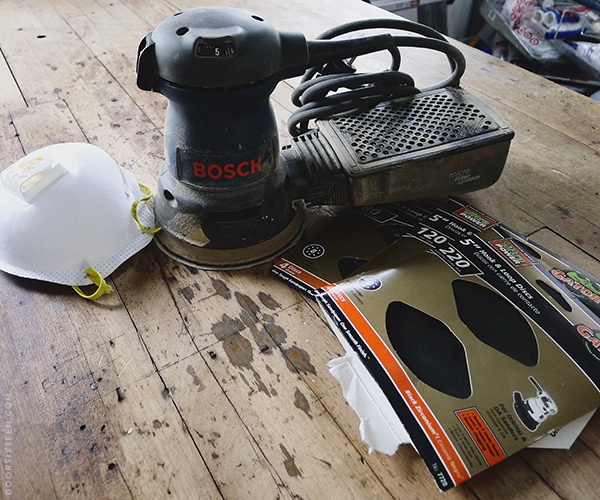 Dust mask, random orbit sander, sandpaper. I know renting tools is a great option for people who just work on occasional home projects, but when you own an old house that you're going to be working on for at least a decade or two, buying the things you'll be using all the time makes much more sense. We've had a Bosch random orbit sander (they don't make the exact model we have anymore, but this one is very similar) for about five years, and I use it constantly. Random orbit sanders spin while moving elliptically, so you don't get swirl marks etched in your wood. You also don't have to worry about sanding against the grain. You can't do super-detailed work (I use my Mouse sander for that), but for big blocks of wood like tabletops, doors and floorboards, they're great.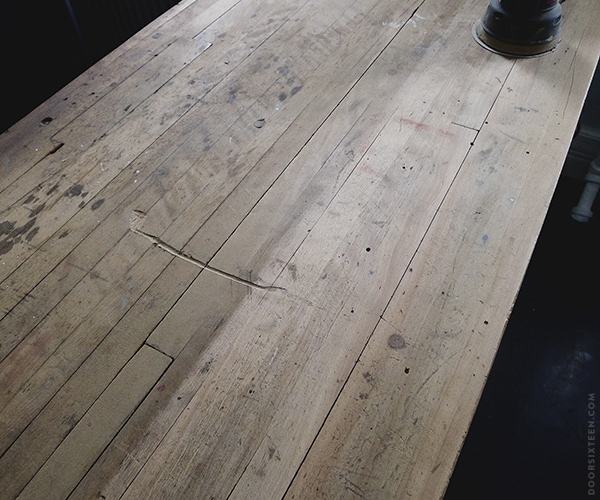 I started off doing a first pass with 80-grit sandpaper (the lower the number, the coarser the grit), then followed with two passes at 120-grit, and a finished with at least four passes at 220-grit (very fine). I just kept going until the surface of the table felt velvety-smooth. I had to spent some extra time on the areas with a lot of grease staining, but in all the entire sanding process took less than 30 minutes.*
*Excluding cleanup time, of course, which added on another two hours. If you've ever power-sanded anything indoors before, you know exactly what I'm talking about.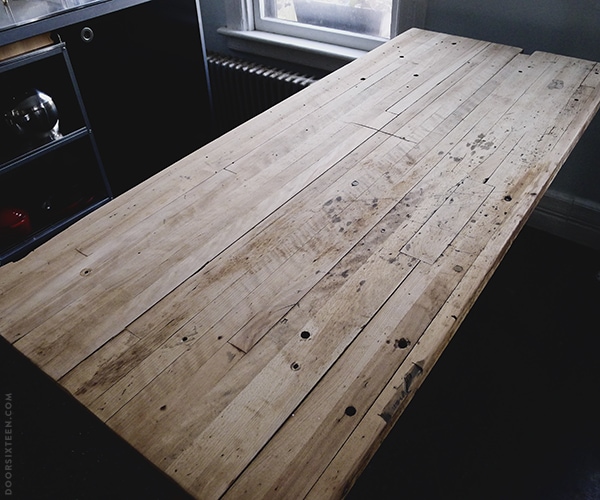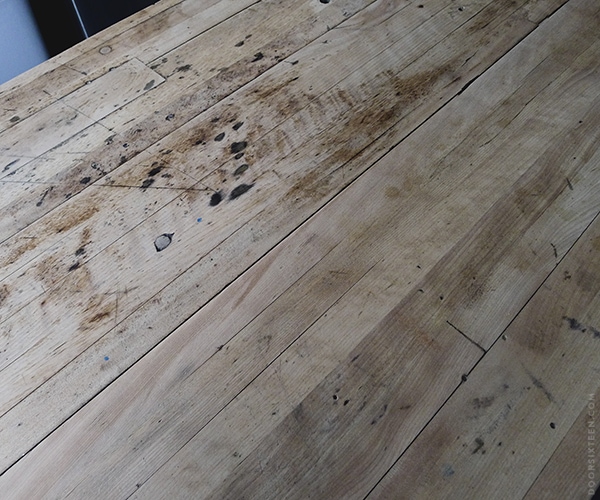 Pretty nice, yeah? The deeper stains (burns, etc.) didn't come out, but that's OK. All of the paint smears, grease stains and other unpleasantries took a hike, and that's the stuff I don't want in my kitchen. I'm no expert when it comes to identifying wood types, but based on the hardness of the wood and its smoothness post-sanding, I'm pretty certain this is maple.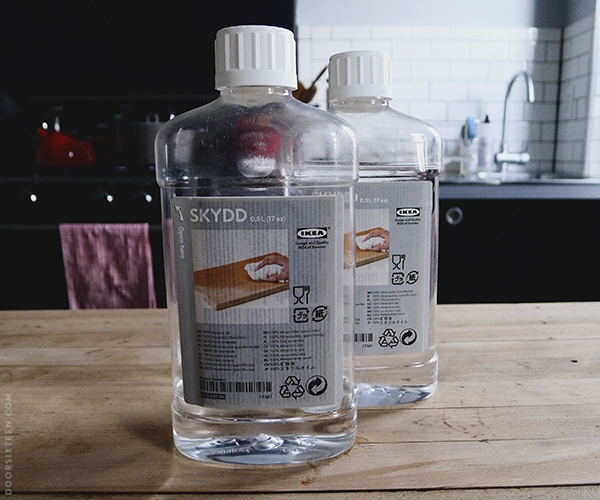 I'm not really planning to use this work table as a cutting surface because there are so many crevices that would be a huge pain to keep clean, and I have enough cutting boards and other areas of the kitchen to work directly on already. Even so, I wanted to finish the table with something food-safe. There are at least a dozen schools of thought on how best to finish wood surfaces in kitchens, and aside from the two most basic rules—don't use anything that's toxic to consume, and don't use any food oils that can turn rancid—they're all correct. For a long time I regularly treated all of my wood cutting boards, spoons, counters and salad bowls with John Boos Mystery Oil, until I realized I was paying $10+ for a small bottle of what was basically just mineral oil with some linseed and orange oils added in. I have way too much wood stuff for that to be cost-effective. SKYDD oil from IKEA is half the price—it's just pure, food grade white mineral oil. I've been using it for years now, and it's great, cheap stuff.
When I have a really thirsty/dry piece of wood, especially something that's just been sanded, I like to "bathe" it in oil until it can't absorb any more. I used about 10oz of mineral oil on this table initially, and I'll repeat the application weekly for the next month or so. I just pour it on, use an old t-shirt to spread it around, and leave it alone for a few hours or overnight. Any excess is easy to just wipe off, and the finish isn't greasy or anything like that. I've never felt the need to wax my kitchen wood, but some people like to—it's all just personal preference. I like mineral oil because it's cheap, easy and it keeps the wood protected from water/dryness and looking good. It's also non-combustible and odorless, which is nice.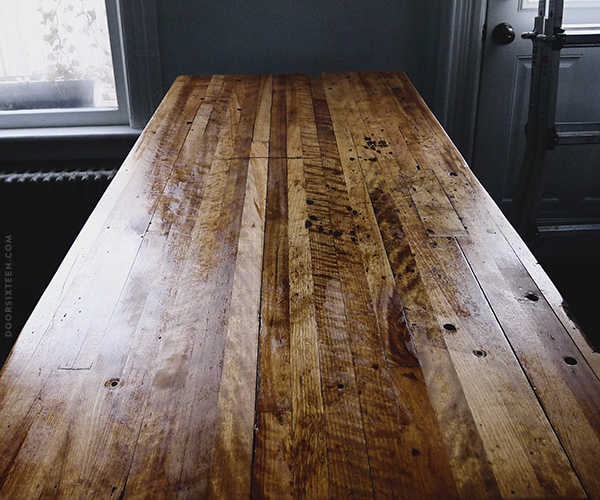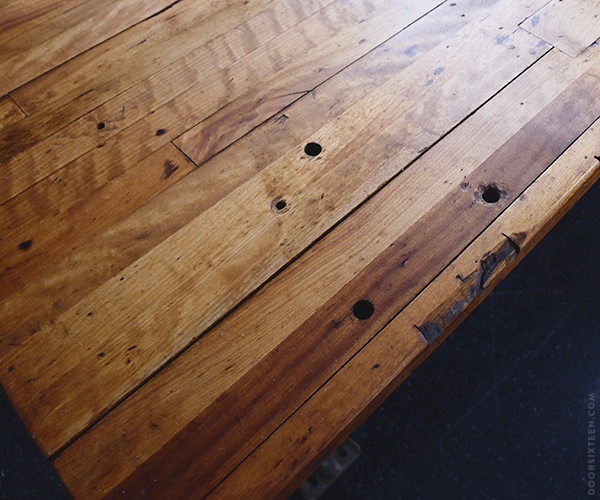 Oh, yeahhhhhh. Immediately post-oiling (top), and about two hours later. See how nice and matte the finish looks once the oil sinks in? I can't stop touching the table. I love it so so so so so so so much. SO MUCH. This is exactly what I had envisioned having as a kitchen island. It's going to be so great having that much prep area when I'm cooking, not to mention having a spot to sit for breakfast and coffee in the mornings. And now when we have guests over for dinner they'll have to place to put their wine down and eat snacks while they're hovering over my cooking!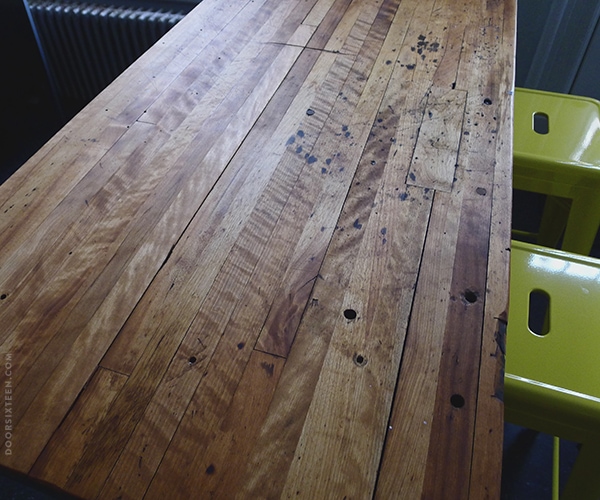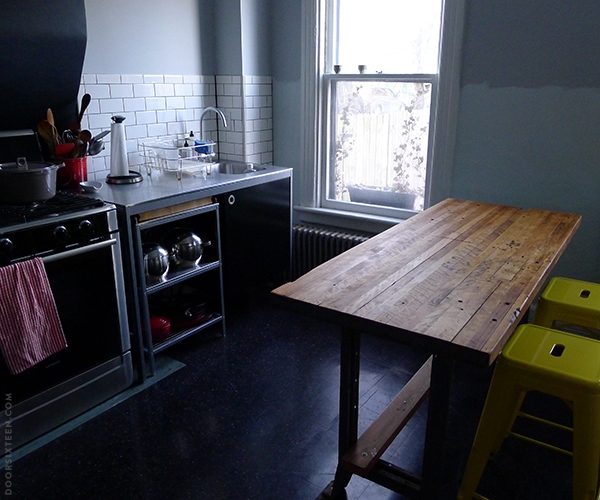 I'm very happy with how the kitchen is coming along. Now that everything is painted, wallpapering the side wall (opposite the stove) is next. In the spring the radiators will be removed and sandblasted, powder coated and re-plumbed, and I'll finally be able to finish the tiling while they're out. We're also going to have to think about replacing the floor at the same time for a couple of reasons—but I'll save that for another post. (Spoiler alert: It involves a secretly-leaking refrigerator…and insects. Sadface.) Our shelving will be delivered any day now, so I'll finally be able to put the dishes away and put out food in the pantry…exciting stuff. Moving right along!!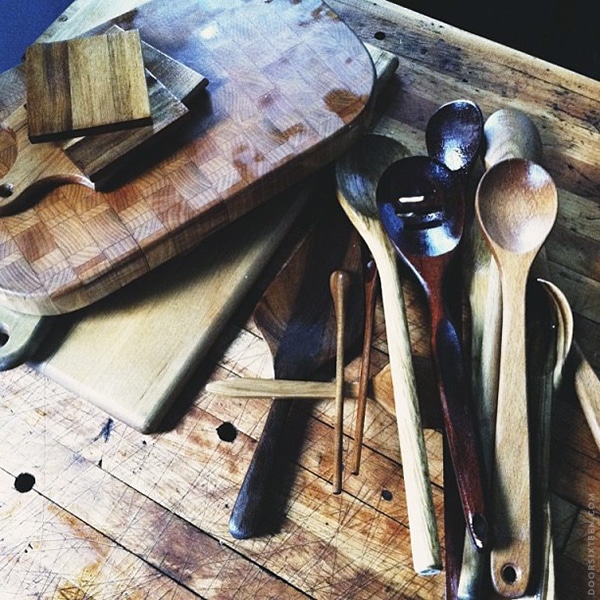 Bonus shot! Since my hands were already covered with oil, I decided to give every piece of wood in my kitchen a deep oiling. So satisfying.