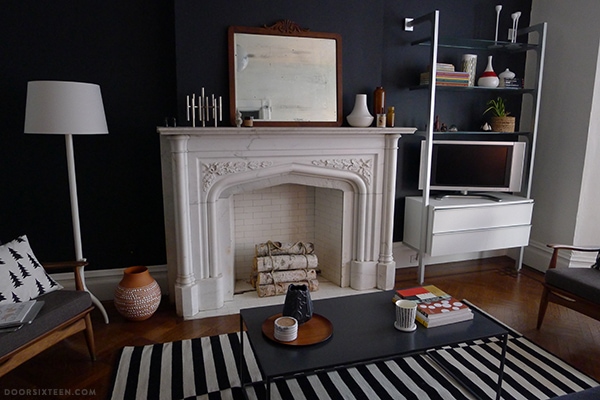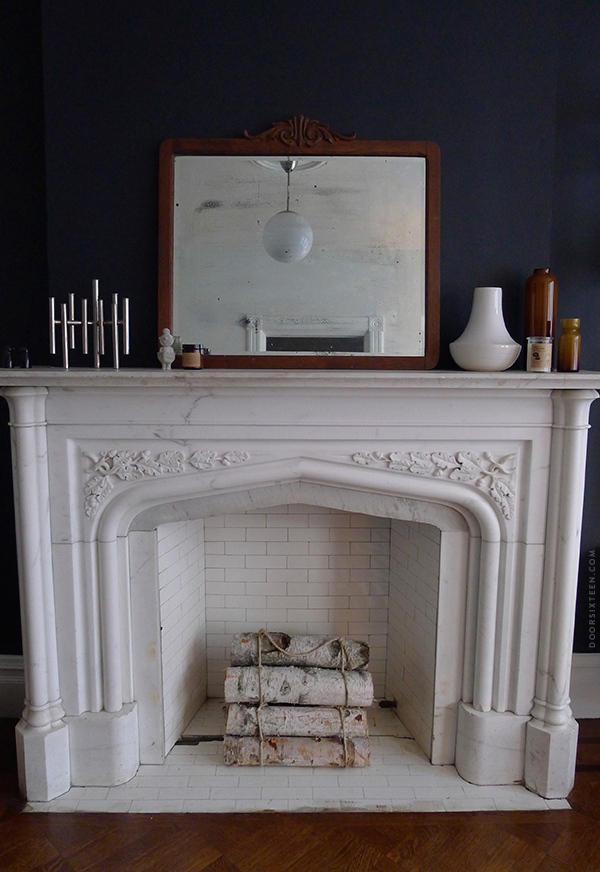 Okay, so maybe putting decorative logs in a non-wood-burning fireplace doesn't make sense. Yes, I know it's silly. But I don't care. Look how cute! Birch logs! Bundled! With rope handles! Stacked!
I've thought about doing this for years, but I've never gotten around to actually buying nice-looking/pest-free logs. A few weeks ago, though, my friend Ilenia ordered a few sets from Terrain for a photo shoot and wound up not using them, so I offered to buy them from her.
A few people have asked lately about why I can't burn fires in my fireplaces, and the reason is that they're not actually fireplaces at all. Three of the four of them (like the one in the bedroom) are decorative surrounds for the original heat registers. As far as we can tell, our house was built without indoor plumbing, so our steam radiators weren't installed until sometime later—we have no idea exactly when, but I'd guess within a few years. Until the radiators came along, heat was generated by a furnace (furnaces?) in the basement that vented through three separate chimneys. That heat entered the dining room and bedrooms upstairs through registers. So yes, those fancy "fireplaces" are just decoration around old-school forced air heating grates. Oh, those Victorians. What will they think of next?
Now, the enormous white marble fireplace in the living room is a different story. If you look closely at the photo above, you'll see a little pipe to the right of the logs. That's a decommissioned gas line. Once upon a time, there was a gas fireplace there. I'm assuming it was probably a contained stove type of thing because of the condition of the tiles and the lack of any type of grating or cover. In theory we probably could connect a gas fireplace again, but that would necessitate opening up the now-capped chimney and installing a liner and also possibly not meeting current codes…so it's probably for the best to just have some cute decorative logs in there and not worry about it.
Side note: The bedrooms upstairs all have pipe fittings on the walls for gas lamps, so not only was our house built without indoor plumbing, it was built without electricity.
Side-side note: Newburgh was the first city in the United States to be electrified. It's home to the very first Edison power plant, built in 1884 under the supervision of Thomas Edison himself. Our house was built in 1891, but maybe they hadn't run the lines through the entire city yet—who knows.
Neither one of these side notes have anything to do with the birch logs in my (non-)fireplace, really, I just find it interesting that my house was built right on the cusp of two major conveniences—indoor plumbing and electricity—becoming commonplace in American homes. I wonder if the original owner was annoyed by having to do so much retrofitting and renovating so soon after buying a brand-new house. I'm just glad nobody ever ripped out any of the fireplaces, even though they've just been for show for at least 100 years.