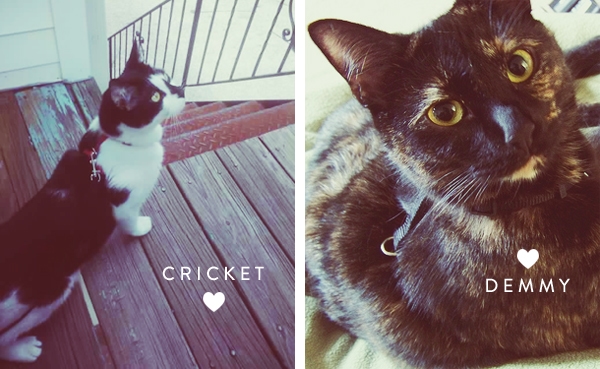 A good friend of mine is in a pickle, and she needs to find good homes for her two beloved cats very, very quickly. She had advance arrangements lined up knowing that she was going to have to say goodbye, but they've suddenly fallen through with next to no notice—and she's now very sad and very worried about what will happen to her kitties…on top of the heartbreak she's already feeling by having to give them up.
Cricket will be five years old on April 20th. He can do tricks on command like sitting and standing up to beg!
Demmy (short for Demyan Mogwai) is a chatterbox and a couch potato, and she'll be three on June 23rd.
Both kitties are sweet, snuggly and affectionate, love to nibble on oranges, and enjoy chasing around laser pen dots. They've both been fixed, and they stay indoors—though both Cricket and Demmy will wear harnesses and leashes for warm afternoons on the porch.
Cricket and Demmy currently live in Danbury, Connecticut (about two hours from NYC). They need to be in a new home by no later than Saturday, February 26th—one week from today. This is an urgent situation!
Can you help to give one or both of the cats a new, loving home? Do you know someone else who would be able to? Contact me if you have any questions or would like to adopt Cricket or Demmy…or both of them!
Please share this post and my email address with anyone you think may be able to help. Thank you!
UPDATE: Cricket and Demmy have found new homes in Pittsburgh, PA! Thank you SO MUCH to everyone who emailed, reposted, retweeted, and otherwise shared their story. I'm SO relieved that this story has a happy ending. Yay for kitties! Yay for adoption!