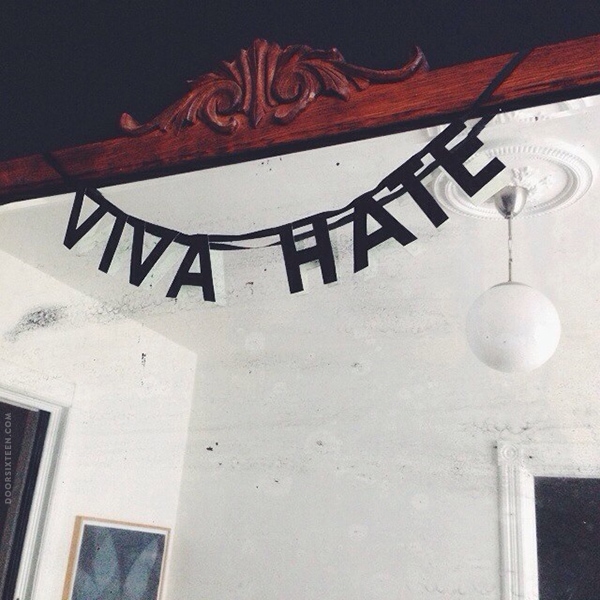 For the past six months (and by "six months" I mean my entire life) I've carried this looming sense of having forgotten to do something really important, but being incapable of remembering what it is because I'm so overwhelmed by all of the things I either procrastinated doing or discovered I had to take care of at the last minute. It's a terrible feeling, but it's one that's come to define how I (mal)function on a day-to-day basis. Everything is always about catching up. I never feel on top of things. I am always certain I'm disappointing at least one or two or a dozen people, including myself. Any time I feel like I might be getting close to making progress, something happens—usually I get sick (like yesterday, which was spent lying on the sofa curled up with a box of Kleenex and a couple of dogs), but sometimes my website gets hacked or the furnace breaks. You know, normal things that happen to people. When you're already struggling to keep up with the rest of your life, though, those little roadblocks start to feel uncrossable.
That's when the recurring dreams start. I have a few that keep coming back to haunt me, but the one that I associate the most with stress is what I call "Forgotten Animals." In this dream, there is either a small room or a basement or some neglected space in my house that I enter after a long absence, only to discover that it's filled with animals (usually mice or rats, but sometimes ferrets—all pets I've had in large numbers in the past) in cages that are dead, dying, or living in filth and suffering. They are pets I've forgotten about that had bred out of control but have no food or water source. I immediately struggle to get their cages clean and hydrate and feed them, but I can't move quickly enough. It's a terrible dream, and it's one that I have at least two or three times a year. It's not hard to figure out what it means, and I try to take it as a warning.
Well, THAT was a fun therapy session! Anyway, yeah, I need to heed the dream warning. I need to figure out how to get myself organized so I can deal with the simple stuff and not get overwhelmed by the big stuff. There's no reason to be in a constant state of chaos. I'm not really into resolutions, but I guess I'm kind of making one.
I don't want to end on a low note, so here are some nice things from this weekend…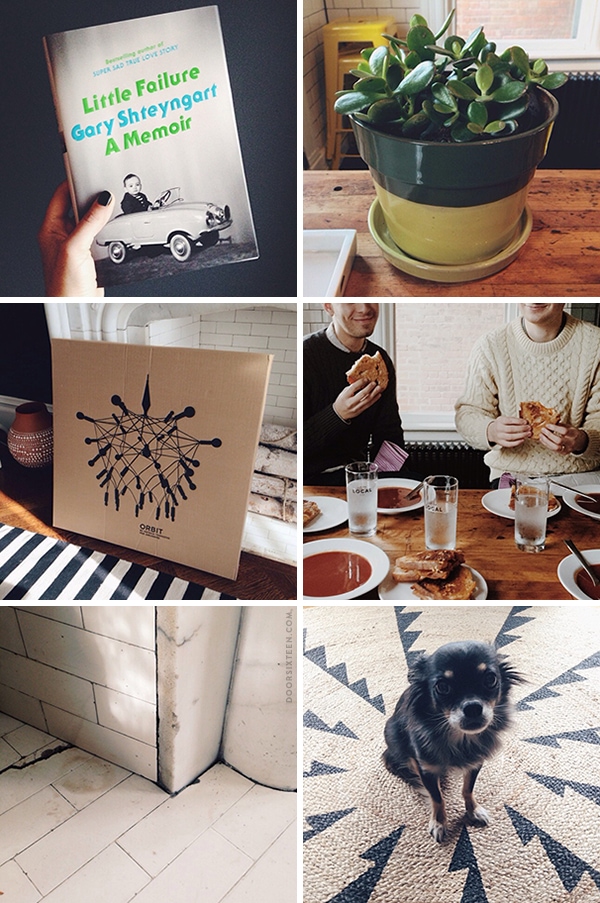 Top to bottom, left to right:
✚ VIVA HATE banner on my living room mantel by Going Steady Shop.
✚ Next up on my reading list, Gary Shteyngart's Little Failure. Have you seen the trailer?
✚ My new jade plant has passed the three week mark, which might be a record. I'm determined to not kill it.
✚ I've been OBSESSED with Patrick Townsend's Orbit Chandelier for years. This was a very, very nice thank you gift from Victoria, and it's going up in my living room just as soon as I figure out how to deal with the old, non-standard electrical box in the ceiling medallion that thwarted my efforts this weekend. (Sigh.)
✚ Daniel and Max came down for lunch this weekend. I made fancy grilled cheeze sammiches and we watched Flowers in the Attic. Perfect Sunday?
✚ Nothing really, just admiring the tiles in the living room fireplace. So nice.
✚ Fritz had his 6th birthday yesterday! Remember when he was brand new? (Warning: SO CUTE IT HURTS.)