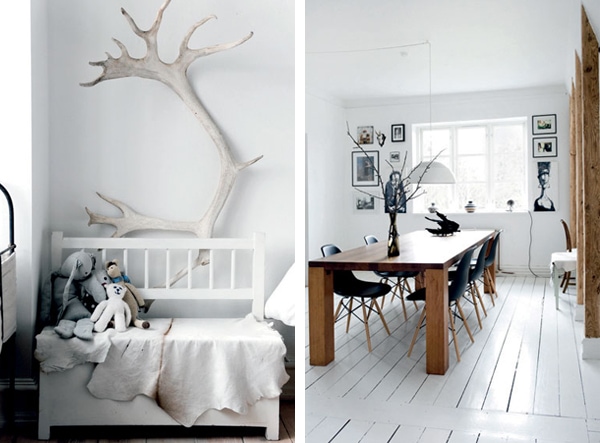 Styling by Louise Kamman Riising, photos by Pernille Kaalund // Femina magazine
Gosh, I'm SO BAD at doing scheduled posts. This is only the fifth Friday (since May 2010!) I've managed to do a Twitter round-up. I like the idea of doing it every week, but I'm forgetful.
Here are my favorite tweets from the past two weeks:
+ I love everything about this Danish home, as spotted on emmas designblogg.
+ I love the new Splendiferous Array of Culinary Tools poster from Pop Chart Lab (designers of the awesome Grand Taxonomy of Rap Names poster in my hallway).
+ Martha from Uniform Natural wrote this great post about SCARFSHOP and her thought processes that went into every aspect of its creation. Really inspiring!
+ Have I mentioned how happy I am that Kathy is blogging again?
+ LOOK! AT! THIS! HOUSE! (!!!)
+ There's just something about watching a beautiful French girl put on makeup, you know?
+ Is it possible that it's taken me 30+ years of listening to "A Prairie Home Companion" to finally realize how annoying and unfunny it is?
+ The performance by Janelle Monae, B.o.B, and Bruno Mars on the Grammys? YES PLEASE. (Also: Janelle Monae and Bruno Mars are going on tour together. Yay!)
+ Adrian Tomine on NYC: "I pay the exorbitant rent so I can stay at home and know that I could avail myself of all that culture if I wanted to."
+ #mymostamazingqualityis my ability to procrastinate to the point of utter desperation and then pull off a half-assed effort at the last second.
+ Twenty-six album sleeves…recreated in LEGO.
+ Have you been following along with Juli and John's trip to Japan? Great photos, great posts!
+ Crystal Renn on weight loss and backlash. I hate that she even has to address this.
+ The Crazy Nastyass Honey Badger, with original narration by Randall. This is what all nature shows should be like.
+ I love this short film of Daniel and Valeria of Hindsvik's home. It was shot by Pascal Perich for Etsy, and it gives a really nice little peek into D&V's living space. It's amazing how different a house can look in video than in photos…