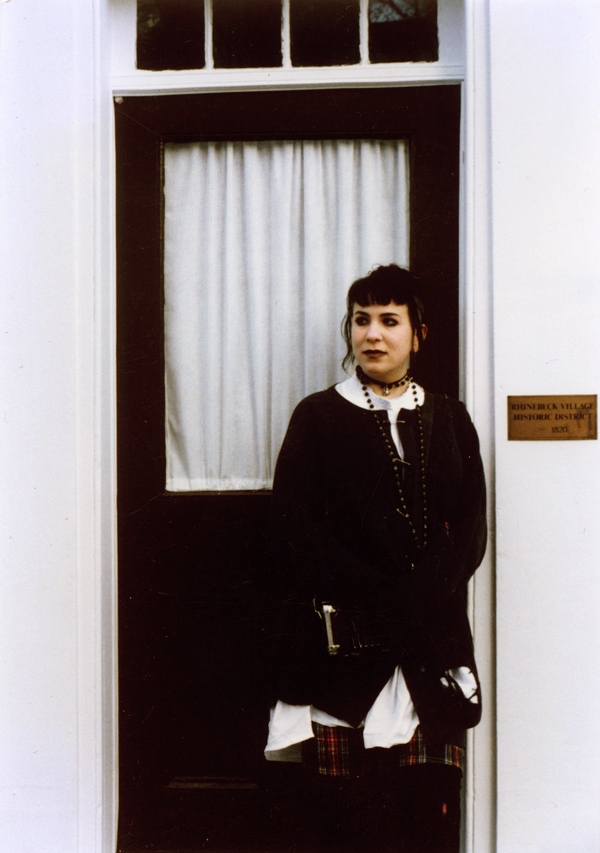 This photo was taken right after I turned 19 years old. I was a sophomore in college. It was Thanksgiving weekend, and I'd taken a trip to my tiny hometown, Rhinebeck. My mother had moved away following my high school graduation, but I posed in front of the house that I lived in for eight years prior.
I looked exactly how I wanted to then. That's not to say that I felt particularly self-confident—I didn't—but I had the haircut I wanted, the clothes I wanted, and the makeup I wanted. The nosering I wanted, too.
Truth be told, my style isn't that much different now. I still favor shapeless cardigans with extra-long sleeves, black and white paired with a bit of pattern, layers, leggings, and boots (you can't see them here, but I was wearing this great pair of black canvas French ranger boots). My haircut and color are roughly the same, though I no longer shave the sides (I do think about it…). Okay, so my nosering is long gone and my clothes are less tattered, but all in all, I haven't really progressed that much style-wise in the past 17 years.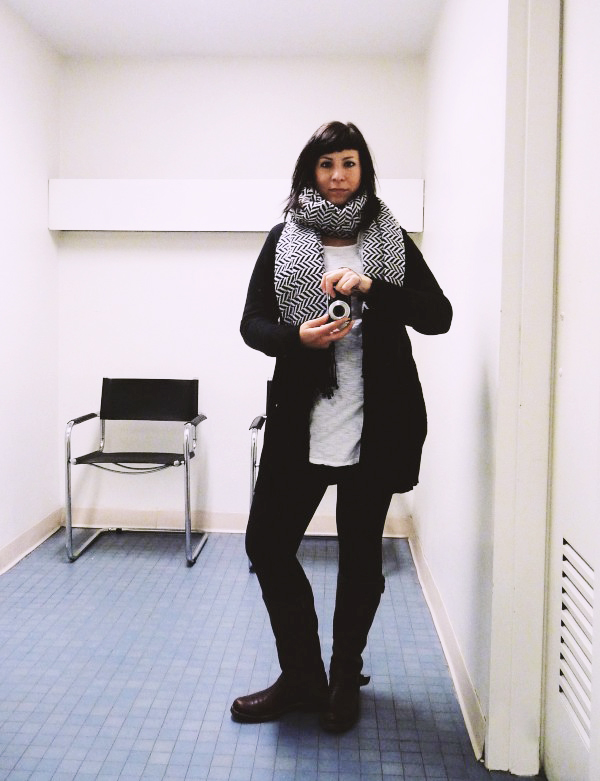 See what I mean?
I can remember being a teenager and wondering what I'd be like as an adult. Would I have a job that required me to wear a suit…or worse, pantyhose? Would I eventually stop dying my hair black? Would the day come when black nail polish no longer felt appropriate? Would I be…"normal"?!?! (No, no, no, and no.)
I like who I was when I was 19. Sure, if I could live my life over again I'd probably do some things differently, but I knew who I was and the general shape of what I believed in from a pretty early age. I'm thankful for that. It also matters to me that 19-year-old Anna would have liked 35-year-old Anna, and I don't just mean in terms of clothing.
I'm still waiting to become an adult, though, frankly. Somehow I always imagined that there would be a day after which I would be a grown-up, but that hasn't happened yet. Sometimes I look around me and am shocked that I own a home and drink coffee in the mornings. I mean, how did I get here? And am I really old enough to have a glass of wine with dinner? Well, as long as my hair dye is now covering gray roots as well as brown, the answer is decidedly yes.
But then I look over at my cute boyfriend husband and the Morrissey poster hanging above our bed, and I'm a teenager all over again.