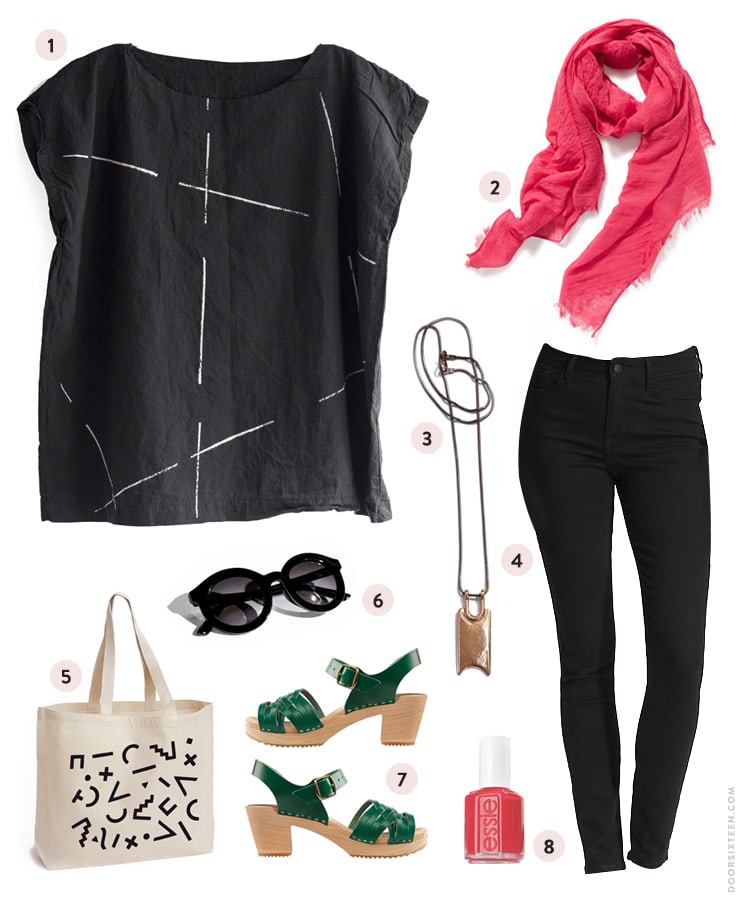 As I write this post, it's pouring rain and 50°F. Whoever started the rumor that New Mexico is a year-round blazing hot dry desert was a liar—much of the state gets snow, freezing temperatures all winter long, and rainy winds like you wouldn't believe. No, it's not New York, but it's not Phoenix, either. Spring has been late to arrive here, and every time I think it's finally spring for real, the temperature drops again.
That said, I'm trying to get my wardrobe in shape before the summer kicks in. The last time I made any real effort to lighten up in the sunshine was three years ago, and putting away the boots and cardigans still doesn't come naturally to me. I'm trying!
1. Beams tunic, Moorea Seal
I bought this UZI NYC tunic (and the similar Broken Lines kimono top) a couple of weeks ago, and it's PERFECT. I'm always a little bit worried about "one size" clothing, but the fit is great—I'm usually a medium in tops, and I can see these fitting up to an XL quite nicely. The cut is very forgiving, the fabric is light and breathable, and it's just the right length. I'm really happy with both shirts!
2. Crinkle gauze scarf, Old Navy
3. Boleto necklace, Tiro Tiro
4. High-Rise Rockstar skinny jeans, Old Navy
THESE JEANS! I usually have to try on at least five pairs of Old Navy jeans before I figure out which cut is the right one, but somehow I nailed it on the first try this time. I bought two pairs (black and rinse) and they're GREAT. Don't be worried about the "high-rise" aspect, either—they're not so high that they'll cover your belly button or anything. They're comfy, butt/hips-friendly…and I love spending less than 40 bucks for a great pair of jeans. Like most clothes from Old Navy, they run a bit large—something to keep in mind if you're ordering online.
5. Geometric canvas tote, Oelwein
6. Pandora sunglasses, Urban Outfitters
7. Herringbone green clogs, Cape Clogs (also on sale at ShoeBuy.com)
I've had these clogs since 2013, and they still look new. I'm really impressed by how well they've held up, given how much cheaper they were than other Scandinavian clogs. (I wish I could say the same about my Hasbeens, but that's another story…)
8. California Coral nail polish, Essie
Because when in doubt, match your toenails to your scarf.
I really need to find some comfy dresses that aren't sleeveless, a good summer hat, and flat sandals. I've been looking for the right pair of well-made flat sandals for years now, and somehow they still elude me…