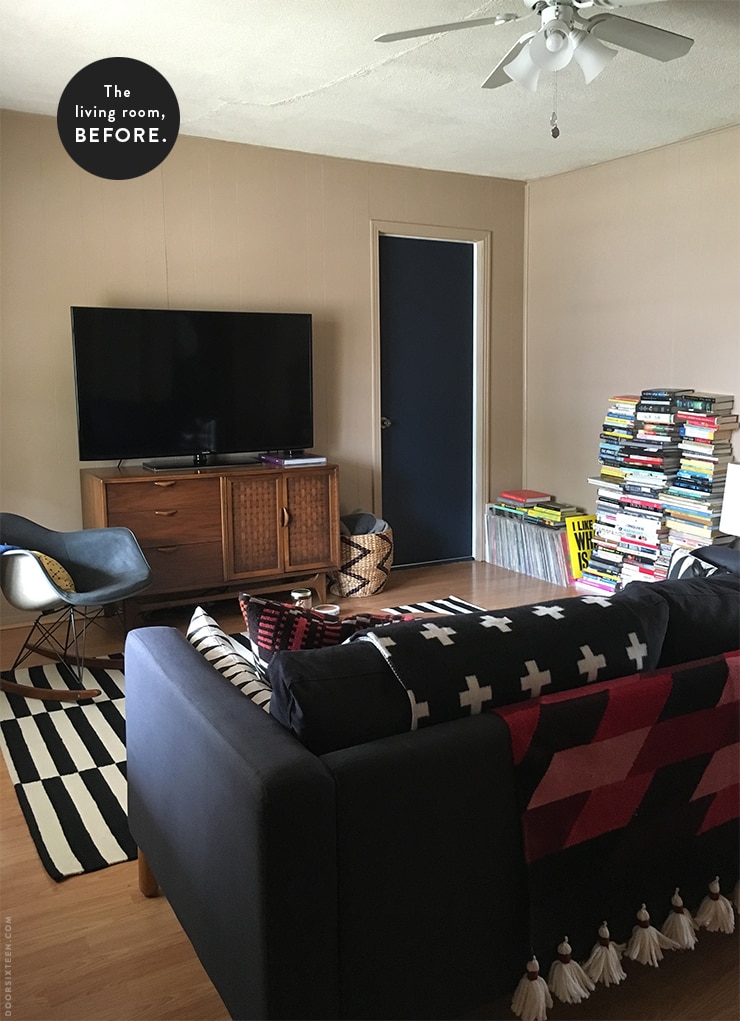 I'm still working on finishing touches (including bedside lighting!) in the bedroom, but now I that I've finally hit my stride and gotten fully into all painting, all the time mode, I'm barreling forward into the living room. It doesn't look quite as bleak as the bedroom did since I do actually have furniture and stuff that I moved here from New York, but it's dark and dreary and SHINY and TAN and really just not nice at all.
And yes, that television is HUGE.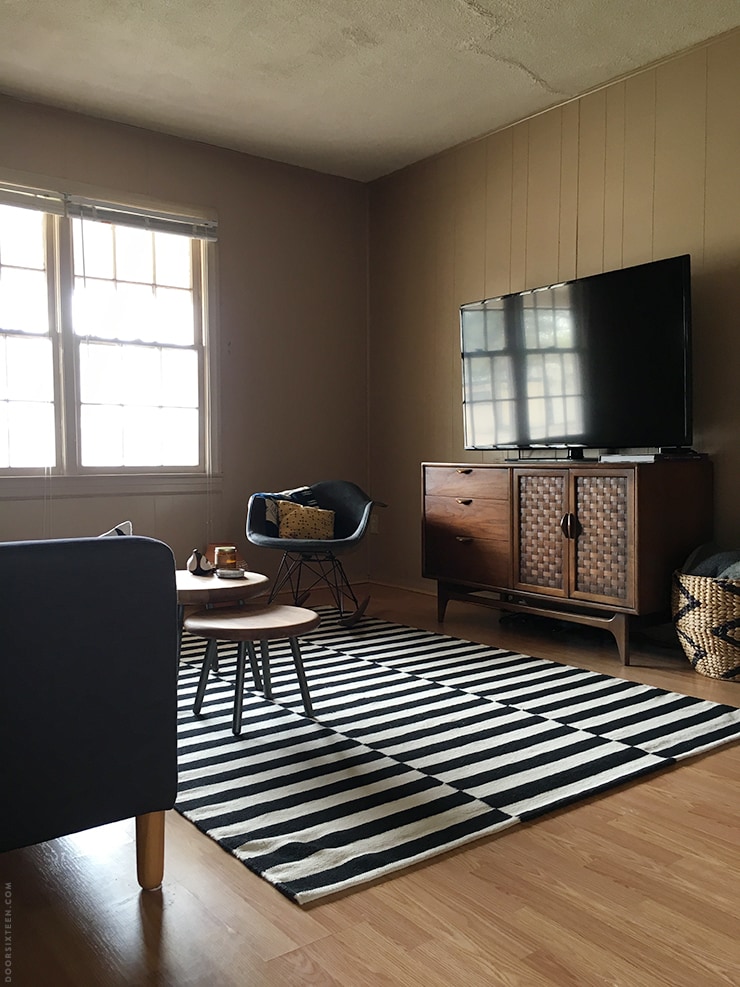 The television belongs to my housemate, and while I'm personally not a fan of ginormous screens, the fact that the rest of the house is pretty much filled with my belongings means that I really just need to accept the TV. You know? And yeah, I'll admit it…it's fun to watch movies on it. Hell, it's fun to watch Better Call Saul on it. I've made peace with the television.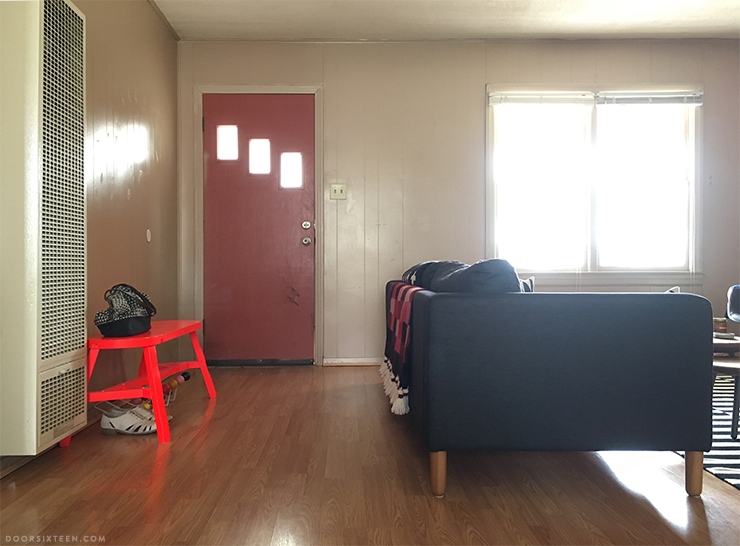 In case you've been wondering what the worst two-color combination in the entire world is, I'd like to submit this photo to make the case for NEON ORANGE and TAN. And if you're looking for the worst three-color combination, how about NEON ORANGE and TAN and RED? Is that even red, really? Brick red? I guess it's more of a wine? Whatever it is, I'm sorry, bench. You didn't do anything to deserve this.
So the walls are going to be Valspar Swiss Coffee (just like the bedroom), and the front door will be Valspar Royal Navy (again, just like the bedroom). Yep, same as always! Anna Dorfman, playin' it safe since 1975.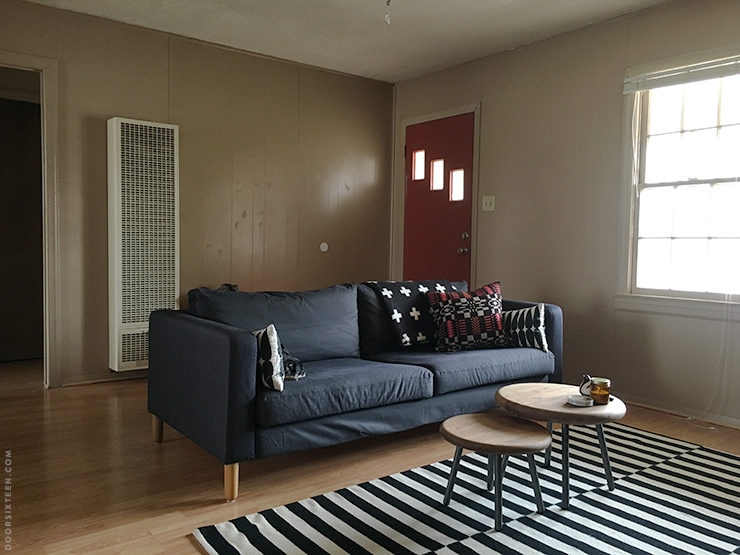 One of the few furniture purchases I made after moving here was these two Wafer Tables from CB2. The living room is pretty small, and there just isn't space for a full-size coffee table. I looked and looked and looked, and finally I found these little guys. I LOVE THEM. The grain of the wood is so pretty, and they're super sturdy.
See that thing on the wall behind the sofa? That's a gas-powered heater. I had never seen anything like it before moving here, but I guess they're pretty common in this part of the country. New Mexico has me perpetually mystified about things like heating systems, swamp coolers, and textured walls. Oh, and plumbing shutoffs are OUTSIDE the house? And cars don't have license plates on the front end? I should really start making a list.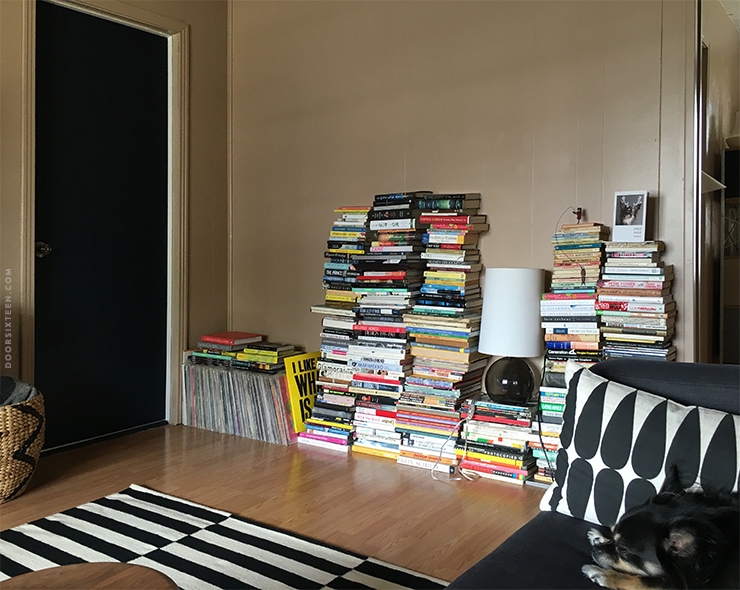 For now at least, my books and records are going to stay stacked and shelf-less. I haven't figured out whether it makes more sense to keep them out here or move them to my office, and still need to buy a new record player. I definitely need to neaten these stacks up, though!
I'm amazed by how few books I have now—in my line of work they do tend to accumulate, and I did a major overhaul of my library before I left New York. I've had a few moments of regret already when I looked for books (and records…and 90% of my CDs…) that I must have given away. Oh well. It's a good excuse to buy more!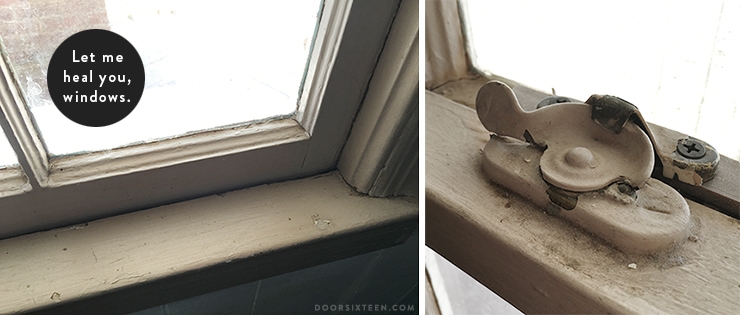 I saved the best for last—the living room windows. They're 6-over-6 divided light sash windows, and they're so pretty. Sadly, they've been pretty neglected for a long time, and they need a lot of attention. I never met an old wood window I didn't like, so it's my pleasure to clean them up and get them in working order. I can't wait to get the paint off the locks and shine up that brass!
OK, OK. In the interest of full disclosure, I'll let you in on a little secret: I finished painting this room two weeks ago. I'm sitting in it right now, in fact, admiring the white walls. I've been so busy with work and with painting other rooms since then, so I haven't gotten this post up in a timely fashion. In other words, the "after" photos will be here really soon!