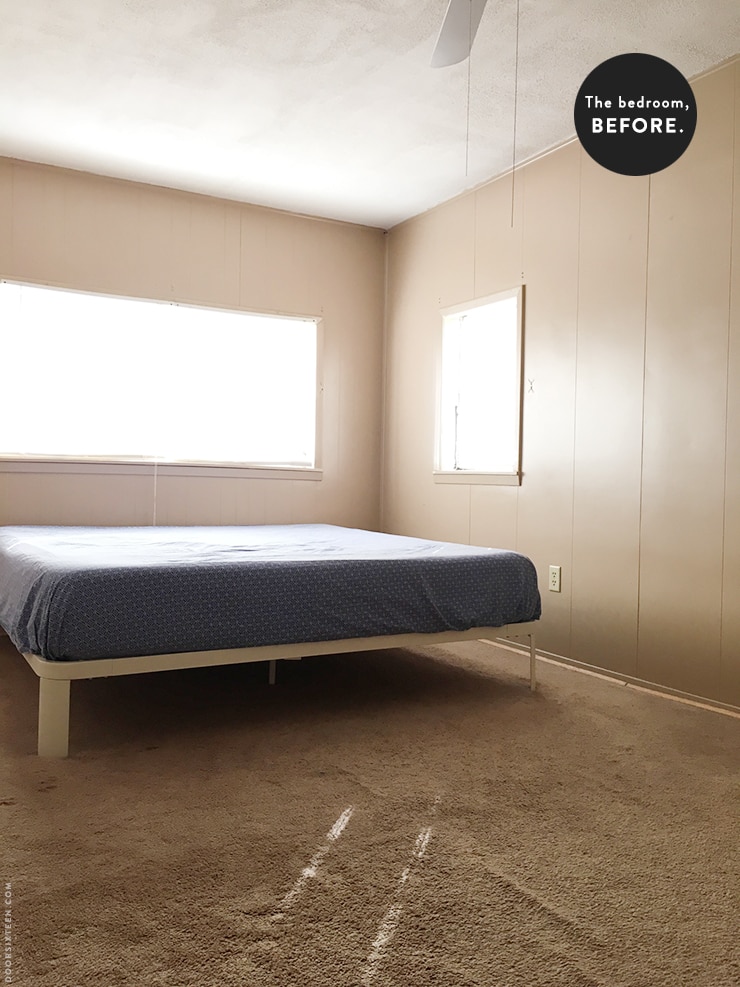 Oh…yeah. This is my new bedroom! It's in my new house in Tantown, USA. Do you need a moment to appreciate its beauty? Are you overwhelmed with a sense of calm? Do you feel like you're in a boutique hotel?
Now, I know I haven't finished the mudroom yet (still waiting for the washer and dryer—it might be a while), but I can't wait any longer to start on the bedroom. It's just such a pit of sadness right now, and I've been here for four months already. (I do actually own pillows and a blanket, but I took these photos while I was getting ready to do laundry.)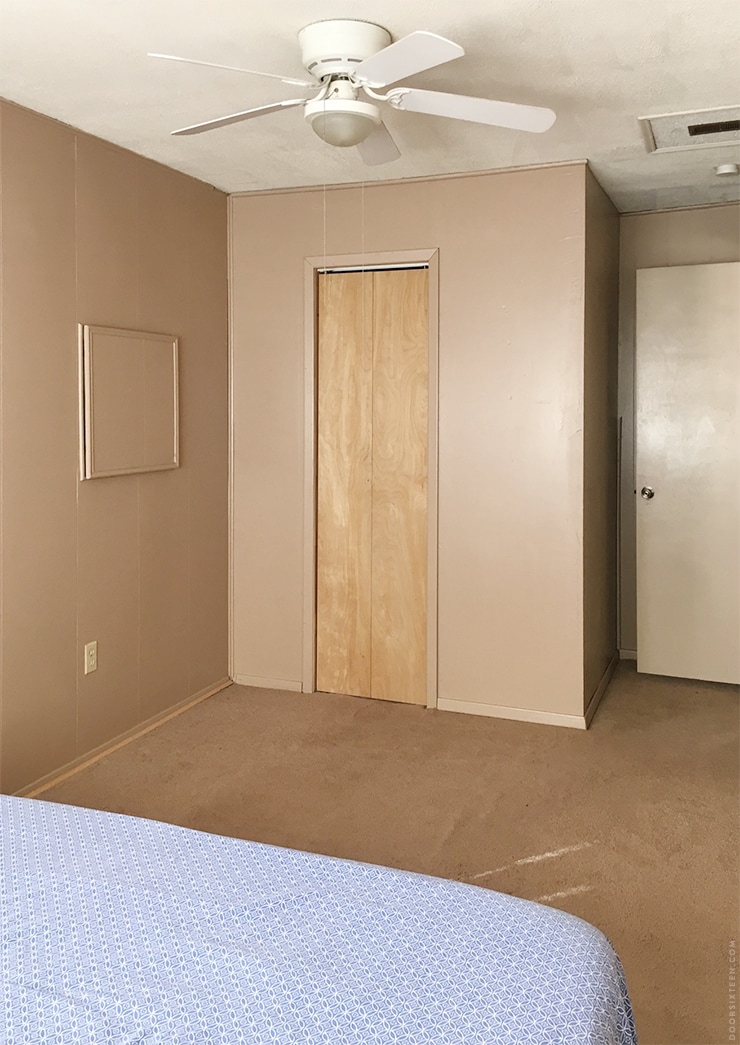 Nope, it doesn't look any better from this angle. Shiny, tan, paneled walls. Matted, wrinkled, stained (but clean, I swear) tan carpet. Textured ceiling. Ceiling fan.
Let's talk about the ceiling fan. I know it's very early-2000s TLC/Trading Spaces of me to hate on ceiling fans, but whatever. There are four ceiling fans in this house, and I don't know what to do about it. Yeah, I could put them all in storage and install nice lighting instead, but EVERYONE tells me I'm going to regret that during a New Mexico summer. Usually I don't listen to reason/common sense and I just go ahead and do whatever will look best, but this time I kind of think that I should probably at least wait the warmer months and see how it goes. Right? In the mean time, I can keep the ceiling fan clean, do something nice with the hanging chains, and avert my eyes slightly downward. Hey, at least it's white.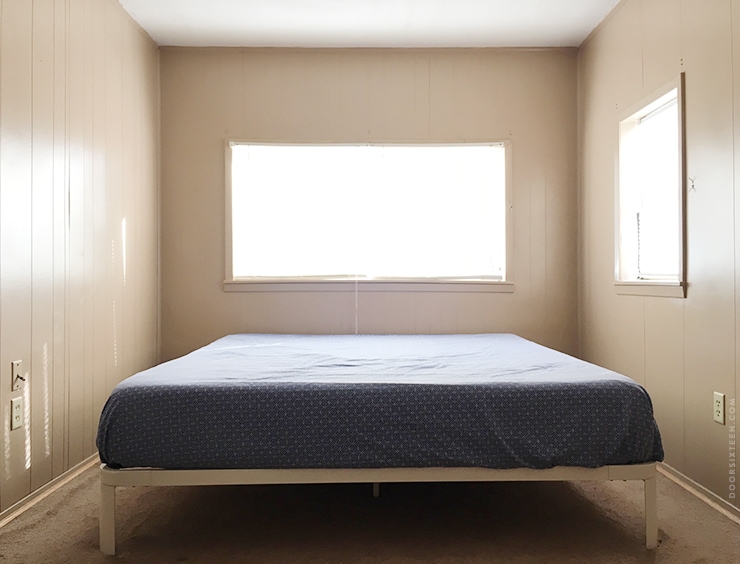 This room used to be an attached garage, which explains why it's so long and narrow—there's only about a foot of clearance on either side of the bed. The bed is one of the few things I didn't take with me from New York, I guess because doing so seemed like it would be overly cumbersome. Instead, I ordered a mattress from Tuft & Needle in advance of my arrival, and then had this simple, white platform frame delivered from Wayfair. I'm quite happy with both!
I considered both Casper and Tuft & Needle for the mattress, but in the end the reviews seemed to be pretty much equal…so I went with the cheaper option. I've been sleeping on it for four months now, and so far, so good. It doesn't retain heat, it's firm without hurting my joints, and it's perfect on a platform bed.
The Lunar platform bed was a bit of a risk given the price, but the reviews were solid and the price is tough to beat (plus free shipping!), so I took a chance and went for it. It's certainly nothing fancy, but once the bed is properly dressed, it'll just disappear—exactly what I want. The window above the bed is so low that a headboard would never work, anyway. It was easy to assemble, and seems to be well-constructed. I've got no complaints.
The sheets have to go. I ordered them in a moment of panic during a Target clearance sale, and even though I like the pattern and color, they're just really not my style—and that color combined with the tan carpet…no. Not happening. I wish they'd had this super-cute Nate Berkus set back then, because I'd have been all over them! Oh well.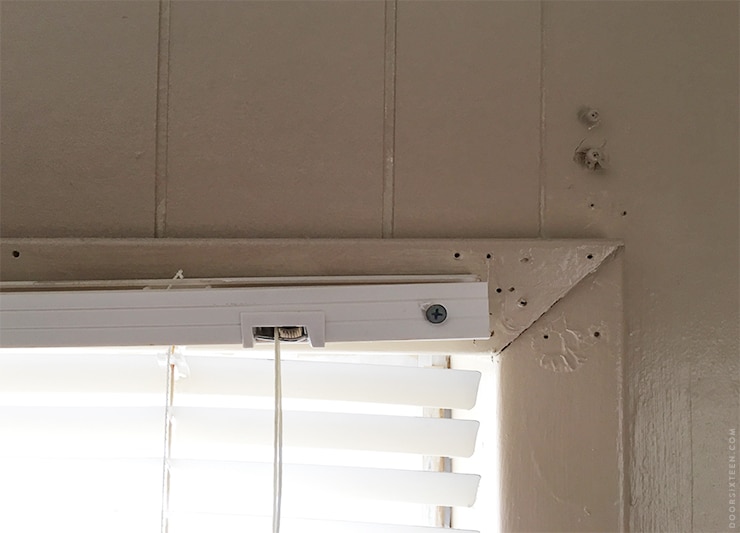 The window covering situation in this room is horrendous. Apparently someone decided that using brackets to install the world's cheapest plastic mini-blinds was too much work, so they just drilled through the header with drywall screws straight into the window trim. Alrighty!
Even if my once-beloved ENJE shades from IKEA hadn't been discontinued (TRAVESTY!!!), I'd have to be looking elsewhere for the big window above the bed. It's 70″ wide (the widest ENJE was 55″), and if I try to cover it with two rollers instead of one, I'm going to wind up with a gap in the middle because of the mounting hardware. Man…it's TOUGH to find custom shades at a not-terrifyingly-high price! I know Daniel had good luck with the Allen + Roth solar shades from Lowe's (and they do look fantastic in person), but the quote I got was still too high for my measly budget. A couple of people have recommended Blindsmax.com to me, so I think I'm going to give them a shot and see how it goes. I can get a 70″ wide custom shade with 5% openness for about $100—not too bad. The smaller side window is going to have to get a blackout shade, unfortunately—my neighbors have a motion-activated light in their driveway that gets set off by even the slightest suggestion of a spider strolling by. That'll run me just under $40. Fine. Fingers crossed!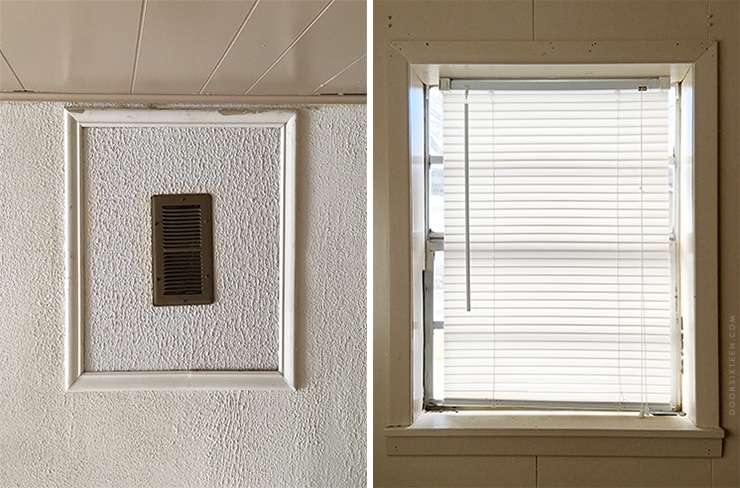 On the left is some sort of vent on the ceiling that's not actually venting anything (old heating system, perhaps), framed out with molding?? I don't know what that's about, because it doesn't seem to be attic access…I don't know. I think I should just paint it all white and forget about it. On the right is the plastic mini-blind currently "covering" the side window. You can see how the neighbor's motion light would be an issue!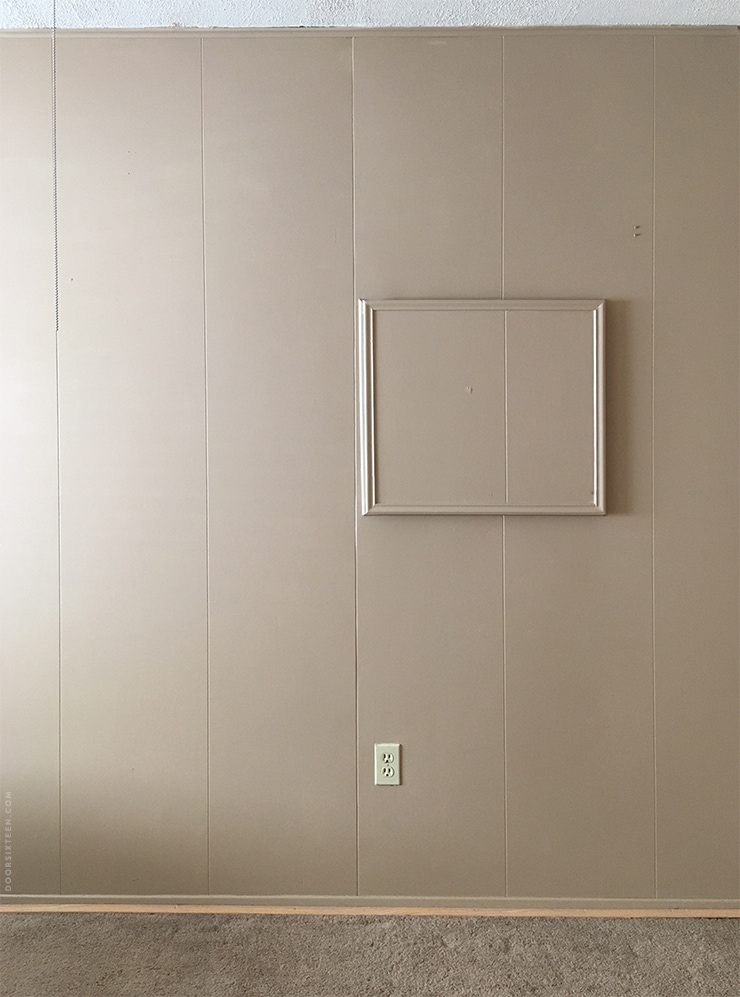 You know what this is? It's a hinged door covering the circuit breaker!!! Whoever converted the garage to a bedroom back in the day went the extra mile when they put up the wall paneling, haha. It's better than looking at a circuit breaker, for sure, but I think I can come up with some kind of solution for making this thing look like a feature without getting carried away and turning it into the focal point of the room.
Anyway, here's the plan!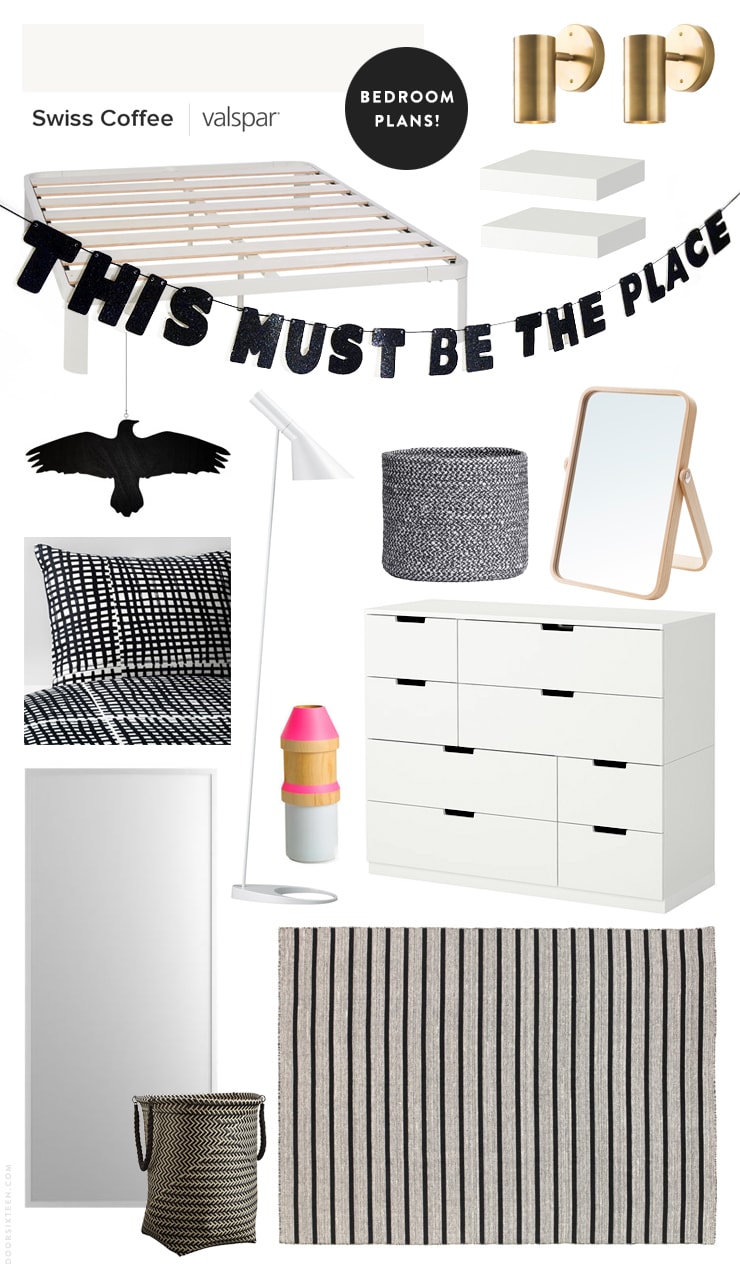 ✚ WALL PAINT: Valspar Swiss Coffee (same as the mudroom)
✚ BED: Lunar Platform Bed / Wayfair
✚ BEDSIDE LIGHTING: Eduard Sconces / Schoolhouse Electric
✚ BEDSIDE "TABLES": LACK shelves / IKEA
✚ BANNER: This Must Be the Place banner / GIRLBYE
✚ CROW: Krummi hanger / Ihanna Home
✚ BEDDING: BJÖRNLOKA RUTA duvet cover set / IKEA
✚ FLOOR LAMP: Arne Jacobsen/AJ lamp
✚ VASE: ¿adónde?
✚ PAJAMA BIN: Storage basket / H&M Home
✚ CLOSE-UP PREENING: IKORNNES table mirror
✚ CLEAN CLOTHES: NORDLI dresser / IKEA
✚ OUTFIT SELFIES: STAVE wall mirror / IKEA
✚ DIRTY CLOTHES: Parkay hamper / CB2
✚ CARPET HIDER: RASKMÖLLE rug / IKEA
Fortunately, IKEA is going to ship their stuff to me (Brand Ambassadör perks, hello!), which is a huge relief. I already own a lot of the small stuff (the floor lamp, the vase, etc.), so the big thing for me to really focus on now is PAINTING. I have a ton of freelance work I need to get on top of today and tomorrow, but I'm hoping that I can somehow have the whole room painted by the weekend. Maybe giving myself a deadline will help me get started! If I can do all of the prep work on Wednesday and then prime and paint on Thursday and Friday…well, we'll see. Painting always takes so much longer than I think it's going to!