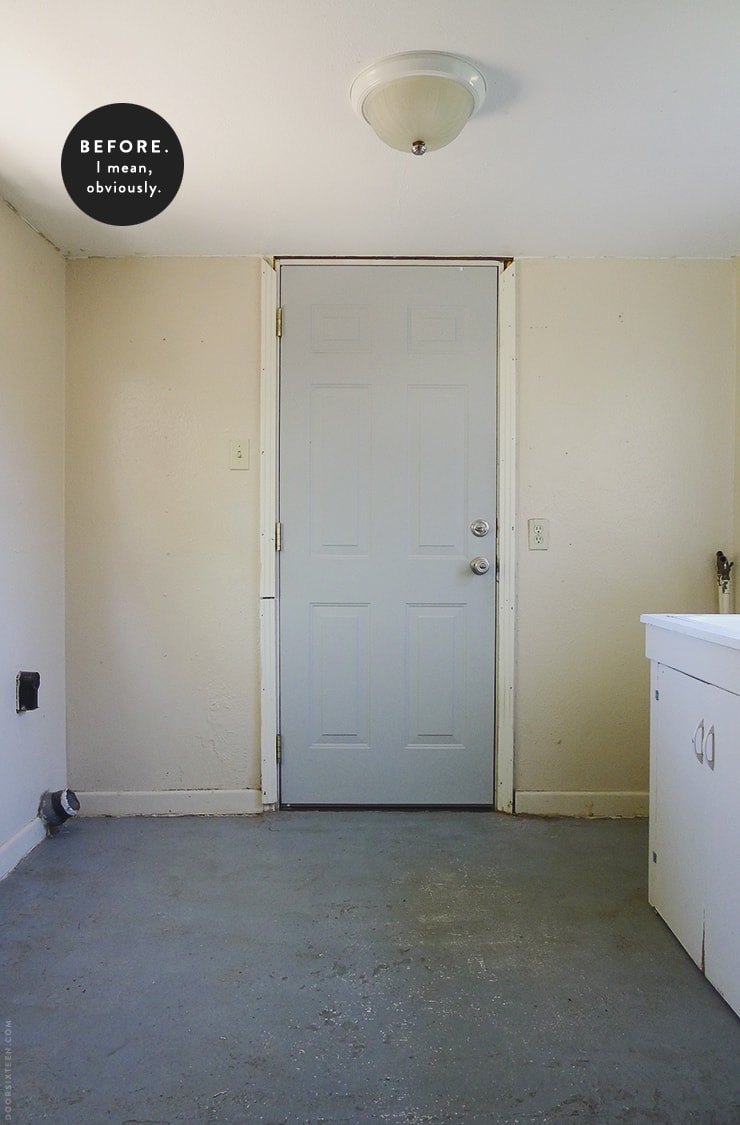 Yesterday I spent some time thinking about which room to focus on first when embarking on giving my new rental house a makeover. The conclusion I came to wasn't what it would have been a week or two ago: The mudroom. Why the mudroom? Well…
Most importantly, going to the laundromat SUCKS. I know, what kind of New Yorker am I to be disparaging laundromats?! The truth is that even going back to my very first Brooklyn apartment almost two decades ago, I somehow managed to luck into those rare places that had washers and dryers on the premises, whether in a laundry room or right in the apartment itself. Then when I became a homeowner, I put a brand new washer and dryer in the basement. Even during the times when I did need to use a laundromat in Brooklyn, I did the whole wash & fold thing—you stick the bag on the scale, take a slip, come back 5 hours later, pay $15, and go home with your washed and folded laundry. Magic! When I inquired about the cost of wash & fold here in Portales, I was quoted a weight-based price that would have wound up costing somewhere in the area of $10,000/week to have someone else do my laundry for me. Or, you know, close to that.
So, I'd like to have a washer and dryer. The hookups for both are already in place in the mudroom, which is awesome. I need to do some careful measuring because it's going to be a really tight squeeze, and I don't want to wind up with machines that don't fit (or having to climb over the washing machine to get out the back door). Also, it's a small room—only about 6×8′. It'll be an easy project, and then I'll feel proud of myself and have a sense of accomplishment and blah, blah, blah. Also also, this little room is an addition at the back of the house. It doesn't have any heat, and I don't want to wind up trying to paint out there when it's 30°. In other words, it's gotta be done before winter sets in (yes, winter does come to eastern New Mexico).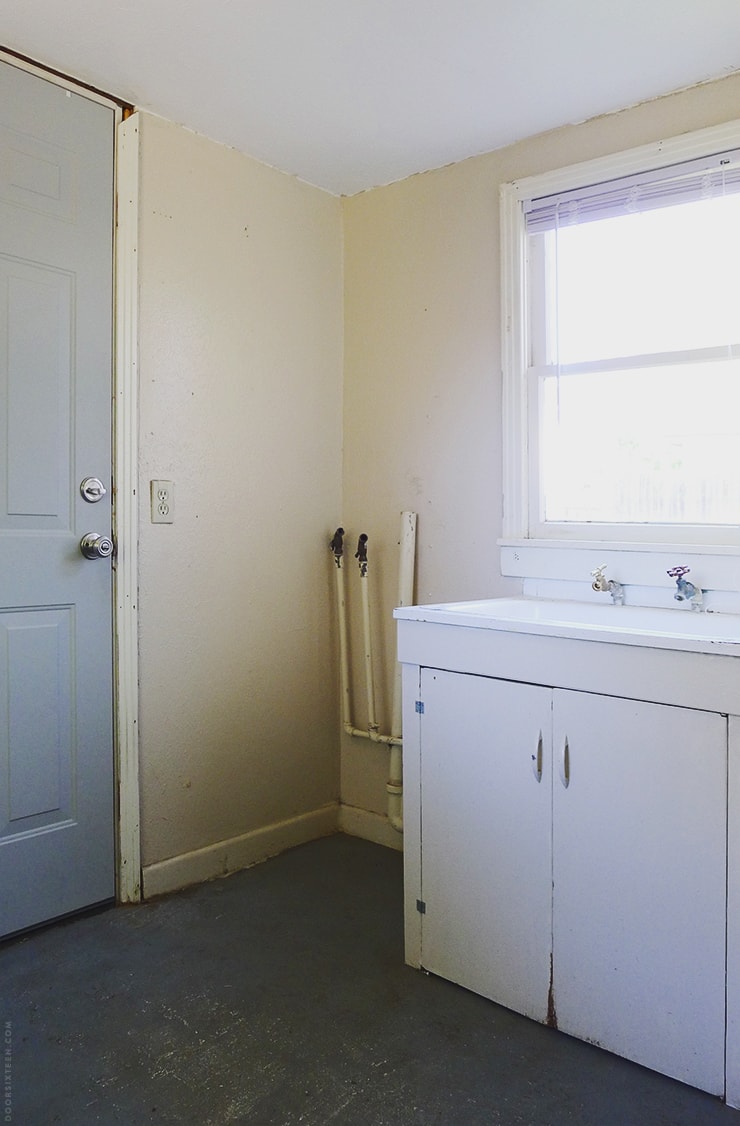 There's a sink in the room (though not a utility sink—I suspect it's the house's original kitchen sink) with garden hose-style taps, one of which leaks profusely. The washing machine hookup is directly to the left of the sink. There's only about 27″ inches of clearance between the edge of the sink cabinet and the baseboard molding on the opposite wall, so…it's tight, but it's doable.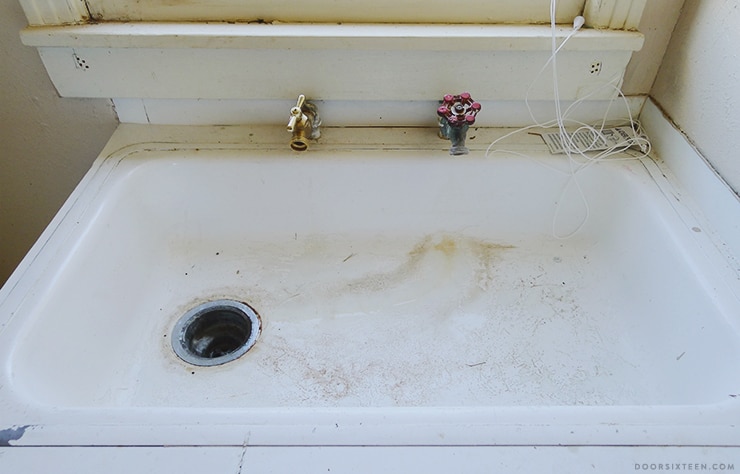 This right here is why I don't like those epoxy-based refinishing kits for sinks and tubs. They always wind up chipping and peeling, and then you've got a mess on your hands because you can't just touch it up. It doesn't take much to cause that first flaw in the finish, and once that happens, water gets underneath and the problem snowballs. Regardless, I'm happy there's a sink out here—it'll be nice when I start potting plants and stuff like that.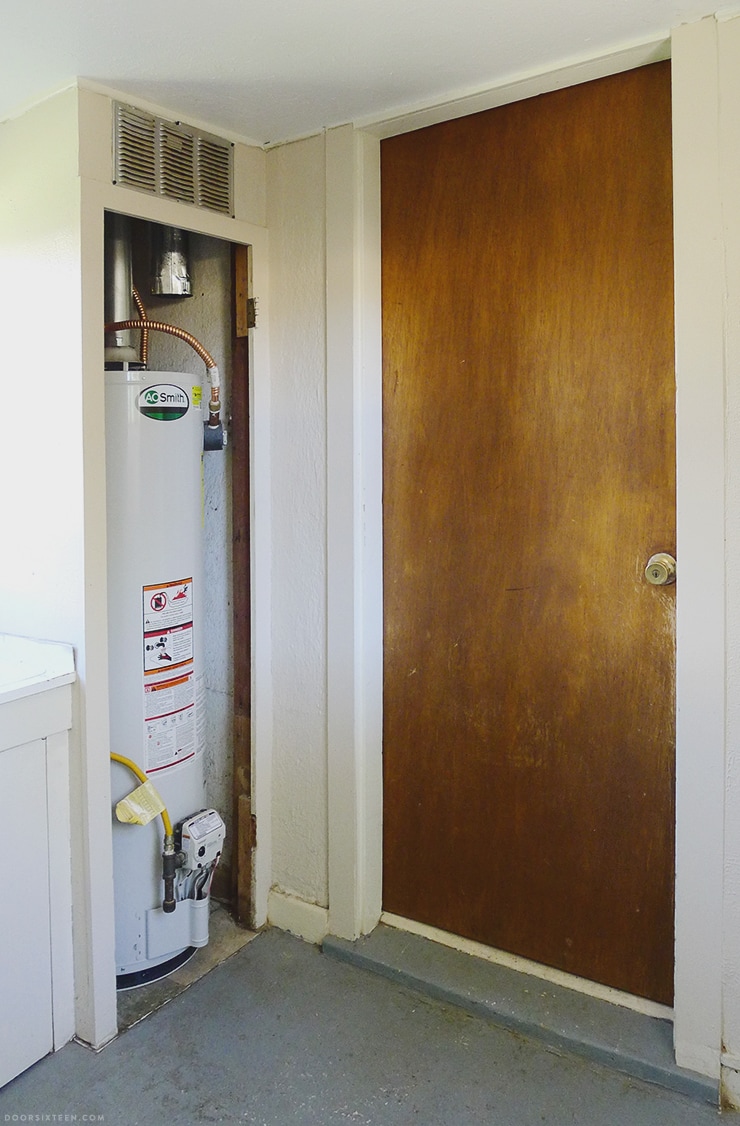 It looks like at some point there was a door hiding the hot water heater, but it's nowhere to be found. I need to look into how much clearance I'd need between the front of the heater and a new door, but if the current framing is too tight, building it out a couple of inches is no biggie. I'll need to build a custom door myself rather than buy anything prefab, since the size is non-standard. I'm thinking I can just do a really basic hinged door with radiator cover screening paneled in for ventilation. Three hinges, a cute knob, a magnetic closure, and it's done.
And oof, that hollow-core door. It's really gouged up, and since it was never finished with anything, the wood is pretty deeply dirty in a way that can't be cleaned. Some TSP, a little Ready-Patch on the scratches, a light sanding, and it'll be fit for painting.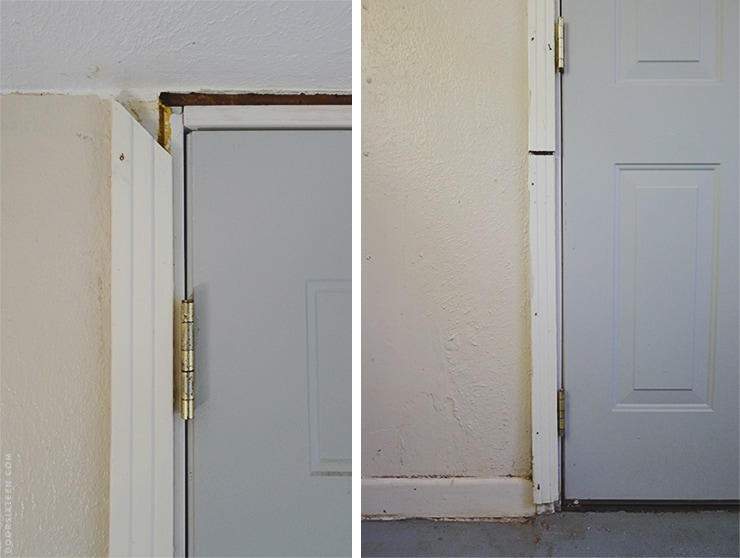 The exterior door just needs a good scrubbing, no paint. It's a nice gray that'll look much nicer when the walls are white instead of the "warm mayonnaise" color they are now. I kind of want to hug the guy who attempted to do the trim when this door was installed. You tried, buddy. You didn't measure or do any critical thinking about that top strip, but you tried. I'm not sure what to do here other than rip off the trim and start over, unless I get saw-fancy? I'll figure it out. I just need that gap gone.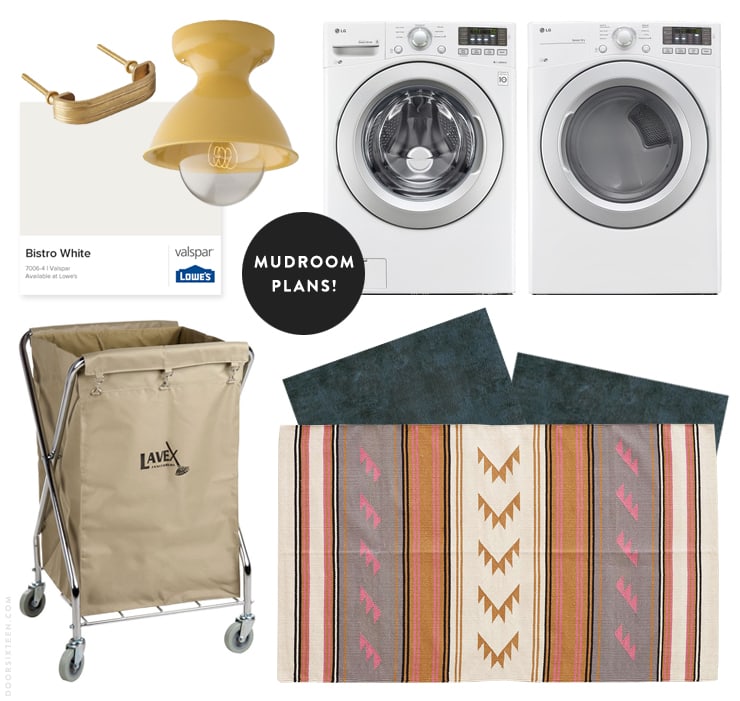 Overall:
✚ Caulk all gaps
✚ Paint walls and trim white
✚ Replace overhead boob light with an Alabax fixture from Schoolhouse Electric
✚ Clean, patch and paint wood door
✚ Fix trim around exterior door
✚ Build door to hide hot water heater
✚ WASHER AND DRYER!!!
✚ Create storage for cleaning products and dog supplies to the left of the dryer
✚ Heavy-duty rolling laundry cart
✚ Steel shelving for laundry detergent, etc.
Sink:
✚ Scrape off peeling epoxy
✚ Scrub to death (life?) with Barkeeper's Friend
✚ Get that mismatched, leaky tap thing worked out
✚ Repaint cabinet, add nice handles
Windows:
✚ Scrape excess paint
✚ Patch, sand, repaint
✚ Cute curtains? Privacy film? Both?
Floor:
✚ Repaint?
✚ Maybe these "stained concrete"-style vinyl tiles? Is that crazy? Are they hideous and I just can't tell?
✚ Cute rug that's easy to shake out
The closest IKEA is 470 miles away (a moment of silence…), but there is a Lowe's in the next town over, thank goodness. I have a feeling I'm going to be living at Lowe's for the next few months.