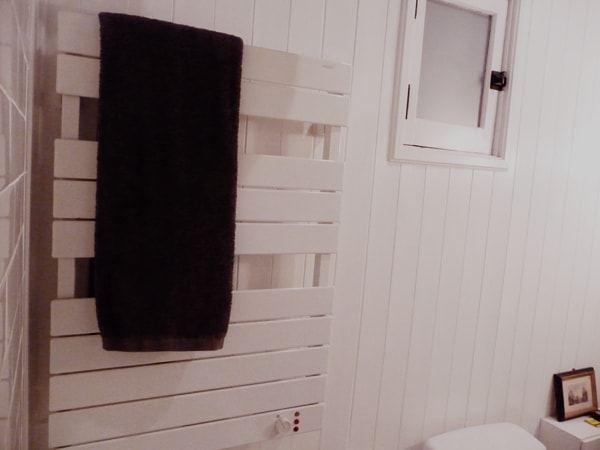 This morning, as I was wrapping myself up in a nice, hot towel after my shower, it occurred to me that I've never really written about my friend, the towel radiator.
One of the dilemmas we faced when renovating the downstairs bathroom was how to deal with the need for heat. We have cast iron steam radiators in every other room in the house, but when this bathroom was carved out of a former pass-through butler's pantry sometime in the late '30s/early '40s, the piping for heat wasn't routed into the room. I'm not sure what they did for heat for the next 50 years, but at some point a little electric heater was added to the bathroom under the sink. That's what was there when we bought the house, and, of course, it was broken and rusty and worthless.
Initially we considered electric underfloor radiant heating since we knew we'd be gutting the room down to the subfloor, but what at first seemed financially doable added up to too high of an expense once all of the various parts were factored in. (The dogs would have loved radiant heating, no doubt. I imagined them lying in there all day like lizards, bellies warming against the tile…) Anything that sat on the floor or protruded too far from the wall was out of the question; the bathroom is just too tiny.
Enter the towel radiator!
Towel radiators are common in Europe, but far less common in the US. You do sometimes see heated towel bars, yes, but that's different—they will warm a towel, but they don't product enough heat to warm a entire room. We don't have a lot of options here, but we really liked the look of the Runtal Omnipanel, which is available for both hardwired electric installation (that's what we have) and forced hot water heat systems. We got the 24″ wide TW12, which is just powerful enough to heat a 5×6′ bathroom. They come in a gazillion colors (they can even be custom color-matched), but white obviously made the most sense for us.
There's also an optional programmable timer that you can buy to set the heat to come on at designated times for each day of the week. We have one, but apparently we're too stupid to figure out how to use it right (the manual is a doozy!), because every time we think we've finally got it right, the set time comes and goes and the radiator doesn't come on. And then we forget about it.
The particular model we chose retails for about $1000, but we managed (incredibly) to find one on eBay for $500 that was being sold by a rich person who decided to re-renovate their bathroom for the second time in five years. It looked like it had barely been used.
It does stick out from the wall a bit, but it's less than 4″ total—very slim. We were able to fit it in at the end of the bathtub (our tub only has walls on two sides; we have an L-shaped shower curtain rod), so it's virtually out of sight but towels are still easily accessible after a shower. And the warm towels…oh my goodness. It's like wrapping your wet, shivering body up in an electric blanket, only without the risk of electrocution. Total heaven. It really feels like the kind of luxury I imagine people with ponies and maids enjoying every morning.
As a side benefit, the radiator also dries wet towels very quickly, virtually eliminating dreaded "musty towel odor" (a.k.a. my biggest bathroom fear), and it also cuts back on moisture in the air. We don't have any ventilation in the bathroom other than the little window (which we always open during a shower, even in the middle of winter), but in the two years that have passed since we finished renovating the bathroom (I can't believe it's been that long!), we've never had a problem with mildew or mold or anything like that.
We don't want to waste electricity, so we actually don't leave the radiator on unless we're taking showers (and for about 20 minutes afterward so the towels and room will dry out). Yes, I realize that defeats the purpose of having radiator, and yes, that does mean it's freezing in there much of the time, but we're used to it…though maybe a heated toilet seat is in order!