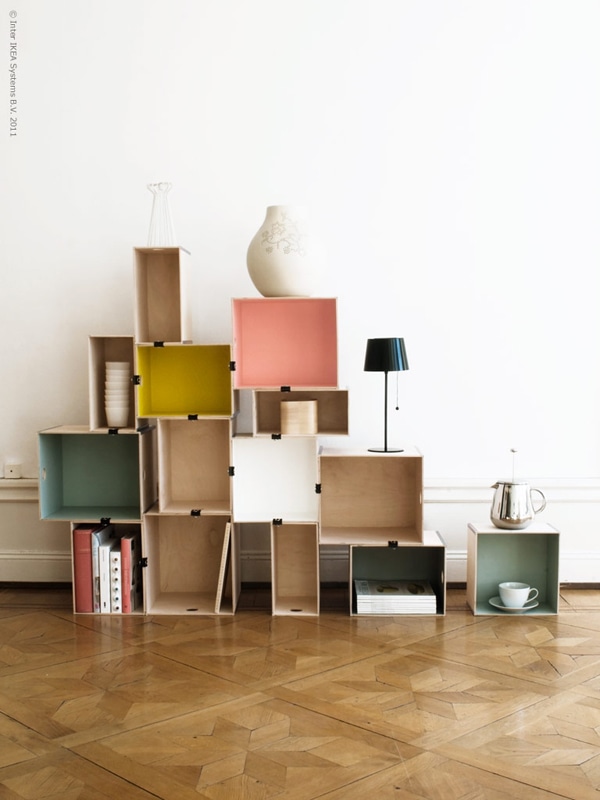 Photo © Inter IKEA Systems B.V. 2011 // Livet Hemma
Maybe this post should actually be called "April! Stuff I Tweeted", because it appears that I can really only remember to assemble these round-ups on a semi-monthly basis. (And I love that I start each of these posts with an excuse. Heh.)
(Also: CAN YOU BELIEVE IT'S APRIL ALREADY?! Yeah, April. Craziness.)
Anyway, here are my favorite tweets from the past couple of weeks! Have fun clicking your way through…there's some good stuff here:
+ I love this use of plywood PRÄNT boxes, as seen on IKEA's Livet Hemma blog. They've been painted inside at random, then joined together with binder clips to create a modular shelving unit. Nice!
+ There's a lot of awesome happening in this photo.
+ I enjoyed working on this book cover as much as you're probably thinking I did.
+ This fall, Marimekko will open a flagship store in New York City at the intersection of Fifth Avenue and Broadway. Yay!
+ I keep trying to come up with a comment about this product, but I'm actually speechless.
+ Okay, I admit it, I'm jealous of everyone's iPhones. Even though I really don't need one and can't afford one anyway.
+ Via Cornel West: This NPR funding fight = Republican insecurity in terms of the low-quality of argument & truncated quality of vision (Listen to the full discussion on Smiley & West)
+ A surprisingly respectful article from ABC News: Elizabeth Taylor and Michael Jackson: Hollywood's Odd Couple, Now Gone
+ Time Between Thing Being Amusing, Extremely Irritating Down To 4 Minutes. ("It's precisely at this moment when the subject starts to experience an unshakable and overwhelming desire to punch anyone making further allusion to the phenomenon right in the face")
+ Via mjolkshop: The story of how participation in Groupon almost destroyed a small business.
+ Remember when websites used to have guestbooks?
+ Pretty renovation blog discovery: süsk & banoo.
+ Check out what some of my neighbors are doing at the house right behind mine:

Video by Freamfilms, Inc.