So, we haven't been at the city apartment for a while, but we headed down late last night—dogs in tow, of course—and were greeted with this sight upon our arrival: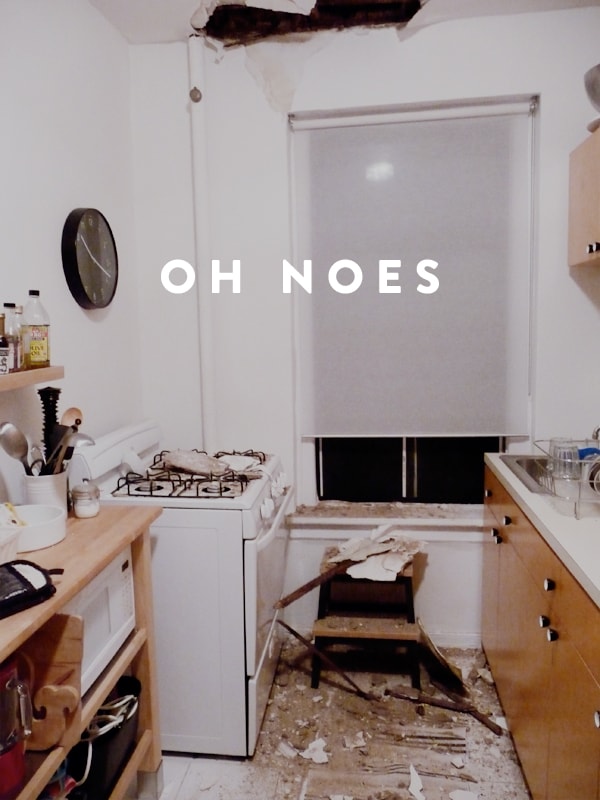 Yes, that's right, the kitchen ceiling has been relocated to the kitchen floor. And on its way down, it decided to extinguish both pilot lights on the stove…so the entire apartment was filled with gas. Scary stuff. (This photo was taken after we'd opened the window.)
We opened the window and turned off the gas, but we can't stay there until the gas clears and the ceiling is repaired. Even just being in there for a few minutes made me feel sick. I think the gas must have been pouring out for days, since this was clearly the result of rain damage to the ceiling coming in through the roof (our apartment is on the top floor), but everything was bone-dry.
After making numerous calls to the management company and our superintendent, we all got in the car and drove all the way back up to the house. We're extremely lucky to have that as an option—I don't know what we'd have done if this was our sole residence!
Let's see how long it takes for the ceiling to get fixed, shall we? Things like this are exactly the reason why I prefer to be a homeowner. The lack of control you have as a renter can be frustrating—especially since I know they won't actually fix the source of the leak…they'll just patch the hole and move on. We could tell it had been "fixed" before we moved in, so this isn't even a new problem. Argh!
UPDATE: The ceiling is FIXED! And the roof, too. Whaddya know?