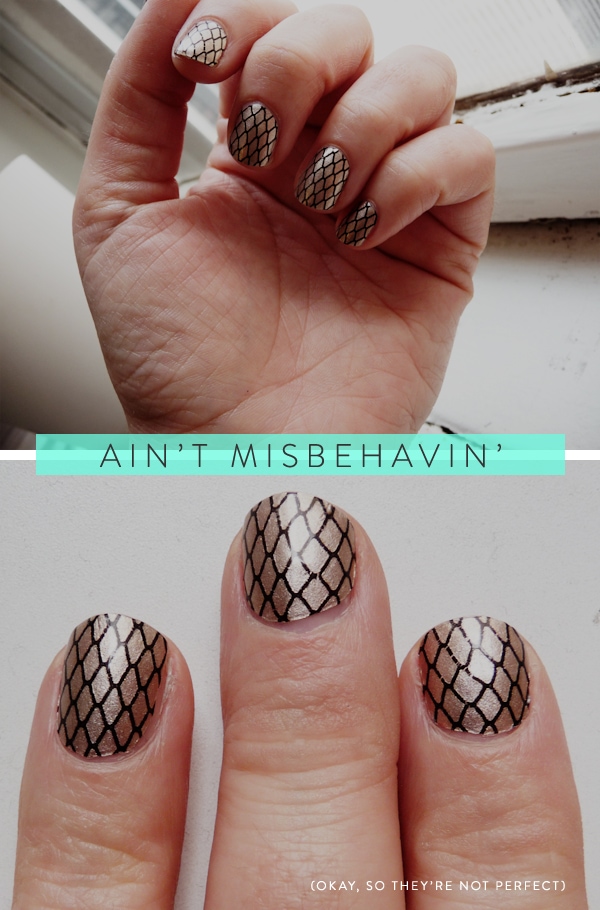 Let's get the important stuff out of the way first: My nails look adorable. After eying those Sally Hansen Nail Effects strips at Duane Reade at least once a week for the past few months, I finally went ahead and coughed up nine bucks and bought a box. I'd read a ton of reviews, so I knew they probably wouldn't suck, but I didn't expect them to be quite so awesome.
For my first attempt, I went with "Misbehaving", a champagne-gold with a fishnet overlay. I'd read that the glittery styles are harder to apply, so even though "Glitz Blitz" was calling my name LOUD + SPARKLY, I opted for something easier the first time around.
The strips are kind of like really thin stickers, but they're actually made of nail polish. They don't add dimension to your nails or anything like that. They apply kind of like model airplane decals (sans water) in terms of fragility and placement techniques, but they go on really nicely. The amazing thing is that there's no drying time, so if you're like me and tend to decide to do your nails at midnight, you can hop right into bed after and not worry about dreaded sheet-prints screwing up your manicure.
Up close, you can definitely tell that I messed up the placement on a couple of stickers—mostly from fear of getting too close to the cuticle. From a normal distance, though, they look perfect. Oh! And they supposedly last for at least ten days with no chipping. I'm only on day three, so we'll see how it goes. So far, so good, which is more than I can say for regular manicures. Kind of spendy, yeah, but if you have short nails like me, you can get two full manicures out of a box. Not too bad.
Now onto the other stuff: Hurricane Irene. Yeah. Well, we really don't know what to expect. We're staying in the city this weekend because the traffic heading out is bound to be brutal, so things could get exciting. Luckily, our neighborhood (Washington Heights) isn't in an evacuation zone, so hopefully we'll be okay. Unsurprisingly, tomorrow's planned festivities have been postponed (Spike actually wanted to go ahead with it, but once the governor announced that ALL mass transit will cease operation at noon tomorrow, cancellation was kind of a done deal), so we'll be holed up in the apartment—hopefully with electricity, cell and internet service!
There's still a giant hole on our kitchen ceiling (grumble, grumble), but the roof seems to have been repaired, so hopefully we won't get any water coming in—touch wood. I truly hope Irene takes it easy on us all! Everyone please be safe out there.