How cute are these pillows?! The moment Elisabeth Dunker (whose work graces many rooms in my house!) sent out an email announcing their addition to the Fine Little Day shop, I added them to my ever-growing list of pillows I love and desire.
Now that Fritz has stopped chewing on stuff (okay, mostly—every now and then he still enjoys a good tassel), I feel like it might be okay to buy a few nice pillows. I love pillows. I want a pillow on every chair, tons of them on the sofa, a bed covered with them—I basically want to live in a giant pillow. I could always get this, I guess: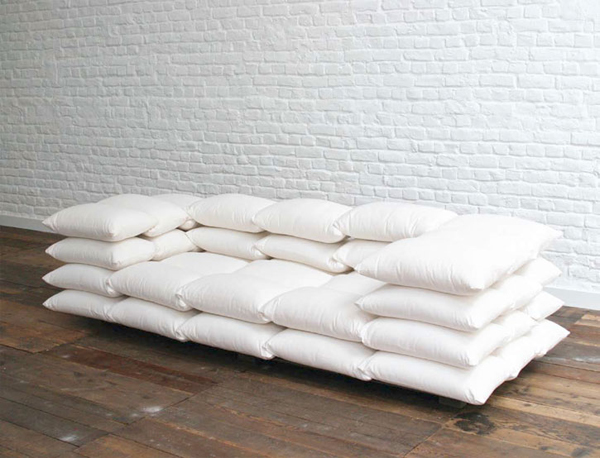 Christiane Högner's Cushionized Sofa is the stuff dreams are made of—literally. Can you even imagine tossing your body down on that thing at the end of a long day? It would be like tumbling into a marshmallow fantasy land of sleepytime goodness.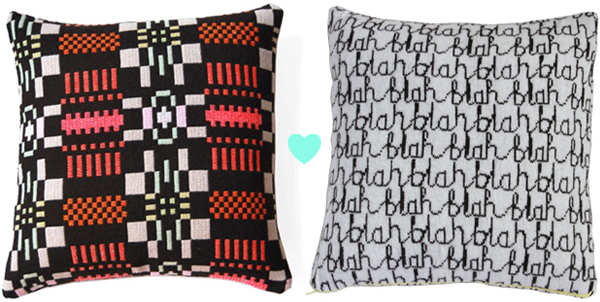 I want everything Donna Wilson has ever made, really, but her recent Nos Da Collection is my most favorite of all. The "licorice" cushion is so, so beautiful. I've been fantasizing about it for long time now, but just recently saw it in person for the first time—and now I covet it even more. And how can you not love the Blah Blah cushion?! Perfect for resting your head on while pretending to be engaged in a draggy phone conversation.
OMG, THIS PILLOW. This is one of those things I swear was made just for me. It's cotton, it's velvety, it's got multi-level textures, it's earthy-yet-graphic, there's yellow involved, and…TRIANGLES. I love a good triangle. The Turbine pillow from CB2 is awesome, and I may or may not have already ordered one in a fit of glee.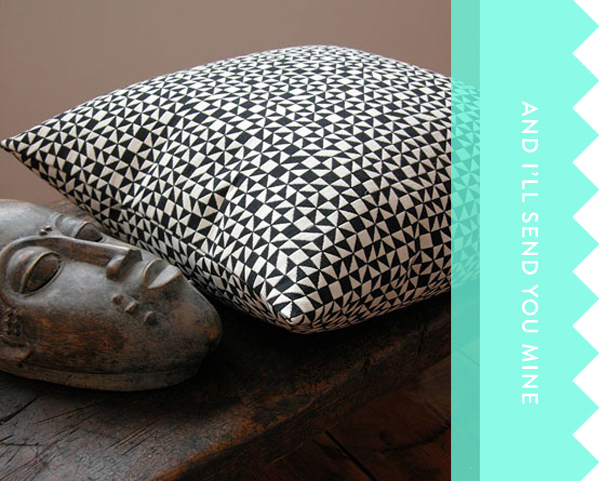 Speaking of triangles…yeah, I saved the best for last. It's the holy grail of pillows—one made from Alexander Girard's Checker Split fabric. Circa50 makes pillows from a variety of Girard fabrics, but Checker Split will always be my favorite-favorite. This pattern inspired the one on the sometimes-rug in my living room (I say "sometimes" because the dogs seem to have decided that every rug is a giant wee-wee pad, so actually it's more like "no time-rug"…sigh), and I just love it so much. I've held off investing in a Girard pillow for a long time, though, because I just know that the second I turn my back, Fritz is going to chew off one of the corners.
Indeed, sometimes the dogs win. Maybe I need to have a private pillow sanctuary behind a dog gate. Oh, come on…who am I kidding?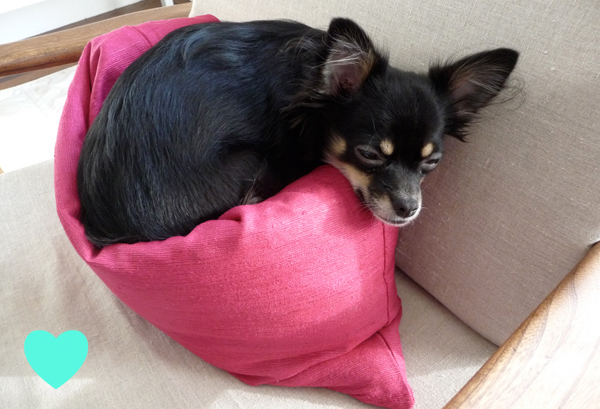 Exactly, Fritz. Exactly.