September 12, 2001 // Cobble Hill, Brooklyn
It's late at night on September 10th, 2011 as I start writing, but in truth I've composing this in my head for years.
My story isn't special. It's the same as that of thousands and thousands of other people. Everyone in the world has an answer to the perpetual question: Where where you? And everyone who was in New York City on September 11, 2001 has their own variation, too.
I was living alone in Cobble Hill at the time, just south of Brooklyn Heights—a few blocks from the waterfront that looks out across East River toward the skyline of lower Manhattan. I lived alone at the time, and I was running late for work after voting in the primary election at the school down the block. As with every other morning (then and now), I had on the New York Public Radio station, WNYC, whose broadcast center was in lower Manhattan. As the clock inched toward 9AM, the news was starting to get very weird. They had received a call from a listener who had seen what looked like a huge wheel in the street, and was it possible that it had fallen off of a plane overhead? And, in my memory, a simultaneous call that another listener had just seen a plane fly into the World Trade Center.
I don't remember turning on the television, and I don't remember at what point WNYC's transmitter—located on top of the World Trade Center—went out. I just remember picturing something like a scene from King Kong and grabbing my bag to hurry off to work.
I heard the second plane hit the South Tower while I was walking to the subway. I didn't know what it was at the time, of course, and my route to the train took me out of the line of sight of the events transpiring across the river. I continued to the subway, paid my fare, and road the train in with a car full of people who seemed to not really be concerned about much of anything. As far as I can recall, it was an ordinary commute.
By the time I got to my office in Rockefeller Center, a third plane had hit the Pentagon in Washington, DC, and there was no question in anyone's mind that the United States was under attack. This was not an accident; there was no King Kong. Over the course of the 45 minutes that I was underground en route to work in Manhattan, everything had changed.
I just had to stop writing for a few minutes and let myself cry. The clock just turned to midnight, and it is officially ten years later.
Let me just say this straight up: I love my coworkers. Some of them have moved on over the 13 years I've been there and some new friends have joined the team, but the core group of people has remained same—and I love them. All of us were there in the office that morning, trying to find out whatever news we could online (not as instantaneous then as it is now) and wondering where we should go or what we should do. One coworker's girlfriend was at work in the World Trade center. He couldn't get a hold of her by phone, so he just ran. She got out.
Word trickled in that one of the buildings had collapsed. How was that possible? What was happening? We were in the middle of Manhattan in a landmarked building in a tourist area. Were we a target? We didn't know—we didn't know anything. We were scared, the phone lines were down, and we could already see military vehicles on the street outside.
So we left. We took our things and we left. We walked about 20 blocks south to my coworker's husband's office—they had a TV there, and at least it wasn't in a building that felt like a target. By the time we arrived, another plane had crashed into a field in Pennsylvania. I watched the North Tower collapse on television.
To this day, I cannot reconcile the fact that what I saw on the screen was actually happening a couple of miles away from me. None of it seemed possible. I don't know if it was a defense mechanism or just a lack of understanding of the situation, but I don't remember crying—I was just shocked and scared. Terrified. It's hard for me to admit that now that I know I was never in immediate danger, but at the time it didn't feel that way. At the time, it quite literally felt as though the whole of New York City—if not the entire country—was under invasive attack.
I remember my boss checking to make sure we all had cash on us. I had to tell him, shamefully, that because my account balance was under $20, I was unable to make a withdrawal from the ATM. So he gave me $20. (Why I remember that, I don't know.)
At some point, those of us who lived in Brooklyn decided to try to get home. After some debate about which bridge was most likely to be bombed or struck by a plane (probably the Brooklyn Bridge, since it was the most recognizable), we decided to walk to the Manhattan Bridge. It took a long time to get there. The streets were filled with people making an exodus from Manhattan in whatever direction they could—many of them covered with ash, and some with torn clothes and blood on their faces. The closer we got to lower Manhattan, the scarier it got. By the time we crossed Canal Street, we were constantly looking up at the sky. Just to make sure.
Much has been made of the camaraderie of New Yorkers in the time following the attack, but what I remember from that day was silence. Granted, it was a silence filled with sirens and bullhorns and military planes, but for the most part people all seemed to be keeping to themselves. Everyone was just moving forward.
We moved forward, too. We crossed the bridge with a great deal of trepidation. On the Brooklyn side, we were greeted by members of the Hasidic community who had loaded up vans with bottled water. That was the first time I cried.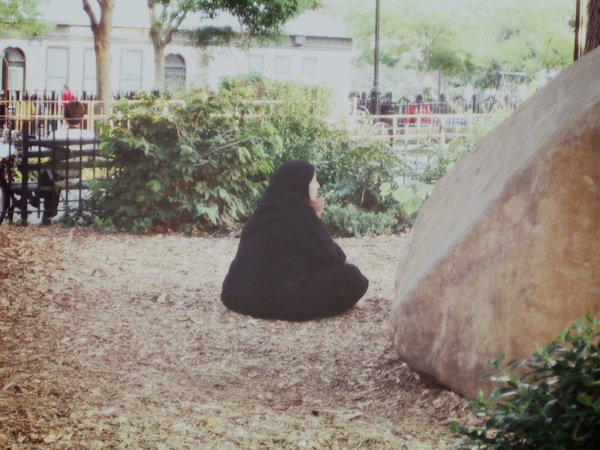 September 12, 2001 // Cobble Hill, Brooklyn
Touching ground in Brooklyn felt like reaching safety. By the time I walked all the way to my apartment it was late afternoon. I was finally able to get through on the phone to my parents and confirm that everyone in my family was safe.
Then the TV went on. And it did not go off for days and days and days. I spent all of my time alternating between watching news reports—the same things, those same horrible shots, over and over—and walking to the waterfront to watch the billowing smoke that continued to rise for weeks. I don't think I'd ever felt so lonely before in my life. And by the time I gathered myself up enough to get out and donate blood, they didn't want it anymore—there was no one to give it to. I am sure I was not alone in feeling utterly helpless.
The words I've written here so far mean nothing other than that I am very lucky.
Nearly 3,000 people died as a direct result of the attacks in New York, Arlington, and Pennsylvania. They died for no reason other than that they went to work or got on a plane. 411 emergency workers died while rushing directly into unfathomable danger to rescue others. The 33 passengers and 7 crew members on Flight 93 managed to prevent their plane from hitting the Capitol before they, too, died. Countless first responders' lives will be cut short due to the yet-unknown effects of inhaling dust at Ground Zero.
Thousands have Americans have gone to fight in the pointless wars that have followed, and thousands will never return. Can we ever know the number of civilians in Iraq and Afghanistan—and yes, as a result of hate crimes here in our own country—who have died in the name of some undefinable idea of American "freedom"? Thousands upon thousands of families have lost their loved ones forever, and the number keeps increasing. Will that day never end? Can it?
It's now 1:26AM on September 11, 2011. Ten years have passed, and I still cannot reconcile that the Twin Towers are gone, and that something so horrible happened here, in my city. Not a day passes that I don't think about it at some point, whether it's fear for my safety or grief over the lives that were lost.
And I am lucky to not have a special story.