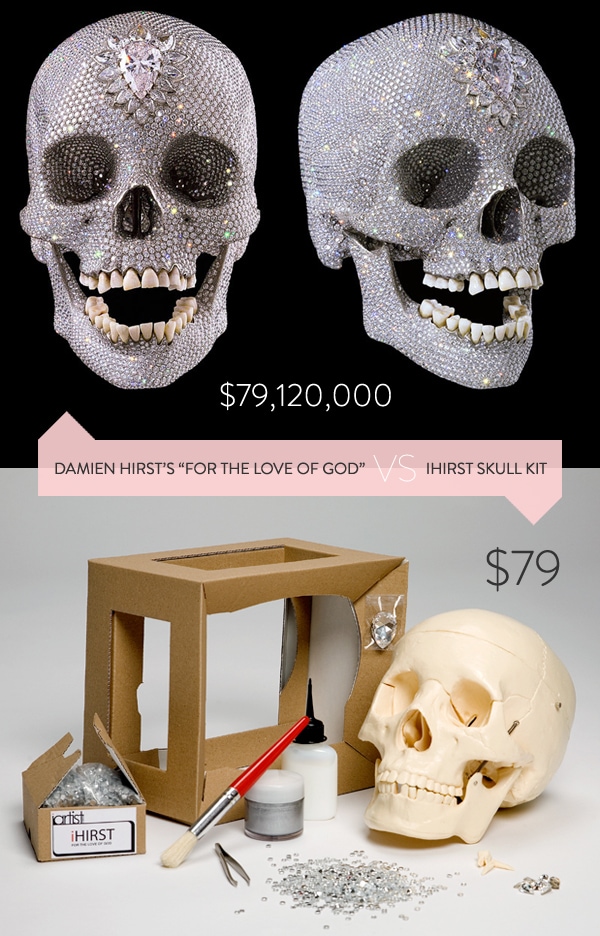 We've already done camera vs camera and trash can vs trash can, so how about we do jewel-encrusted skull vs jewel-encrusted skull?
In 2007, Damien Hirst (who, I should note, is one of my least favorite living artists—for better or for worse, "I know what I like when I see it"…blah blah blah, and yes, I am aware of the many reasons available to dislike Hirst and his work) spent £14 million (~$22 million) creating For the Love of God, a sculpture consisting of "a platinum cast of a human skull encrusted with 8,601 flawless diamonds, including a pear-shaped pink diamond located in the forehead". It's an utterly ridiculous and despicable work of art on just about every level imaginable, but I can't help kind of loving it. And we don't even know if it's been sold! Assuming it hasn't, though, the price tag on it most likely somewhere around £50 million.
Gracious. Well, as Hirst himself puts it, "the markup on paint and canvas is a hell of a lot more than on this diamond piece." Fair enough, Damien. Fair enough!
I don't often condone knockoffs, but I'm going to make an exception this time—assuming, of course, that you don't have £50 million lying around waiting to be spent. (And if you do, please email me before you do anything. I'd be happy to send you a list of suggested ways to spend that money that do not involve buying a diamond-encrusted skull. Be sure to put "Help me spend £50 million" in the subject line!)
Enter the low-cost alternative: For a mere £50 (yes, 1/1,000,000th of the original price!), IARTISTLONDON will sell you their IHIRST kit so you can make your very own Damien Hirst-inspired crystal-encrusted skull! You get a life-sized plastic skull, 8,601 crystals, glue, a paintbrush, silver paint, and instructions. I personally can't think of a better way to spend every evening for the next year than gluing tiny crystals onto a plastic skull, can you?
Your friends will never know the difference!!