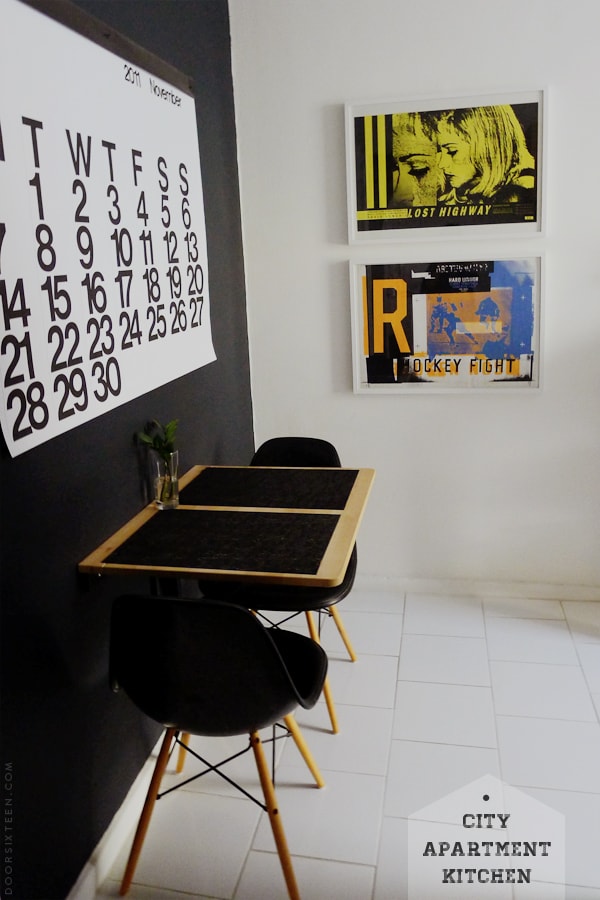 As part of my ongoing effort to make the city apartment feel more home-like, I decided to hang a couple of framed printed in the kitchen. I've been holding on to these prints with the intention of framing/hanging them for about 15 years (!!) now, and it feels great to see them out of a storage tube and onto the wall.
Both prints were silkscreened by Robin Hendrickson, who I met while we were in the Art+Design program at Purchase College. Robin was immensely talented, and I do wonder what he's up to now. (Hey Robin, if you Googled yourself and wound up here, get in touch!) The Lost Highway poster (black ink on yellow plasticized paper) was done for a special screening of the movie in the campus theater, and the "Hockey Fight" print was a personal project he did to document a multi-face type family that he'd hand-drawn. We have an alternate version of this poster in what is now the guest bedroom at our house (yikes, old photo!).
There's a tendency to think small when it comes to hanging framed stuff on kitchen and bathroom walls, but I love putting big posters in smaller spaces. The room immediate feels cozier, happier, and all-around more comfortable. I don't worry about heat or moisture, either. I probably wouldn't put anything valuable right next to the stove or the shower, but I've never had a problem with anything getting damaged.
Oh, and speaking of the apartment kitchen, remember that giant hole in the ceiling? Well, it's finally fixed. What a huge relief. Not being able to cook (and you know, having a giant hole overhead constantly shedding dirt and concrete) was pretty stressful.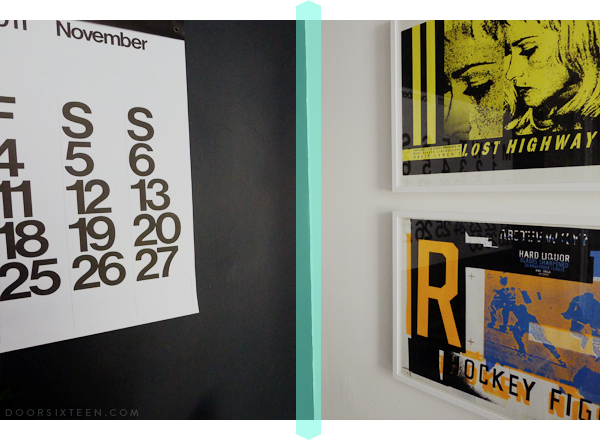 Let this post also stand as a reminded to order your 2012 Stendig calendar! It's already November, and it'll be a new year before you know it. And remember, the pages make great wrapping paper when the month is over.