OK, so it's time to get political. You know the annual Homies Awards are going on over at Apartment Therapy, right? Yep, it's true, the nomination round is over, and now the FINALS are nearly complete with less than a day of voting left.
UPDATE: Voting is now closed. Manhattan Nest took 2nd place. Yay, Daniel!
Here's what you need to do:
✚ Go to the Homies 2012 Home Design Blog Finals page at Apartment Therapy.
✚ If you're not already logged in, log in.
✚ Don't have an account? That's easily remedied.
✚ OK wait, go back to the Homies 2012 Home Design Blog Finals page.
✚ Here's the easy, fun part: Vote for Manhattan Nest!!!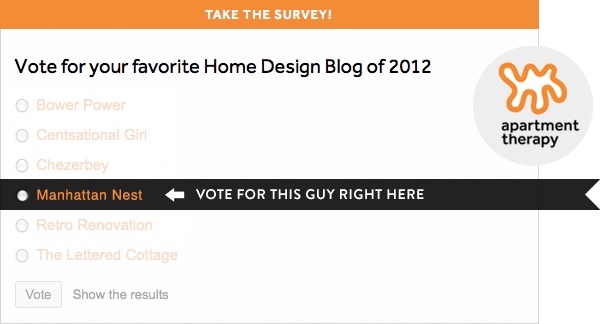 Just in case it's not enough for me to just tell you what to do, here's my campaign pitch:
✚ All-original content. Daniel blogs about one thing: His own home. Yes, sometimes his cute boyfriend and his even cuter dog (sorry Max, dogs always win the cutestakes) come up, but it's all in the context of him building a home for his little family. The photos you see on Manhattan Nest were taken by Daniel. The content was written by Daniel. Everything you see on his blog is him. And nobody is paying him or sponsoring him, either—he's sharing this stuff because he enjoys it.
✚ This kid is going places. I know it's easy to forget when you're reading his blog, but Daniel is only 22 years old. TWENTY-TWO. When I was 22, I was…well, OK, when I was 22 I had just started working at the same job I'm still at 14 years later, but that's not the point. Daniel is young, and he is smart and kind and funny beyond his years. I don't know what he'll be doing in 5 or 10 years (I don't think he does, either), but I do know he'll be doing whatever it is really, really well.
✚ Daniel inspires me. He inspires me not by sharing a bunch of things that inspire him, but by sharing what he's done to make his home feel more like an extension of himself. He's living in a rented pre-war apartment in New York City that's gotten pretty run-down through neglect over the years, and he's fixing it up on a student budget. He's not doing this to make the apartment worth more, he's doing it to feel happier every day—and he's sharing that process with all of us. Every time I take on a project in my own elderly home, I think of Manhattan Nest and have a little WWDD moment. He makes me want to go the extra mile, and to think of solutions to problems that might not be immediately obvious. Daniel makes me not want to be a slacker. Isn't this exactly the kind of inspiration you want to take away from a home design blog?
✚ He's my friend. I'm actually feeling kind of verklempt just writing those simple words. Daniel is my friend. He's not just some guy I know on the internet, he's my weekly coffee buddy, my personal mover, my confidant, my conspirator, my friend. I met Daniel because we both have blogs, and we've always supported and helped each other in whatever capacity we're able. He's a good person, and I'm very, very lucky to know him.
Ok, pitch done.