I thought about titling this post "ME ME ME ME ME ME (and a little more ME)," because let's face it—this is a whole bunch of ME. I don't post a lot of photos of myself on the blog, I guess because it just always feels awkward. I hate having my picture taken by other people, and I don't like taking a photo of myself unless the camera/phone is visible in the picture as well. Having the camera visible makes the resulting photo less about documenting the subject and more of a marker of that specific moment—which is the act of taking the photo.
Am I over-thinking it? Maybe, but all of that over-thinking made me realize something: I am my own design project. Here are some Instagram snaps from over the past few weeks.
So yeah. I mean…I pretty much look like my house. I don't really draw any distinction between designing myself and designing anything else. I have a set of limitations that I need to work with, and a knowledge of how to use certain tools and materials in order to achieve the results I want. I never think about what would be perceived as "sexy" or whatever, that's just not something I'm concerned with. I do like to look attractive, of course, but for me physical attractiveness (in anyone) is determined not by a specific set of features, but by a series of proportions, contrasts, textures and colors—exactly the same things that make a room or a book cover or a garden appealing to me.
OH, AND: Here's me matching my dorm room 18 years ago.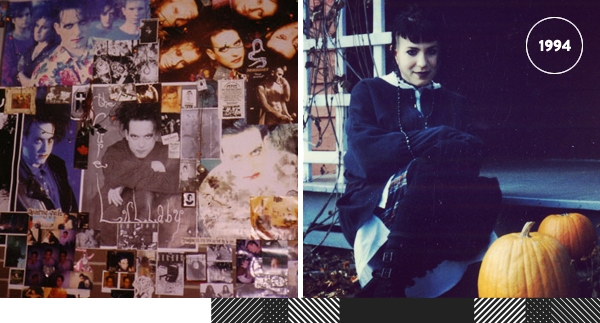 I'm curious: How about you? Do you "match" your home? If you're an artist or designer, do you feel like there's a correlation between your professional work and, say, your hair?