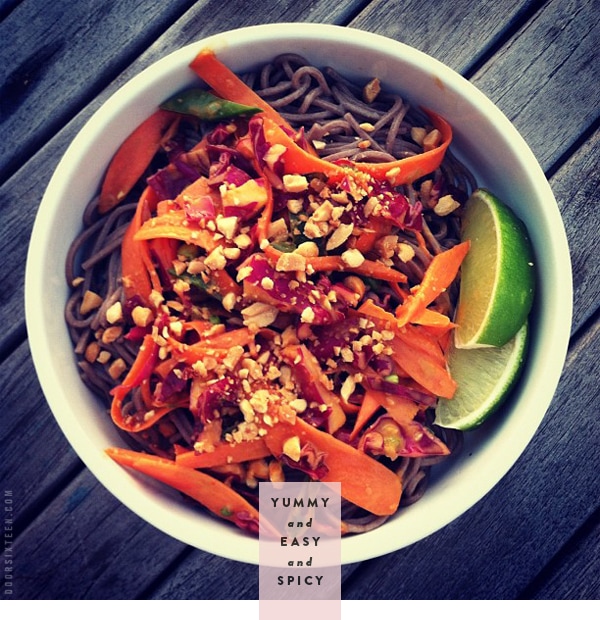 Daniel and Max came over for dinner last night, and I used the meal I prepared as an excuse to try this crazy spicy peanut butter I've been fantasizing about. I also wanted to try out one of the recipes in the Teany Book. (I've written before about my intense love for Teany and their vegan turkey club sandwich in particular, as well as my goofball appearance in the book!)
Here's what I put together combining the two…
Soba noodles and veggies with spicy peanut sauce (vegan & gluten-free*)
Serves 4
Spicy peanut sauce
2 tbsp The Heat Is On peanut butter from Peanut Butter & Co.**
2 tbsp grated ginger
2 tbsp sesame oil
4 tsp liquid amino acids***
2 tsp brown rice vinegar
2 cloves minced garlic
Veggies
4 large carrots, cut into thin strips (I used a peeler to make ribbons)
1 cup sugar snap peas, julienned
2 cups red cabbage, shredded
1 tbsp green onions, chopped
Noodles
9 oz dried buckwheat soba noodles*
2 tbsp sesame oil
4 tbsp crushed peanuts
lime wedges
Prepare the peanut sauce first in a big bowl. You can just whisk all of the ingredients together by hand, no need for a food processor or anything like that. When all of the veggies are prepped, put them in the bowl with the peanut sauce and stir everything up.
Follow the directions on the soba noodle package, taking care to not overcook them. With buckwheat soba, it's important to rinse them very well in cold water as soon as they've finished cooking, otherwise you'll wind up with something mushy and gross and unappealing. It's OK that the noodles will be cold after rinsing! This dish actually tastes best cool/room temperature rather than hot. Toss the noodles with sesame oil.
Divide the noodles into bowls, put the veggies/sauce combination on top, and sprinkle with crushed peanuts. Serve with lime wedges, and enjoy with good friends and a nice view! We ate up on the roof of my apartment building, a spot I will never cease being grateful to have access to.
*Soba noodles are gluten-free IF they are 100% buckwheat, so check the package to make sure if this kind of thing matters to you. I use Eden brand. People with true gluten allergies should make sure the brand they buy is certified gluten-free, since contaminants can always be an issue.
**If you can't find this fancy peanut butter, just use regular peanut butter with some chili sauce mixed in to taste.
***You can use gluten-free tamari instead of aminos, or soy sauce if you don't need it to be gluten-free.