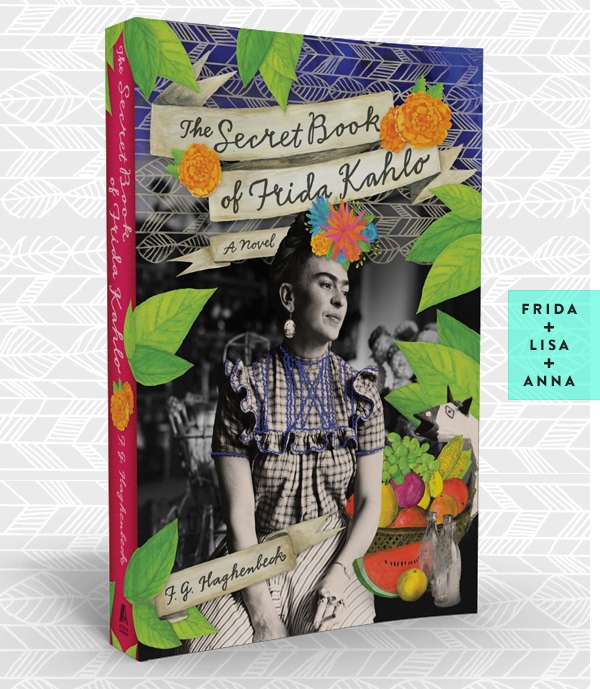 In October 2011 (yes, almost a year ago!), I started working on the cover for the September 2012 publication of Mexican writer F. G. Haghenbeck's The Secret Book of Frida Kahlo. That's a fairly typical time span between when the process of designing a cover starts and when a book has been printed, bound and is available to buy.
Initially I considered using one of Nickolas Muray's amazing color photographs of Frida Kahlo on the cover, but rights clearance proved too difficult so that idea was scrapped. There was some talk about using one of Kahlo's self-portraits as well, but rights issues were again a concern. The more I thought about it, the more I felt like the right path for this cover was a combination of photography and illustration. After all, the book is a fictionalized account of a life—it's a fantasy based in reality.
I never considered asking anyone other than Lisa Congdon to work on the illustrative aspects of the cover. Lisa is a dear friend, but before I knew her as a person, I knew her as an artist. I'm a huge fan of Lisa's work, and I knew that her sense of color, scale and balance combined with our mutual love of Frida Kahlo would be perfect fit. I'd never been so excited to ask someone to collaborate with me on a project before, so of course I was thrilled when Lisa said yes!
Once I found a great photo of Frida that was perfect for the cover and made sure it was available for licensing and alteration, I put together an extremely rough mockup of the kind of layout I was envisioning for the cover (that's the first thumbnail above, in case you can't tell!) and sent it to Lisa. I shared references with her for color and illustrative style—I wanted the vibrancy of Casa Azul and the spirit of Día de los Muertos masks and sugar skulls!
Before color was even involved, though, I asked Lisa to work up two pencil sketches of the cover—one with a fully-illustrated background and one with more of the photo visible. Based on those sketches, the publisher preferred seeing more of the original surroundings. Lisa then began to add color to more refined versions of the individual elements, which she then sent to me to experiment with placement. Once a final layout was approved by all necessary parties, I mocked up the title type digitally and sent it all back to Lisa again for her to do the final hand-lettering and painting work.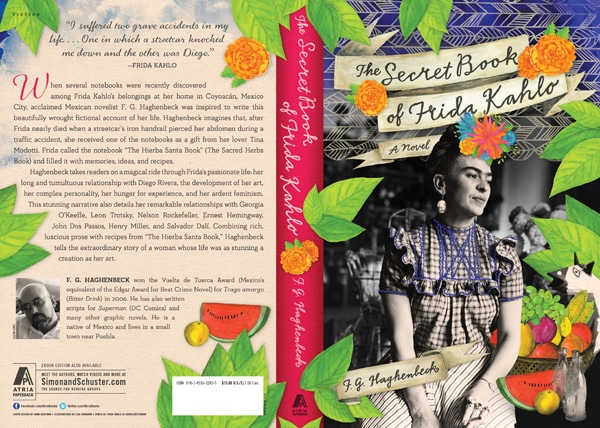 Initially we weren't sure how best to go about sending the assembled layouts back and forth, since so much cutting-apart and positioning of tiny elements was involved. We ultimately decided that it was best for Lisa to create the illustrations on a white background, and to send them to me as individual parts to be put together in Photoshop. That allowed me to layer the leaves and move them around or add more as needed without Lisa having to re-do the entire thing from scratch every time. It also meant that I could later design a spine and back cover that would wrap around seamlessly from front to back. I love when books feel like finished packages!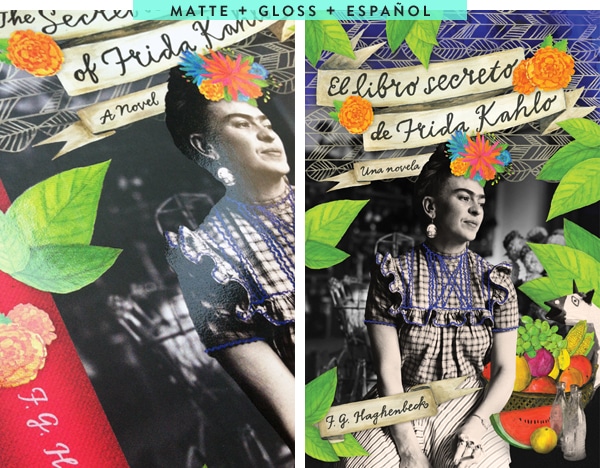 The bound books haven't been delivered yet, but I did just get to see a cover proof. I specified that it should be printed with a matte finish over the entire background, with a glossy coating on the special elements in the foreground. I tried to take a photo (above left) so you can see how nice it looks—the matte and gloss finish really gives the cover a lot of dimension. I'm so happy with how it turned out. Oh, and there's a Spanish language edition, too! Lisa's hand-lettering looks beautiful in any language.
Speaking of Lisa's hand-lettering, did you know she has her very own font available for purchase? Yup. It's called Petit Lisa, and it's tall and skinny and full of the warmth that all of Lisa's work exudes. I can't wait to try it out on a project!