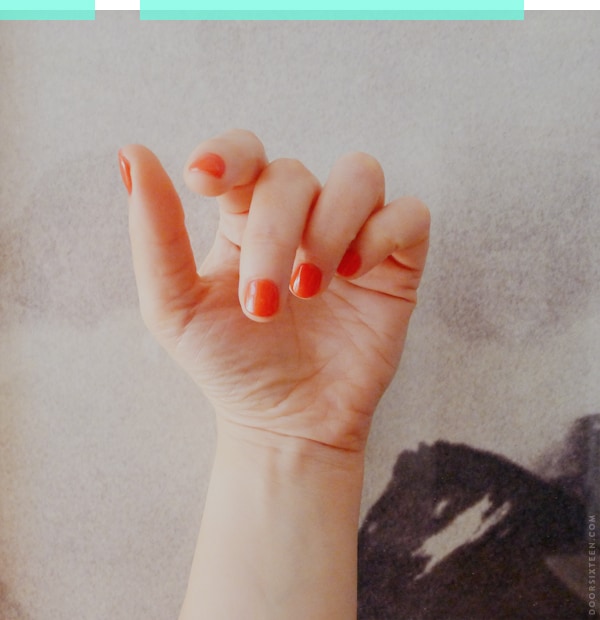 It's no secret that I love having fancy fingers and toes. There's just something about having nicely painted nails that makes me feel complete. I like looking down at my hands and feet and seeing shiny little jellybeans of color. It's fun. I don't wear much jewelry, so colored polish functions as an accessory I can't lose. It makes me feel pretty and done.
I very seldom pay for manicures or pedicures—maybe once every couple of years, tops. I'm good at doing my own nails. It's one of those things that seems really tricky and messy at first, but with practice it gets easier and the results are very satisfying. Doing your nails is an easy way to FINISH a project, and that can have a pretty profound effect on my state of mind. (And yes, I do realize we're talking about nail polish here.) Also, I'm loathe to pay someone else to do what I can do myself, especially when even the best manicure tends to chip within a few days.
Lately, though, I've been really busy working on freelance work at night, and I've been defaulting to bare or clear-coated nails most of the time. I decided to pay someone to give me a special manicure that will last longer than one done with regular polish. (Funny—exactly one year ago, I was experimenting with another long-lasting manicure option! There's just something about late August, I guess.) After doing some research into the various options, I decided to go with a Calgel manicure. If you're curious about what Calgel is, exactly, this site has a detailed description.
One salon name comes up over and over again once you start looking into Calgel-certified salons in NYC: Sakura. After reading a bunch of reviews on Yelp, looking through their impressive gallery of wacky-cool nails on Facebook and, of course, soliciting feedback on Twitter (Gala actually replied to me from the salon, which is a pretty good endorsement!), I went ahead and booked an appointment.
My nail stylist was Selina, and she did a great job. I usually wear my nails short, which sometimes prompts a pitch for extensions of some sort (if you haven't seen comedian Anjelah Johnson's routine about nail salons, watch it right now—it's dead on), but Selina was fine just giving me a natural, rounded shape to go with my bright orange-red color selection (it's #59). The whole process from start to finish took less than an hour, and considering my nails were totally DRY at the end of that hour, that's pretty impressive. Calgel needs to cure in layers under a UV light, so there was a lot of switching hands and rotating of thumbs…and then it was all done!
My nails look really nice. The finish is so smooth and shiny, and the edges around my nail bed are flawless. I'm very happy with the outcome! The total cost was $40 for a solid color (stuff like gems, glitter and gradations obviously cost more), and I was given a customer card for a discount after I earn a certain number of points from repeat visits. I like stuff like that.
Calgel manicures can last as long as month (!!) without chipping, but since I have such short nails and chose a solid, bright color, new growth will be really noticeable—so I'll probably go back in two weeks for a color fill-in at the base. Once my nails are longer, I'll try something fancier like a black-to-sheer gradation (amazing, right?) that won't show regrowth as much. Knowing I'll get an entire month out of a pricey manicure makes the cost sting a little less!
It's only day one with my Calgel manicure, but I'll let you know how things are looking after a couple of weeks. I have high hopes…