I don't watch much television. Now, after saying something like that, the worst possible thing I can follow it up with is, "I really just listen to NPR." But you know what? It's true. I don't…and I do. I'm aware of how snobby and lame it sounds to say that, but there you go.
I used to watch a lot of television. There was a period of time when Vh1's reality programming (Rock of Love, Flavor of Love, Real Chance of Love, I Love New York…) and I were really good friends. And I still reference Lip Chap and remind people to not threaten me with a good time. But when we decided to get our little city apartment, we also decided not to pay for cable—and not to buy a TV that would take up precious space.
For a while we had a Slingbox, which allowed us to watch shows on my iMac at the apartment via our cable box at the house, but then that stopped working, and I just kind of forgot about TV.
I do watch a few programs here and there online through Netflix, Hulu and iTunes, but since I have to make a conscious effort to watch something (as opposed to turning on a TV and scrolling through channels looking for something—that "something" usually being House Hunters International or Hoarders), I tend to only watch stuff that I can fully commit to and really enjoy. So far I've managed to resist Downton Abbey and Mad Men and Girls all of the other shows that I hear people talking about all the time, and I'm OK with that, even if it does make me feel like a bit of a social leper.
But then this came along: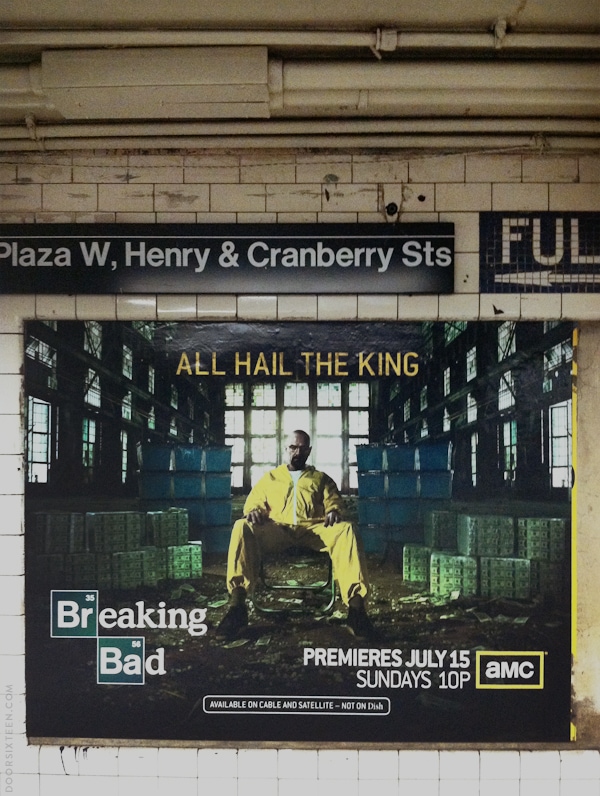 After seeing Roger and Jenna carry on about Breaking Bad (which, for reasons I can't explain, I initially thought was about surfing—maybe I was confusing it with Point Break?) on Twitter for ages, I finally gave in and started watching. And watching. AND WATCHING. Evan and I plowed our way through four seasons in less than three weeks, just in time to join season five in real time—and wait a full week between episodes like normal people. Oh, and guess what? It's not about surfing. It's about cooking meth, except it's not really at all about cooking meth. It's about power and money and morals and anger and fear and PRIDE—and sometimes love, but not often.
(To bring things full circle, I happened to hear a story on On The Media about binge-watching right in the middle of it all, and, of course, the example they used in the story was Breaking Bad. Hah! Validated by NPR. See?)
Let me say this: Breaking Bad is a fantastic TV show, and Bryan Cranston is a phenomenal actor—as are Giancarlo Esposito, Aaron Paul, Jonathan Banks, Dean Norris and Bob Odenkirk. The entire cast is amazing. The writing is great. The character development is totally fascinating.
I'm obsessed. The first half of the final season just ended, and now (maddeningly) we have to wait until NEXT SUMMER for the final eight episodes to air. I have absolutely no idea where the show is going to go from this point, but I can't wait to find out. I'm addicted to the intensity of the story lines and the tensions between the characters as their lives become more and more complicated and corrupted. It's not a happy story, but it is a very compelling one.
My friend Janet sent me a link to this video, which compiles scenes from all five seasons of Breaking Bad to illustrate the transformation of protagonist Walter White over the course of the year and a half of his life that the show (thus far) has documented. It's pretty fascinating to go back to those early episodes and see where WW came from, and to remind ourselves of how he wound up in such a mess of a life.
DO NOT WATCH THIS VIDEO IF YOU ARE NOT CAUGHT UP ON ALL FIVE SEASONS. Spoilers abound. If you are all caught up and want to talk about the show, please feel free to spoil away in the comments! I love talking about Breaking Bad, so have at it…