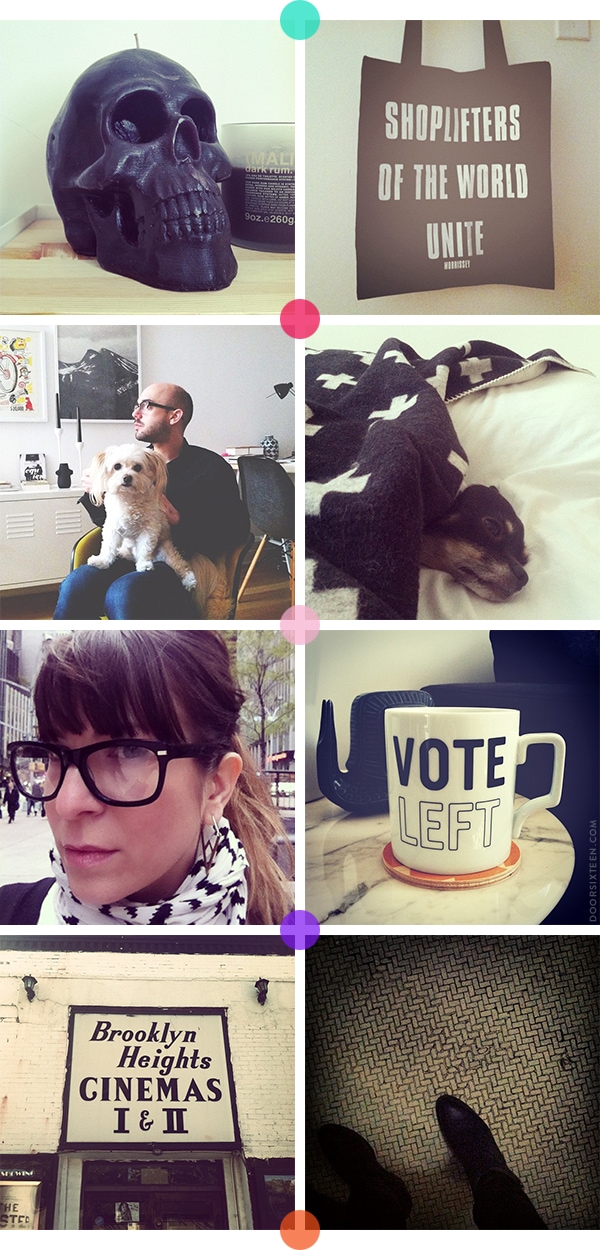 Oh, just some weekend Instagram snaps I've been meaning to share here! Top to bottom, left to right…
✖ How cool is this black West Elm skull candle? I pretty much only buy stuff at West Elm when it's on clearance, and I got this nearly-life-sized guy for $7 (!) at the DUMBO location. They only had one left, or else I would've bought a bunch. The best thing about Halloween being around the corner is SKULLS EVERYWHERE.
✖ I couldn't resist this SHOPLIFTERS tote bag that was for sale at the merch counter at the Morrissey shows. I guess I'll have to turn it around if I'm shopping in a store with employees who might not get the reference (or who might not have a sense of humor), but otherwise I shall carry it with pride.
✖ Evan and Bruno enjoying their morning coffee. Aren't they handsome? This photo reminds me that I really need to take more photos of the new apartment before it stops being "new."
✖ I had nothing to do with this—Fritz tucks himself in all the time. I'm told that the smarter dog breeds like Chihuahuas all do this. Bruno is only half Chihuahua (the other half is Bichon Frisé, a breed high in sweetness but not known for intelligence), which explains why he can't really even figure out how to crawl under a blanket most of the time while Fritz is off basically building forts and growing opposable thumbs.
✖ I've been wearing my fake glasses (they're the "Thatcher" style in Revolver Black from Warby Parker) every now and then, and I've gotta be honest—they make me feel great. Wearing glasses gives me enough confidence to wear my hair back in a ponytail, something I NEVER do unless I'm at home. I am wayyyyy to self-conscious to leave the house with my face completely exposed, so it either has to be hair or glasses that I hide behind, and it's fun to have this option. I feel like a different person when I wear them. It's like a disguise. And hey, I figure my vision is probably going to tank within the next few years anyway, so at least I'll be comfortable wearing glasses when the time comes!
✖ This VOTE LEFT mug was another cheapie West Elm clearance item. Unfortunately they're sold out online, but stores probably still have them. And yeah, I know it's not really possible to truly vote left in this country, but I can dream. For now, I'll vote as far left as I possibly can.
✖ Brooklyn Heights Cinema is on my old street (Henry Street pride!!), and I miss going there to see movies—it's a great little theater. It's actually not too far of a walk from DUMBO, though, so I should make the effort to walk up now and then. It's near a great little natural-food restaurant called Siggy's Good Food that does an amazing vegan brunch. Highly recommended!
✖ This is the original herringbone tile in the lobby of Daniel's building. Tile like this is the reason I like hands-off landlords who don't want to pay to renovate. Isn't it pretty?
I don't have a corresponding photo, but prior to taking that picture of the tile, Daniel and Max and I went to go see The Perks of Being a Wallflower at BAM. It was so, so, so great. Really. It's based on what I consider to be one of the best books of the past 20 years, and certainly one of the greatest books ever written for young adults. The movie was directed and the screenplay was written by the author of the book, Stephen Chbosky, and he did a perfect job with the conversion. The trailer is pretty terrible, but don't worry—it's not a good representation of the actual movie (funny how that happens sometimes). I was pretty much either in tears or holding back tears for the duration, just like when I read the book the first time. The actors are all wonderful, the soundtrack is exactly as it should be, and it felt great to watch a movie that actually feels like teenage—and human—reality. Read the book. See the movie. Hold onto your Kleenex.