I freaked out the other day when I got an email announcing that pre-orders are now being accepted for the new line of Morrissey sweaters from VIVA MOZ. I want them all. The gray Smiths sweater with the daffodils even made me want to put together one of those "outfit montage" things that Real Bloggers® are always posting: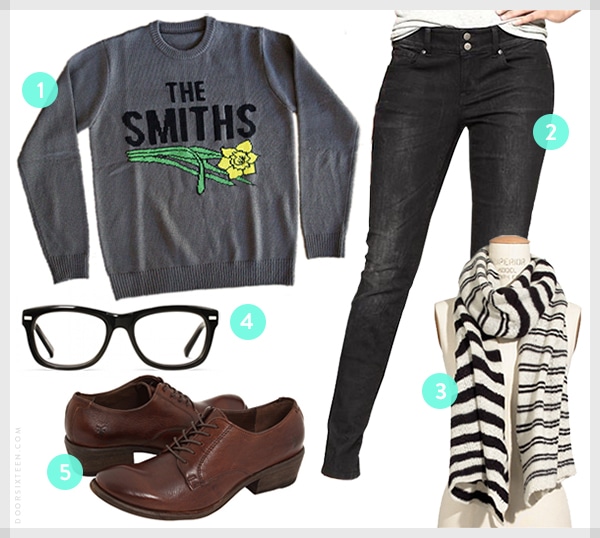 1. The Smiths daffodils sweater, VIVA MOZ
2. Curvy Skinny jeans, Gap*
3. Long striped scarf, Madewell
4. Thatcher glasses, Warby Parker
5. Carson oxfords, Frye
*Side note about the Gap Curvy Skinny jeans: If you follow me on Twitter, then you know how enamored I am with these jeans. I wear skinny jeans about 360 days a year, so the fit really matters to me. I know everyone's body is different, but if you've got a large hip/waist ratio and tend to have that problem with jeans gapping at the back and requiring a belt, these are for you. I recommend going down a size (or two!), though, because that "vanity sizing" thing Gap does is totally out of control.
I have a weird thing where I don't like to wear shoes that don't come up over my ankles unless the top of my foot is exposed—I'm convinced my legs look like parsnips unless I'm either wearing boots or sandals—so I keep hesitating and not buying a pair. Jen was wearing these Frye oxfords when she was here last week, though, and I kept eying them with envy. I feel like my inner nerd (who, coincidentally, is also my outer nerd) really wants to wear oxfords…parsnip legs and all.

But enough about my parsnip legs! LOOK AT THESE SWEATERS! (By the way, if you think you want one of these sweaters for yourself or a loved one, I suggest you pre-order before the sale date. They always sell out fast once they're knitted and stocked.)
Evan has owned the original green one for a few years, and I have the football scarf. They're both pretty rad, as evidenced by my mother and Evan, who are making their second joint modeling appearance on D16 this week (here's the first). I've posted these photos before, but how could I leave them out? Fashion plates, those two.