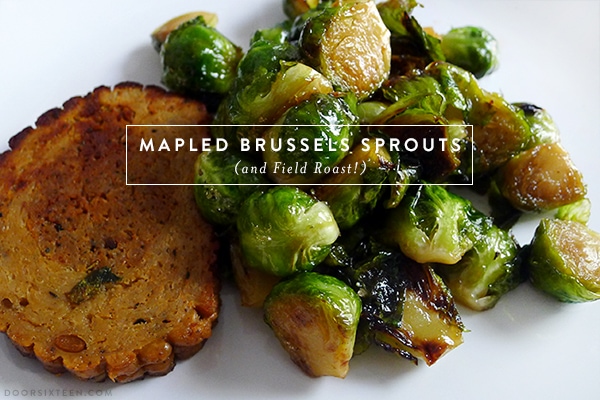 Oh, Brussels sprouts. How I love thee! It's a tough call, but I think Brussels sprouts are the best cold-weather vegetable (broccoli rabe is a close second). There are so many ways to prepare them, but the classic boiling method is probably my least favorite—and also probably the reason why a lot of kids think Brussels sprouts are gross. The best way to make them? Pan-roasted.
I'm not going to lie, this recipe has a whole bunch of sugar and fat in it and probably a gazillion calories. I don't care, though—there's a time and place for junk food Brussels sprouts, and holed up after a hurricane is definitely it. Jen and I are both maple freaks, so I made this for lunch one day when she was visiting. Oh man, SO GOOD. I can't stop thinking about it. Jen has now started using the word "maple" as a verb, so this recipe is named accordingly. The Brussels sprouts have been mapled.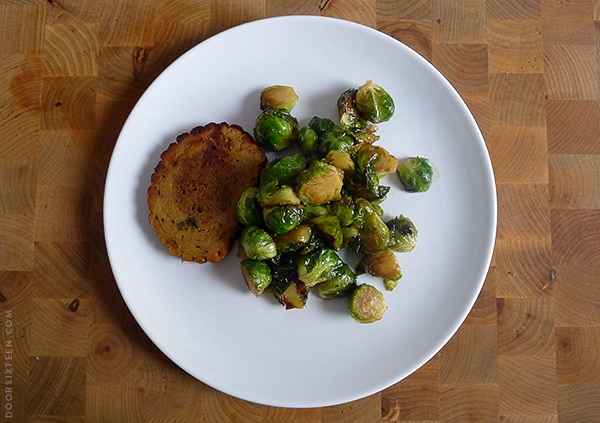 I served the sprouts alongside a slice of Celebration Roast, a grain-based roast stuffed with butternut squash, mushrooms and apples. I really like the whole Field Roast line of products, by the way, especially the grain sausages. I don't really think of them as a "meat substitute"—they're kind of their own thing. Definitely recommended.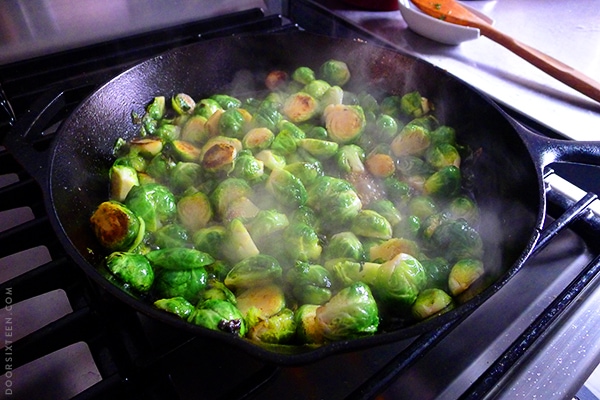 (Adapted from this recipe from Food & Wine)