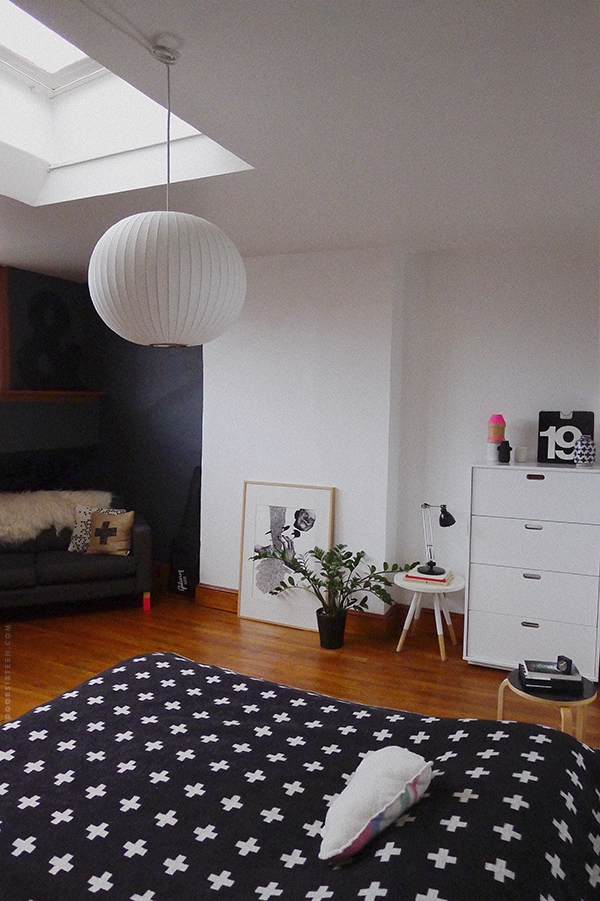 OK, first of all (and I know I'm always saying this), I'm sorry about the quality of these photos. I was half-asleep when I took them this morning, and I didn't realize my camera was on the wrong setting (the unpopular "grainy and dark" setting, apparently) until I was about to jam my boots on and run out the door. I'm too impatient to wait to take new photos tomorrow morning, so I'm calling these good enough.
Last night I pretty much bolted home after work in order to beat the sunset and get this light wired up while I still had some daylight left. All of the lights and outlets in the apartment are on the same circuit, so when I kill the power it's pretty much everything…unless I leave the refrigerator open and rely on that to see by, but that seems like a bad idea somehow. Anyway, I managed to take the subway back to Brooklyn, stop in at the hardware store for some masonry bits and pick up a vegan pork banh mi sandwich from Hanco's (my fourth in four days, OMG…but that's a whole other post) in time to make it to the apartment with an hour of daylight left. YES!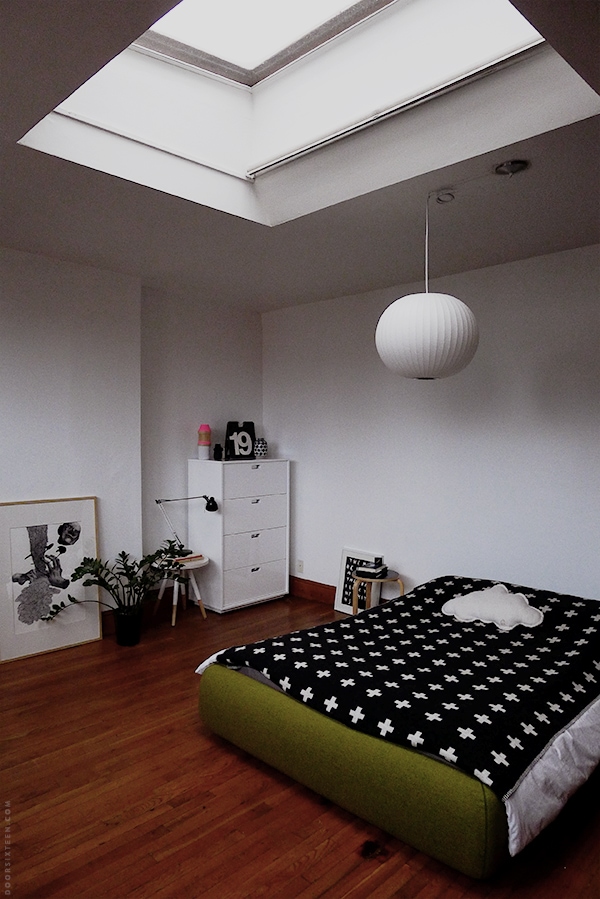 I knew as soon as we moved into this apartment that I was going to want a Nelson Bubble lamp either in the bedroom or the living room. I've always liked them, but I couldn't find the right place for one in our narrow house. The apartment is much wider and more open, though.
We did our usual jaunt to the DWR Annex to see if we could get one in less-than-perfect condition for a discount, and we lucked out! They had several in stock and marked down considerably. This one was actually in perfect condition—according to the shipping label on the carton, it was returned by someone named Eileen in Rye, NY, who must have decided she didn't want it after all before so much as taking it out of the box. Suit yourself, Eileen! Your indecision, my gain.
(This is the Nelson Ball pendant in medium, by the way, in case you're trying to get a sense of scale. It's about 19″ in diameter.)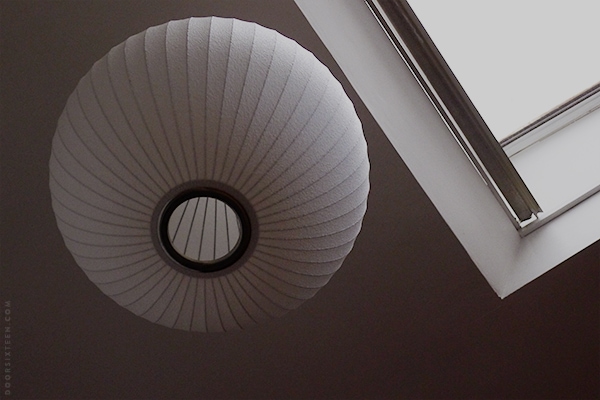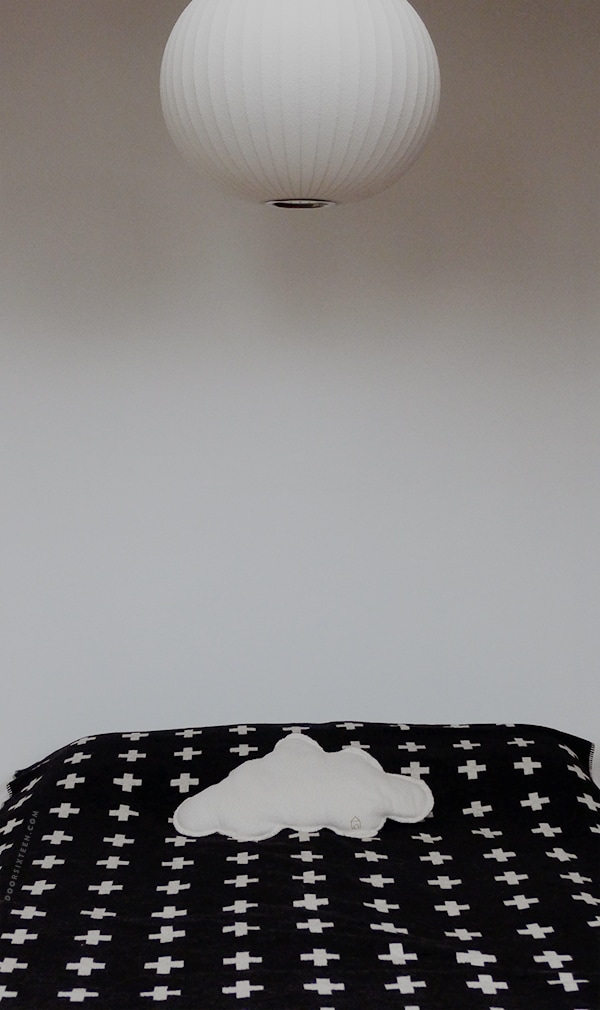 Perrrrrrrfect. I hate saying stuff like this because it sounds so cheesy, but it really ties the whole room together. I'm not a huge fan of stuff that looks super-retro-y or "atomic" or whatever, but I've always thought the Nelson lamps transcend that look and stop on the right side of gimmicky. They really kind of do go with everything, too.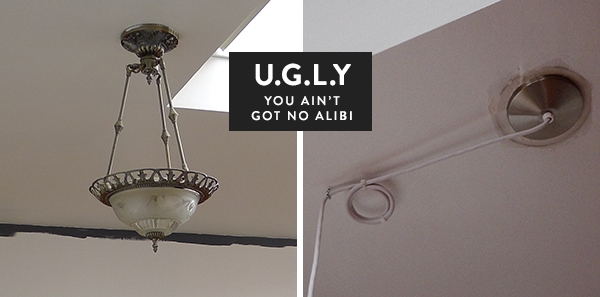 I couldn't bring myself to put these photos higher up in the post, but why don't we do a quick look back at the atrocity that this lamp is replacing? That thing on the left…oh man. I took it down and put it in storage last week, and it even worse up close that it is in a photo. I think the "metal" parts might actually be plastic? I'm not sure, but I'm glad I don't have to see it anymore. Well, except for the matched pair that's still hanging in the living room, haha.
As you can see from the photo on the right, I had to do a pretty hasty swag-and-coil in order to hang the new lamp in the visual center of the room next to the skylight. I still haven't painted the ceiling, but when I do I'll obviously repair the area around the canopy. This morning while I was in the shower I had a really good idea about how to make the swagging look better (I'll cut the cord to the right length once I'm positive about the height, too), but you'll have to wait and see! Unless it doesn't work, in which case I'll never mention it again.
And finally, here's the indoor full moon lit up in the bedroom last night…