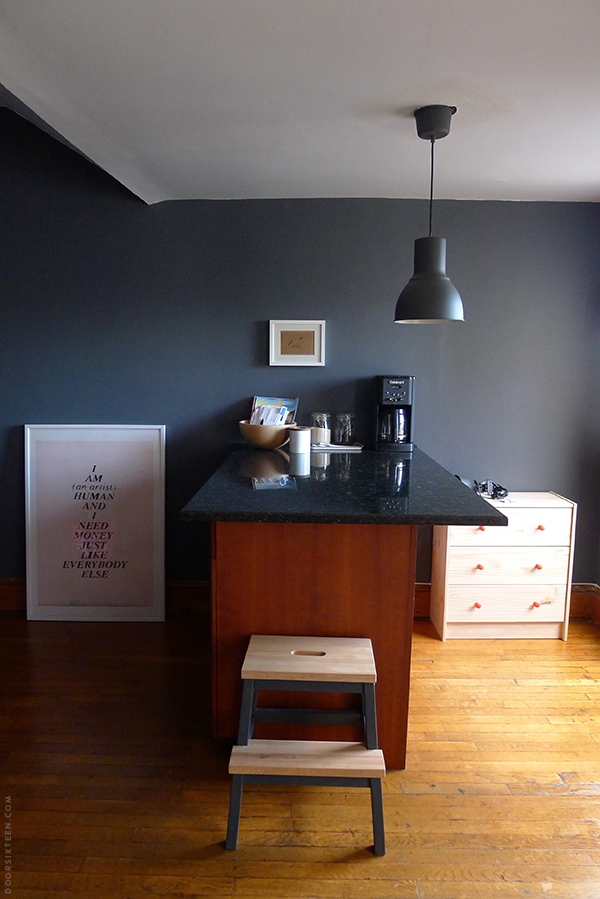 The thing about owning a house and renovating it very, very slowly — and with no one's taste in mind but your own — is that you really start to feel like every tiny detail matters after a while. I don't mean that you spare no expense or that everything has to be perfect (I pity the fool who buys a 125-year-old house and expects perfection), I just mean that there's nothing stopping you from spending 7 years trying to find the perfect light fixture. Trust me, I know. We've been working on the kitchen at our house since 2006, and it is gradually becoming exactly what we want it to be.
It's different when you rent, though. Things tend to happen faster because you don't know how long you'll be living in one place, and depending on how lenient your landlord is, you may not be able to do all of things you'd like — not to mention the hesitancy to invest time and money in someone else's property. As someone who is currently an owner and a renter, I've found that all of these rental issues get amplified when they're contrasted with the benefits of ownership.
So, on that note…the kitchen in the new apartment! I spent a few hours working on it over the weekend. All I've really done so far is paint the back and side wall with Benjamin Moore's Deep Space (the same paint I used in the bedroom), changed out a light fixture and hung up a rail above the sink, but even with just a bit of effort it's starting to look better.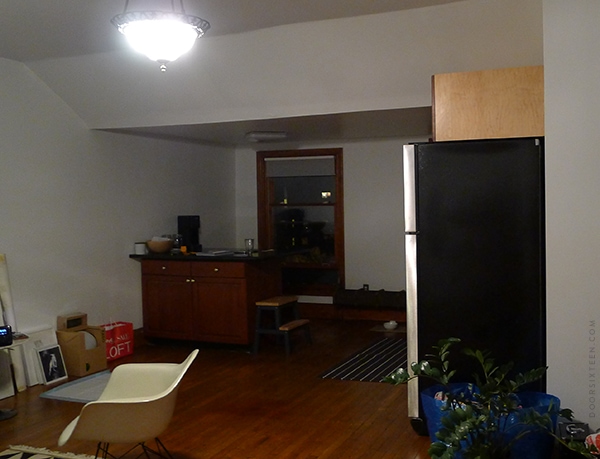 I very stupidly forgot to take a series of "before" pictures. BOO. All I have is this one! You can see, though, that I'm dealing with the same orange wood-overload issues as in the bedroom, but with an added tragedy: Cherry-finished cabinets. Now, I know there are plenty of people out there who love cherry cabinets. I am not one of those people. In fact, if you had to ask me to describe my WORST kitchen nightmare, it would probably involve a collapsing ceiling, cherry cabinets and forest green countertops.
Which brings me to the following…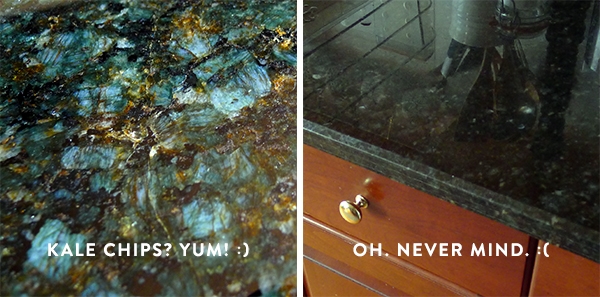 Yeah. Forest green quartz. With a beveled edge. The words alone are like locusts screeching in my brain. I swear the universe is laughing at me for being such a jerk about kitchens I think look dated and tacky, because now I have one just like that. Womp womp. I'm still going to be a jerk about it, though, because otherwise the countertops will have won.
Here's a long view of the kitchen, which is completely open to the living space. I know this picture makes it look like our apartment is a dark, miserable cave (not that dark miserable caves are a bad thing — some of my best friends are cave-dwellers), but that's just because I took it at 7PM last night. In reality, this place gets a TON of daylight even though it's an attic conversion. Between the skylight in the bedroom (north side) and the full-length windows in the kitchen (south side), it the brightest, sunniest place I've ever lived in.
The interior architecture is weird, though, and the ceiling in the kitchen area is pretty low…about 7′-ish. I like that more than I thought I would. I'm not usually a huge fan of open kitchens, but the height differential makes the space feel distinct from the rest of the room.
I still can't get over the ginormousness of this place, and it's amazing to me that it hasn't been carved up into 2 or 3 smaller apartments. The layout of the kitchen is kind of silly considering the size of the room — I can't understand why they chose to install that island (peninsula?) on the left 6 miles away from the main wall of the kitchen on the right. It does have an overhang on the window side, though, so we're going to get some stools and make it a nice place to sit and eat.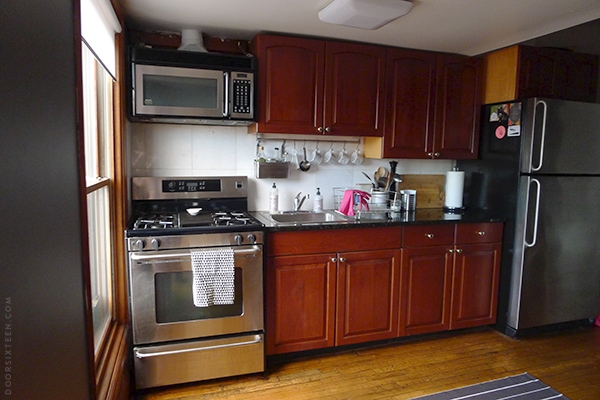 Sigh. The uneven cabinet heights, the weird floating microwave, the cabinet boxes that are a different finish from the cabinet fronts, the fluorescent light…it's just not cute. I'm not even sure that painting the cabinets would make me like it more, because the installation was so poorly executed. I kind of just want to live with it as-is and then eventually (like in a couple of years — Evan and I both LOVE this apartment!!) propose a complete renovation of the kitchen to the landlord. We'd do all of the labor, of course, and I know from experience that I can get the job done for under $3000 easily. Who knows, maybe he'll go for it. Right now, though, I'm not sweating it. The appliances work well, there's a ton of storage space, and it definitely does look better with the walls painted. Maybe I'll cover the backsplash with something temporary and less glaringly high-contrast, too. That would help.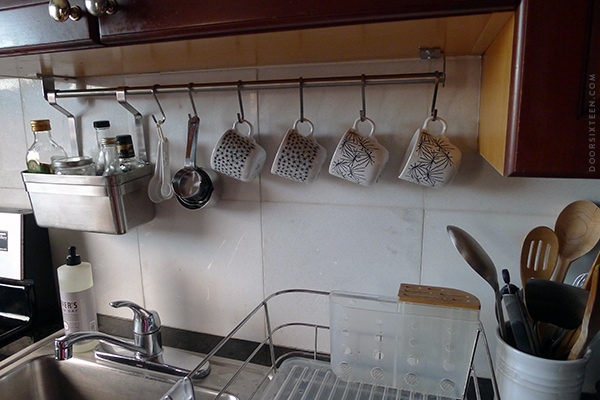 Speaking of the backsplash, I wanted to take a moment to mention those tiles. See how big they are? Not only are they too big for the area they're covering (12″ tiles are never going to look right on a backsplash that's 18″ high, come ON), but THEY'RE OBVIOUSLY MEANT TO BE FLOOR TILES. This is a huge pet peeve of mine. It's even worse when the same tiles are actually used on the floor elsewhere in the house. Ew, man. I don't want to think about floor tiles while I'm cooking food. Yes, there are some tiles out there that can do double duty, but these 12″ marble contractor specials (they cost $1 each, which is why you see them everywhere) don't cut it. Subway tiles are just as cheap, and it's not that much extra labor. Stop being lazy.
Okay, thanks. I needed to get that off my chest.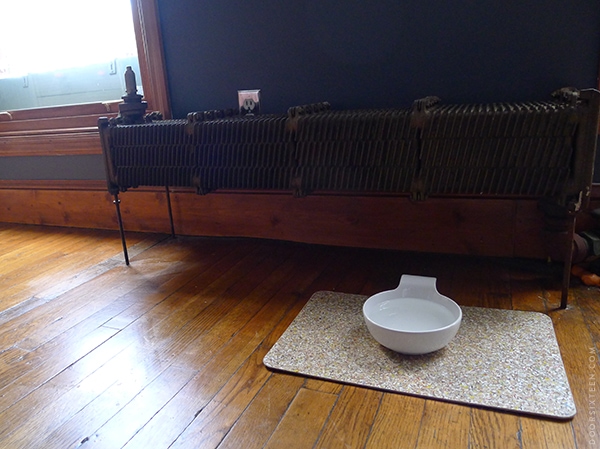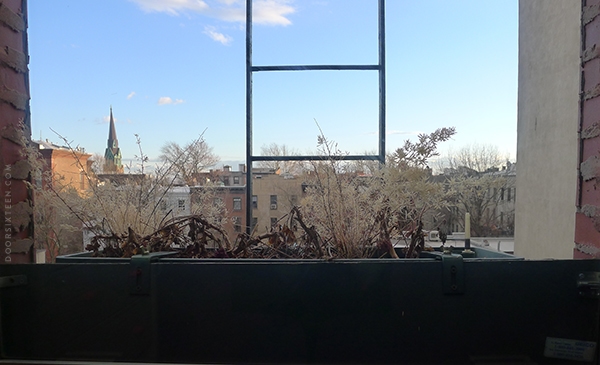 Two things I love! The weird/creepy industrial radiator that's supposed to be enclosed but isn't, and the VIEW. The guys that own our building also own the empty lots behind it (they rent them out for parking), and since they're not interested in selling them to developers, we have a clear view of both the beautiful block next to ours and the rest of Cobble Hill beyond that. The sunsets are amazing. Also, there are a couple of built-in window boxes for me to plant stuff in when (if?) the weather warms up a bit. I'm thinking ornamental kale and cabbage.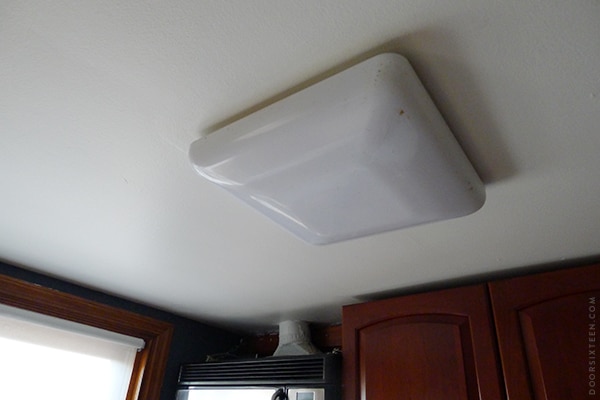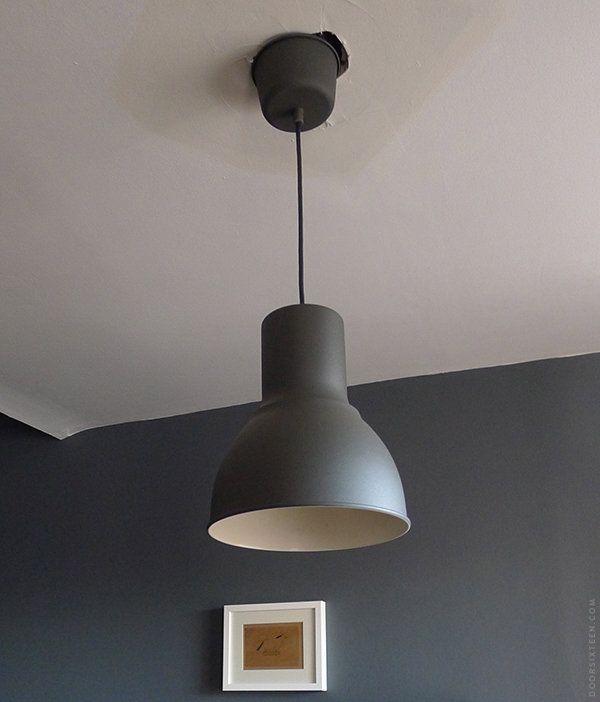 I replaced the fluorescent light over the island with the smaller HEKTAR light from IKEA. The entire HEKTAR series is really good-looking and very nice quality. I wish I had a place to put the big pendant, because it's sooooo nice in person (and huge). I still have to fix the ceiling where the old light was…I'll get to that before I paint the ceiling Moonlight White.
I'm not sure what to do about the other fluorescent light, though. At first I thought I'd hang another HEKTAR but just shorten the cord, but I misjudged just how low the ceilings are — and how close that fixture is to the sink and stove. Anything lower than the existing fixture would be a head-bonking waiting to happen. I really only have about 7″ of clearance. I'm not sure what kind of light is that small and will look good with the HEKTAR hanging a few feet away. Maybe I need to just hang two of the same but swag the one on the sink side so it's closer to the center of the room? I don't know, I guess that would look dumb. Maybe I should just cap the other fixture and get by with one light. The microwave has a light, and I could install the undercabinet lighting I used to have in the kitchen at the house. Hmmmm. Ideas?