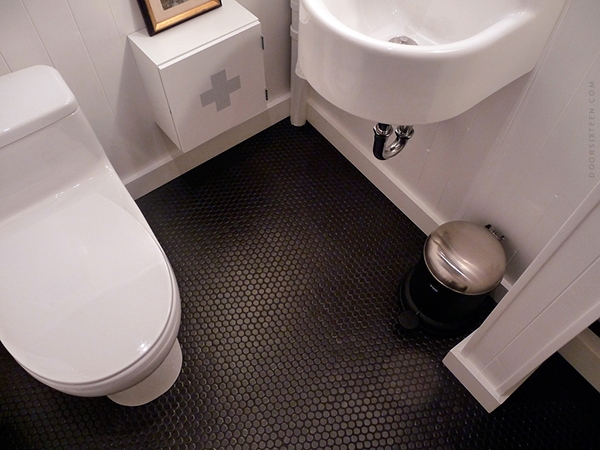 I get a surprising amount of traffic here on the blog from people searching for pictures of black tiles with black grout (or black pennyrounds, or just black bathroom floors in general), and a lot of those people then email me to ask about whether I like having all of those things in my house and what the maintenance is like. It's been about 4 years (!!!) since we put them in our downstairs bathroom, so I feel like I can speak with a bit of experience about them at this point.
What kind of tile, grout, and caulk is that?
We used matte black pennyrounds from Nemo tile (the style code is m890) in our bathroom with Polyblend sanded grout in Charcoal, which really does read as black to my eye. It took a bit of hunting to find it locally, but Tec makes sanded black caulk (Raven) that matched the grout pretty perfectly. (Grout is for between the tiles, and caulk is for joints — like where tiles meet at a corner or where your tile meets the tub.) Including the tile underlayment and all of the "ingredients," the whole floor cost about $350.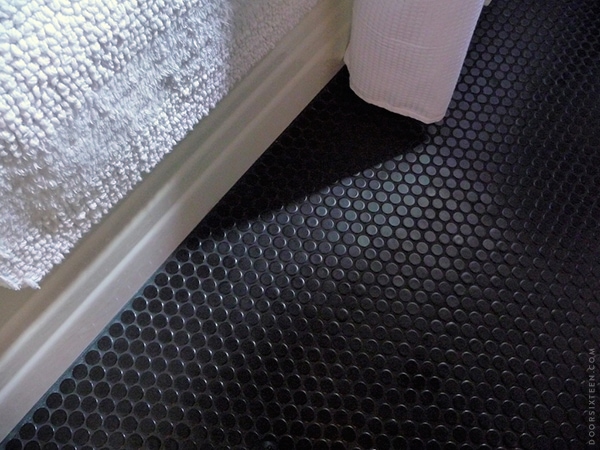 The caulk line looks a little grayish here, but that's really just the photo. After four years, the color hasn't faded at all — it still looks rich and black. Several people have asked me whether using products like talcum powder in the bathroom would be an issue with black grout. That's not something I ever use, but I do wear loose face powder every day that I brush on with wild abandon…and I've never noticed it showing up in the grout. I have dropped bits of broken pressed powder onto the floor, though, and that does definitely require some clean-up, but nothing that a regular sponge and warm water can't take care of. (Note: I did use a sealant after grouting. Not sure if that actually makes a difference, but it can't hurt.)
Doesn't everything show on a black floor?
The other thing that comes up a lot is the question of whether dust and water spots show on the tile. In short: No. Nothing shows on this tile. Even if I were a total pig and didn't regularly clean my bathroom, I could go for a really, really long time before the floor looked dirty. Like…months. At least. I'm not going to try it to find out, but seriously, this is NOT a nightmare floor. I think that's probably because the tiles are tiny/visually busy and because they're matte. If I had 2×3′ polished black marble tiles, I might be singing a different tune!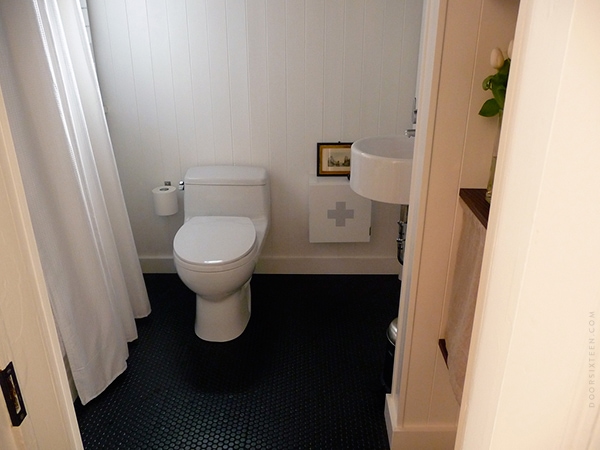 How do you clean little tiles like that??
Next up, cleaning! I don't do anything special to clean the pennyrounds. The first thing I do when I'm cleaning any bathroom is vacuum, because otherwise I'm just pushing hair around with a sponge and EW. Usually I just follow up with a wet Swiffer cloth, but every couple of months I do get down on my knees with a bucket and a sponge and go to town on all the nooks and crannies. Again, though, this is just something I'd do regardless of the type of tile, not because the floor looks grimy or anything.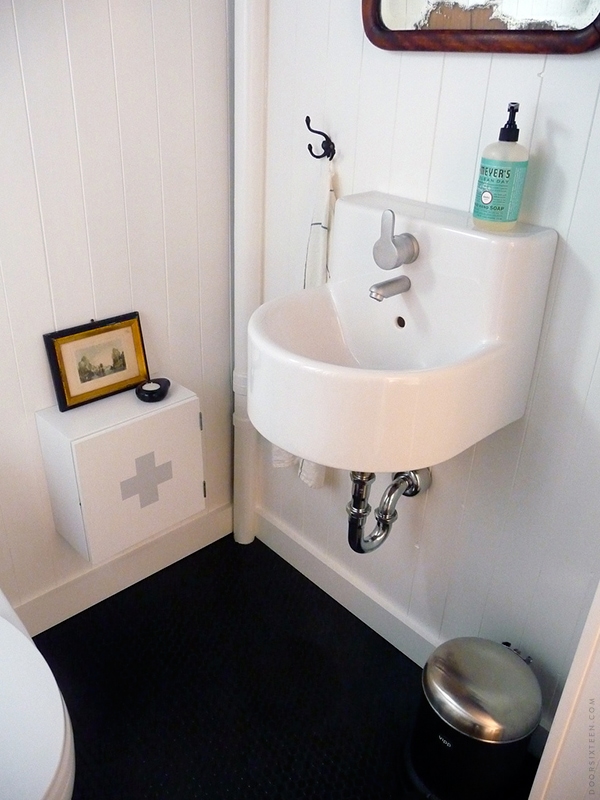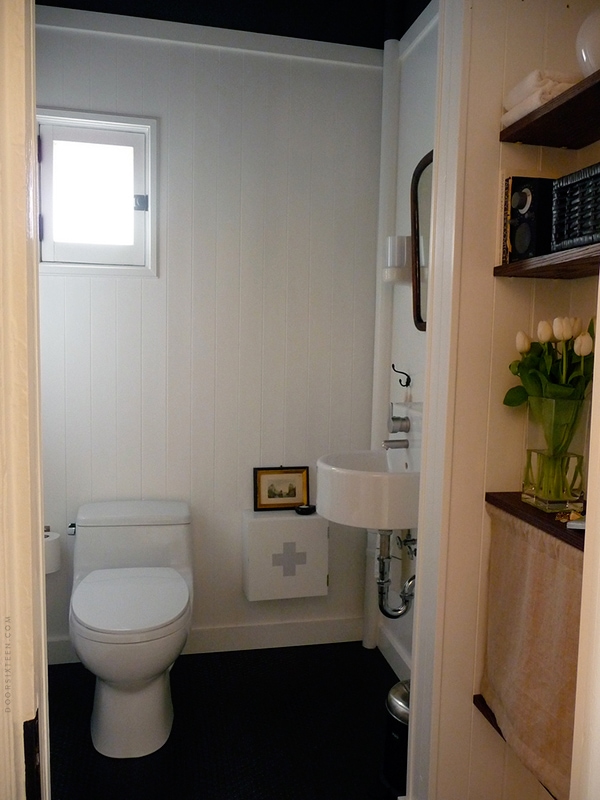 Alright, so you can't actually see the tiles at all in these pictures, but I'm including them anyway because I love this bathroom so, so, so much. I'm still really proud of all the work Evan and I did in there (even though it did take us the better part of a year!). It was such a sad, ugly room when we bought the house, and now it's one of my favorite places to be. Maybe that's a weird thing to say about a tiny little bathroom? I really do love everything about it, and we learned so much in the process. That was my first time tiling!
Bonus pictures!!
I recently saw this black-floored Brooklyn bathroom on Remodelista and fell in looooove. It looks to me like they used polished black marble hexagons with a slightly lighter grout than I did, but the effect is very similar. For your ogling pleasure…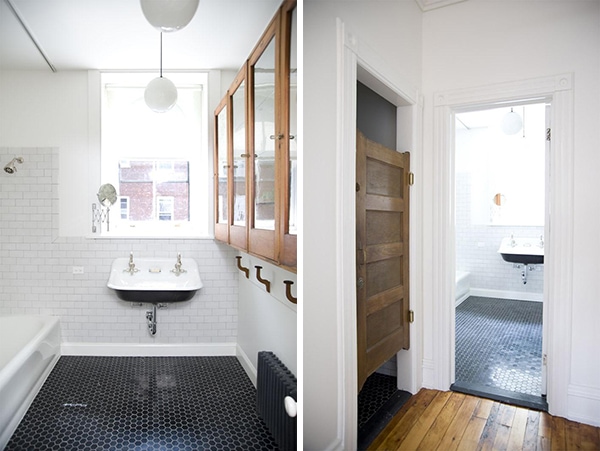 Photos by Sean Flattery for Remodelista. (There are more photos on designer Elizabeth Roberts' website — click through the slideshow for more bathroom shoots!)