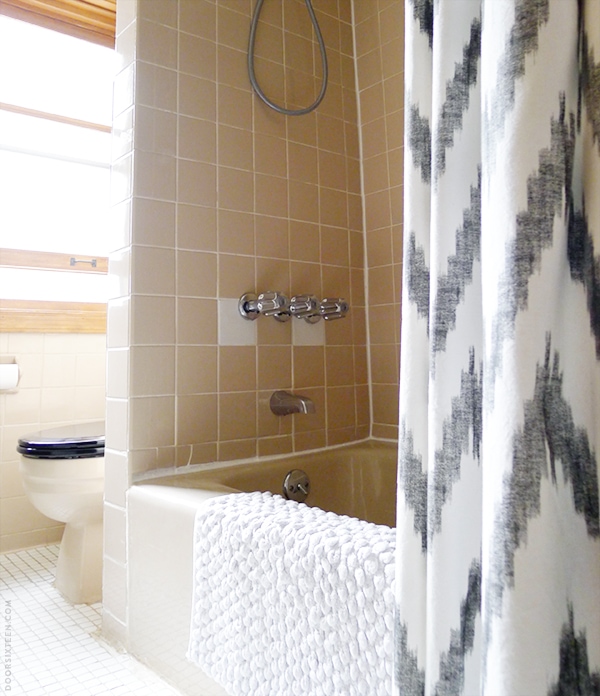 Remember the pinkish-tan/Band-Aid bathroom in my apartment? I'm still doing the best I can (short of gutting the whole thing) to make it feel cleaner, fresher and generally less awful, and my latest improvement measure was taking care of the undeniably revolting perma-mildew situation inside the bathtub/shower area.
I realize the photo above might not look like much of an "after," but let's consider where we started: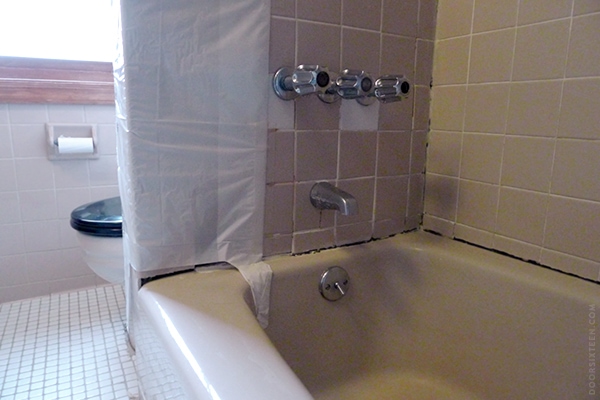 I know. It was really gross. Believe me, even after scrubbing everything with bleach and hot water, this was as clean as it got. There were loose tiles (hence the taped-up garbage bag, an attempt to keep water from getting inside of the wall) and failing grout, and nearly all of the caulk had gone permanently black. The outer layer of caulk was actually clear silicone, and I'm thinking the mildew likely came from the first layer of caulk having been applied over even older "infected" caulk without properly preparing the area first.
Want to take a closer look?
I'm sorry. Truly. There was even some of that extra-creepy reddish mold growing on the grout, which I learned in the course of putting this post together is called Serratia marcescens, which "manifests as a pink discoloration and slimy film feeding off phosphorus-containing materials or fatty substances such as soap and shampoo residue." I don't want that in my bathroom, especially not anywhere near my naked body. Incidentally, it's thought that S. marcescens is behind the appearance of "blood" on the Eucharist in the early 13th century that led to the Feast of Corpus Christi. Well, then! I don't know about you, but I think discovering the blood of Christ on your bathroom walls is a pretty good indication that it's time to re-grout.
And yes, we did readily step into this shower every morning for months, because what else were we going to do? You need a span of at least 2 1/2 days to address both grout and caulk, and when you don't have a second bathroom available, it can be tricky to plan out the whole thing. I wound up with a work-free summer Friday and a weekend where I needed to be in the city, though, so I resigned myself to a few days of personal griminess and just went for it.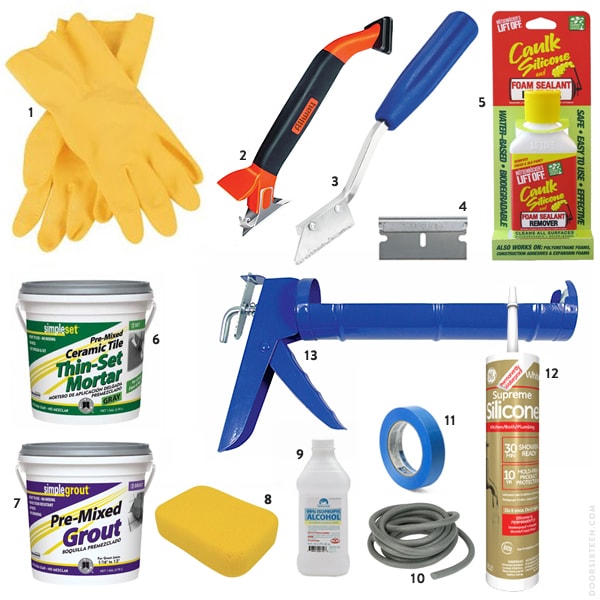 Tools + Materials!
Since I know what it's like to have lived in apartments with gross caulk and grout during a time before I learned how to remedy the problem permanently (I distinctly recall attempting to paint over discolored caulk in my first apartment's bathroom…), I thought I'd include a list of supplies. I'm not even making any brand recommendations because I honestly just used what was available at the cruddy hardware store closest to our apartment. I didn't want to bring materials from house because I'm in the midst of using them in the kitchen renovation, and the last thing I need is to discover I've left something I need at the apartment.
This is about $60 worth of supplies, give or take. Not so bad, considering things like grout saws and caulk guns are good to own for future projects.
1. Rubber gloves. Wear them.
2. Caulk tool. Forget about the rubber triangle end, the magic is in the metal part. It's perfect for scraping out out caulk. You really need to get ALL of the old caulk out, too.
3. Grout saw. These little guys are perfect for filing out grout between tiles. I know it seems really tedious, but once you get going it's not so bad. If the old grout is really loose, just file it all out. If it's just stained (not moldy), you can get away with leaving some (NOT ALL!) of the old grout intact. As long as get at least 2/3 of it out, the new grout will have enough of a free edge on the tile to grab onto. If there are some areas where the grout is totally fine (as it was in most of my shower), you can leave it alone — just be aware that you can't "skim" over it with new grout, and new/old colors may not match perfectly.
4. Razor blade. No home renovation project is possible without one. There's always going to be some kind of residue that needs to be cleaned up or a caulk edge that needs its seal broken, and you'll want to have a blade handy.
5. Silicone caulk remover. I wound up not having to use this, but I have in the past. If there's caulk residue that just won't budge, this will help loosen it up.
6. Pre-mixed thinset. If you have loose tiles, you need to remove them completely, scrape off the old mortar, and re-set them. Ordinarily I would advise against using the pre-mixed stuff, but for doing repair work or just setting a few tiles (as opposed to a whole bathroom), it's fine. A small tub is cheap and it gets the job done.
7. Pre-mixed grout. Ditto the above when it comes to grout. For bigger jobs I always mix my own grout, but pre-mixed is fine for repairs. Make sure you check the joint size indicated on the tub to make sure it'll work with your tiles.
8. Tiling sponge. Regular dish sponges tend to fall apart and even leave colored residue on grout. Get a nice, big tiling sponge for doing your wipe-downs. It's worth it.
9. Rubbing alcohol. After you've removed all traces of old caulk, wipe everything down with alcohol. It'll help prepare the area for good caulk adhesion.
10. Backer rod. You might not need this, but if you have any large/wide gaps to caulk, you'll want to cram some of this stuff in the space first. Otherwise, you'll just be unloading endless amounts of caulk into the abyss. Backer rod is a wonderful thing.
11. Painter's tape. Silicone caulk is much messier than latex/acrylic caulk, and it's tough to get a nice edge, especially if you're filling in an irregular space between tiles that appear to have been cut with soccer cleats. Taping off the edges (like I did here) helps a lot. Just make sure you pull off the tape slowwwwwly and carefully right after you smooth out the bead — don't wait for the caulk to dry.
12. Good-quality silicone caulk. Make sure you buy caulk that's meant to be used in showers/wet areas. I usually buy whatever makes the most amazing claims on the packing, like 30 minute drying time or 10 year mildew-resistance. In my experience, caulk that comes in a cartridge-style tube is much easier to work with than the stuff in a squeezy-tube. Which brings me to the final item…
13. Caulk gun. You don't need to get anything fancy. A cheapo, no-frills, $7 caulk gun is just fine.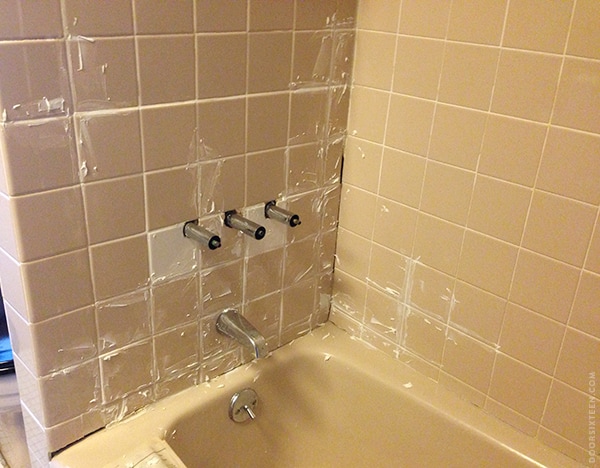 I wish I had more process photos, but it was 90°F in the bathroom and I was just trying to get through the whole thing as fast as possible. Stopping to take off my gloves and take pictures just wasn't working out.
The first thing I did was give the whole shower area a good scrubbing with bleach. Ordinarily bleach should be avoided on grout because it will cause the bonding agents to fail over time, but when you're dealing with mildew and mold and stuff like that, bleach is sort of the only answer.
Then I started stripping out the caulk, which was the most time-consuming and gross part of the whole project. I did it in stages — the easy stuff before the grout, the tough stuff while the grout was drying. Ideally you'd just do it all at once, but I was fed up.
Next, I sawed out the bad grout and removed the loose tiles (most of which just sort of fell off the wall while I was sawing the grout). I scraped and sanded the old mortar off the tiles, washed them with bleach and water for good measure, and re-set them. I didn't bother using a notched trowel because mine was at the house and I didn't want to buy a new one, so I just used a screwdriver to "draw" some ridges in the new thinset before pressing them into place.
And then, grout! Again, I'm doing it "wrong" here, but it's not a big deal when you're only doing a small area. When you're grouting a whole wall you should use a tile float to really get the grout into the gaps, but you know what else works really well for a repair job? An old credit card and a finger. Yep.
Then I wiped everything down and let the grout dry overnight while I resumed stripped caulk…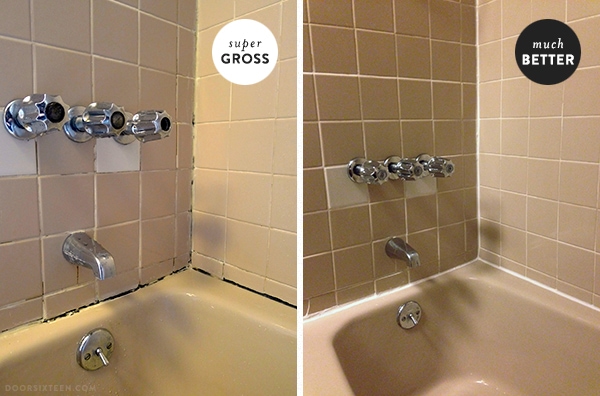 The next day, NEW CAULK! I love caulking. It's so satisfying. I wiped everything down with alcohol, stuffed backer rod into the big gaps, taped off the edges and did my thing. I know it looks kind of janky, but that's really because the tiles were so unevenly cut and there were some gaps that were super wide. It's not like this bathroom is going to win any beauty contests, so my goal was really just to get everything clean, fresh and watertight.
It really does look SO much better now. Yeah, I still hate the color and it's still an ugly bathroom, but it's clean. Getting into the shower doesn't feel like a potential health threat anymore. I'm also not worried about water getting into the wall now, which in turn eases my concerns about the entire bathtub eventually crashing through rotted joists and falling into the apartment below us. I think about these things.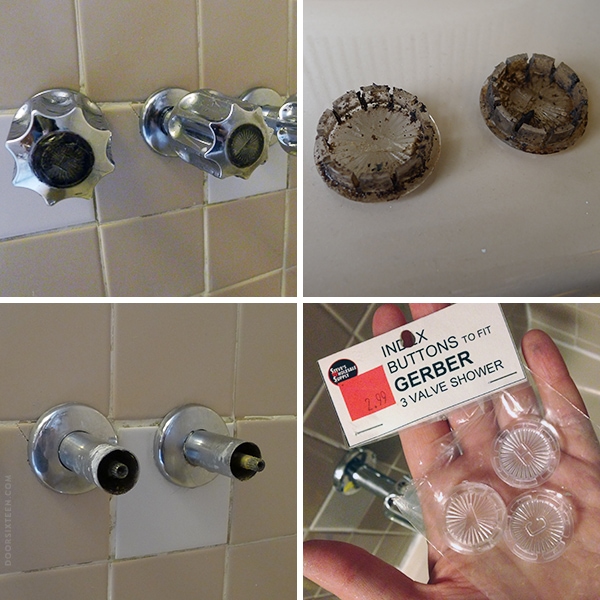 The other things I took care of while I was dealing with the grout were the knobs. The handles were all wiggly and loose, and there was nasty black gunk setting up shop behind the little plastic "buttons" on the fronts. Those buttons pop out really easily with the edge of a knife or screwdriver, and, assuming you have standard-style fixtures in a common brand, you can replace them very cheaply. They're called index buttons — just search for the brand of your faucet. You'll be amazed what's still readily available even for very old fixtures. We found exactly what we needed on the rack at the cruddy local hardware store, no special order required.
Anyway, once you pop off the buttons, you can easily unscrew the whole handle — just stick a screwdriver inside. There was all kind of ick inside of the backs of the handles, so I gave them a good scrubbing (yes, again with bleach — sometimes you gotta). I pulled the escutcheons forward (there's a tiny screw underneath), re-caulked the edge where the tile meets the stop tube (again to prevent water from getting into the wall), cleaned everything really well, and tightened it all back up again.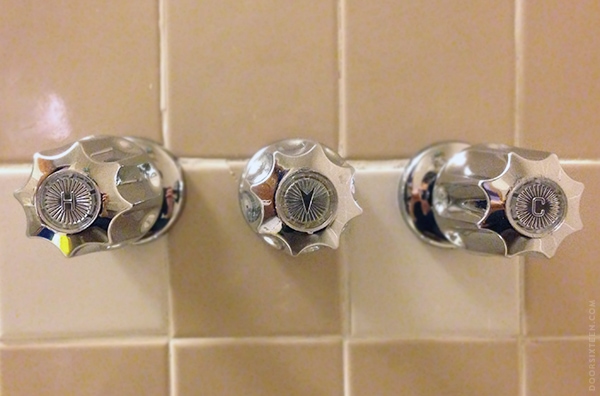 Ahhhhh, so much better! The faucet handles are now not only clean and shiny, they're also non-wiggly and easy to shut off. I'm so glad I took the time to take care of the handles. It really wasn't a big deal, and it makes such a huge difference in our daily existence. Nobody needs to live with black grime under their index buttons.
You can totally do this — the caulking and grouting and the faucet tune-up. It's not hard AT ALL. If you're at all unsure about how to disassemble the trim on your faucet, you have the entire internet at your disposal. I know I've said this a million times, but the only reason I know how to do any of this is because someone else did it before me and took the time to write about it — or, even better, make a YouTube video — and put it online. Also, the Reader's Digest Complete Do-It-Yourself Manual. It's literally the only book I own about home repair, and I refer to it constantly.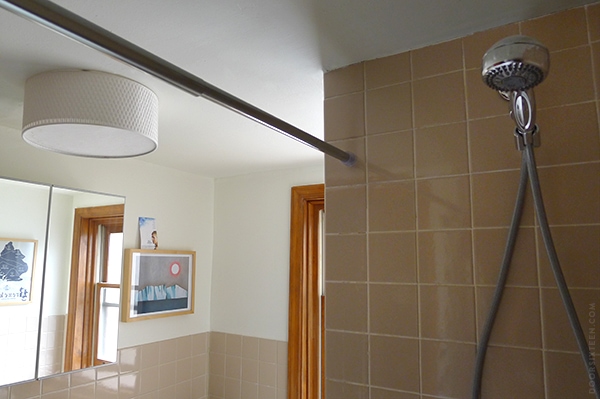 Oh! One last thing — a new shower head! This was Evan's project, as it has been in the other apartments we've lived in together. Unless you're renting a newly-renovated apartment, chances are the shower head could use replacing. It's such an easy fix, and it makes an enormous difference. I personally really like having a hose attachment because it makes cleaning the tub soooooo much easier (not to mention how nice it is for giving plants showers and rinsing out hair dye). The one we bought isn't anything special, but it was less than 25 bucks and it gets the job done. All you need to install it is a wrench and plumber's tape (don't believe the line on the package about not needing tape — that's a lie), and the whole thing takes 15 minutes, tops.
If you want to see more of the apartment bathroom, I wrote about the other improvements I've been making a couple of months ago. What's left? Three things, none of which are a rush: Find the perfect rug to disguise the ugly floor tiles, replace the toilet flush valve assembly (it's got a leaky flapper) and fix up the peeling laminate on the sink cabinet.
p.s. I'm having some issues with my spam-blocking plugin. If you try to leave a comment and run into any problems, would you mind dropping me an email or tweeting to me? Thank you!